Page 36 - De Anza College Academy Catalog 2019
P. 36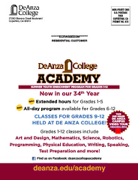 NON-PROFIT ORG U.S. POSTAGE PAID CUPERTINO, CA PERMIT NO. 472
        21250 Stevens Creek Boulevard Cupertino, CA 95014
*******ECRWSSEDDM******* RESIDENTIAL CUSTOMER
                            SUMMER YOUTH ENRICHMENT PROGRAM FOR GRADES 1-12
Now in our 34th Year
Extended hours for Grades 1-5 All-day program available for Grades 6-12
CLASSES FOR GRADES 9-12 HELD AT DE ANZA COLLEGE!
Grades 1-12 classes include
Art and Design, Mathematics, Science, Robotics, Programming, Physical Education, Writing, Speaking, Test Preparation and more!
Find us on Facebook: deanzacollegeacademy
   TAKE OUR ONLINE
DE ANZA CAMPUS VIDEO TOUR DEANZA.EDU
 deanza.edu/academy
 NEW! NEW!