Spring 2019 Exhibit
original illustrations from:
The Story of Mattie the Tortoise
Written By Grant Somers
Illustrated By Virginia Miller-Bowen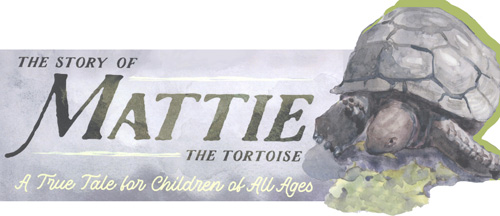 Exhibit Hours
Tuesday - Thursday
10 a.m. - noon, 1 - 4 p.m.
(or call for an appointment)
Reception
Saturday, May 23rd, 2019
1:30 p.m. - 3:00 p.m., California History Center
About the Exhibition
Here is a great opportunity for students in the subject areas of History, Film/Television, and/or Environmental Studies to take on a project about one of California's endangered species. The California History Center Foundation at De Anza College recently published "The Story of Mattie the Tortoise: A True Tale for Children of All Ages," a non-fiction book about a California desert tortoise that was picked up in the Mojave Desert in 1956 by a family from Mountain View, California. The tortoise, named Mattie, is still living, is approximately 77 years of age and resides with the same family in the same house where she has lived for over 62 years.
Mattie's story would provide a great opportunity for students to learn about this endangered species and its habitat, interview the family members about her 62-year journey with four generations of this family and research the obstacles facing the California desert tortoise in the wild.
For more information about the exhibit, contact