June 2015
Graduation this Saturday, June 27
The 48th annual commencement ceremony will be held at the City National Civic Auditorium, 135 West San Carlos Street, San Jose. Given the extreme heat at recent ceremonies, the college is exploring the option of holding the event indoors for the comfort of graduates and guests.

Doors will open at 7:30 a.m. for faculty and staff. For other event details, including a map of area parking garages, visit www.deanza.edu/graduation.
Student Awards & Scholarships
The President's Award, worth $2,000, is presented annually to a graduating student who has overcome significant adversity and shown great perseverance in seeking an education at De Anza.
Luis Fernando Zuniga, President's Award Winner
When Luis Fernando Zuniga walks across the stage at commencement this June, he will become the first college graduate in his family. Zuniga, recipient of the President's Award, is transferring to UCLA to study sociology and public health.
"Although my family had little knowledge of how to help me in my education, their love and life lessons are the true motivators for my success," Zuniga said. "My older sister always told me, 'Work hard for what you want, because those who work the hardest are the ones who achieve their goals.'"
At De Anza, Zuniga found a support system that could help him achieve his goals. He joined Latina/o Empowerment at De Anza (LEAD), and participated in the club's annual Global Issues Conference. He worked with the Transfer Center to ensure he was on the right track to transfer to a four-year school. He also was accepted into Extended Opportunities Programs and Services (EOPS), which provided some financial assistance, and most importantly, a counselor.
"[Truly Hunter] is a great mentor to me," Zuniga added. "She's always there to push me and she inspired me a lot."
Because of that inspiration, Zuniga wants to be a mentor to others himself. He tutors struggling high school students and encourages them to finish their degree. He also volunteers in the Emergency Department at Kaiser Permanente. He received the Volunteer of the Month Award for perfect attendance.
Although it will be difficult to leave his family, Zuniga is excited to start school in Los Angeles. He will move into his dorm next month to participate in a special summer program that preps incoming transfer students for life at UCLA.
"Never in my wildest dreams did I think I would be in college," said Zuniga. "My advice to others is to knock on every door and keep knocking until one opens."
---
The A. Robert DeHart Memorial Scholarship, worth $2,000, is presented in memory of the founding president of De Anza. It is awarded to a graduate who exemplifies service and participates in campus life.
Marina Menendez-Pidal, DeHart Scholarship Winner
Marina Menendez-Pidal wasn't sure what she wanted to do after high school. She was considering her options when her mother recommended taking art classes at De Anza. The experience has changed Menendez-Pidal in ways she didn't expect.
"I went from being shy in high school to actually communicating with people, and helping the campus and the community," she said.
Menendez-Pidal is graduating with an A.A. in Liberal Arts, Arts and Letters emphasis. She plans to attend San José State in the fall to study graphic design.
"I've enjoyed my time at De Anza," said Menendez-Pidal. "I was able to look at different areas of study that caught my interest, then really hone in on one."
Menendez-Pidal is active on and off campus. She volunteers at the Villa Montalvo Art Center and the Asian Liver Center. As vice president of Team HBV, she helped organize fundraising and screening events to raise awareness about Hepatitis B. She represented the group at Inter Club Council meetings. She is a member of the Phi Theta Kappa honor society and the school Honors program. She participated in First Year Experience and works as a tutor in the Student Success Center.
"I love tutoring -- it's really fun," Menendez-Pidal added. "I struggled in English, and I want to give back to the students and the center."
Through her studies, Menendez-Pidal discovered a graphic design group based in Korea. Inspired by their work, she began taking Korean and hopes to study abroad there one summer. She plans to take more Korean classes at San José State.
"De Anza has been a good experience for me," said Menendez-Pidal. "I hope others can make the most of all the services here."
---
The Karl S. Pister Leadership Opportunity Award is presented to talented California community college students who want to transfer to UC Santa Cruz. Awards are $10,000 per year for two years. All candidates must have overcome adverse socioeconomic circumstances, have a demonstrated commitment to assisting and improving the lives of others, and have financial aid eligibility.
Juan Ruiz, recipient of the Pister Leadership Opportunity Program Award, always excelled academically. He was on the honor roll throughout high school. He received scholarships to attend a prestigious college prep program and, eventually, National Hispanic University.
Things changed in his last year of high school. Ruiz found out he was undocumented. At the same time, his parents' marriage was disintegrating. Dejected, Ruiz found he could not focus on his education. Before long, he was homeless.
"Homelessness brought significant lessons that marked my life just as much as living at home with my parents," said Ruiz. "I learned to value and absorb the best of both worlds in order to build the foundation of my unfulfilled dreams."
Ruiz's own struggles made him eager to assist others in similar situations. He began working with local community organizations and helped form Revolutionary United Mexicans in Combat (Rumec), a construction company that fought poverty and corporate oppression through education and employment opportunities. Ruiz met other activists through Rumec, including Malcolm Shabazz, the grandson of Malcolm X. When Shabazz was killed in 2013, Rumec dissolved.
"The [life] of this exceptionally humble and courageous young man, who was descendant of a martyr and one of my closest friends, came to a sudden conclusion," added Ruiz. "At that point, I had the calling to continue my higher education."
Ruiz pursued his academic dreams with renewed vigor, enrolling full time and applying for Extended Opportunities Programs and Services (EOPS). He is graduating with an A.A. in Liberal Arts, Arts and Letters emphasis. He will study philosophy at UC Santa Cruz in the fall, and hopes to earn a law degree. His lifelong dream is to establish a nonprofit that provides high-quality legal representation and educational opportunities to people in need. In his free time, Ruiz enjoys salsa dancing and spending time with his family.
"All my accomplishments come down to what I did with Malcolm Shabazz," said Ruiz. "I'm in gratitude, and I feel a sense of responsibility to do something greater with these funds."
Engineering Student Receives PG&E Bright Minds Scholarship
Hiep Ton got a big surprise in his physics class earlier this month. Instead of a lecture from his professor, class started with a group of PG&E representatives presenting Ton with a check for $20,000.
Ton is one of 10 students in the state to receive the Bright Minds Scholarship, an award of $20,000 per year for up to five years to complete his undergraduate studies. Ton plans to transfer to San Jose State next fall to study electrical engineering.
Recognizing Student Leaders
The following students are being recognized here for their leadership and accomplishments throughout the academic year.
Desiree Berdejo, HEFAS, ICCE, FYE
Genesis Correa-Davila: BLC, FYE, ICCE
Joshua Kim Cruz, Student Ambassador, IMPACT AAPI
Vanessa Flanagan, FYE, IMPACT APPI
Tiffany Le, Writing and Reading Center tutor and Adjunct Skills group tutor in Economics
Hakwoo Kim, DASB and Writing and Reading Center tutor

Yasaman Nourkhalaj, biology, math and writing tutor, and a senior tutor in the math/science area

Victoria Quistgaard, WRC tutor and senior tutor
Video of Jill Biden Visit to De Anza

Dr. Jill Biden, wife of U.S. Vice President Joe Biden, visited De Anza in April to meet with student leaders.
Dr. Biden is a full-time English professor at a community college in Northern Virginia, and with President Obama has focused on the importance of community colleges to the nation.
Here is a short video of her visit.


Parking Lot E Closed for Summer
Parking Lot E will be closed for construction from June 29 - Sept. 22. Staff Lot F will have occasional limited access during that period. The lots are scheduled to reopen for fall quarter.

Construction includes a reconfiguration of parking spaces, new lights and a new pedestrian pathway on the west side of campus from the Seminar Building to Auto Tech. Check for updates at www.deanza.edu/measurec/index.html.


ICCE Renamed to the Vasconcellos Institute for Democracy in Action (VIDA)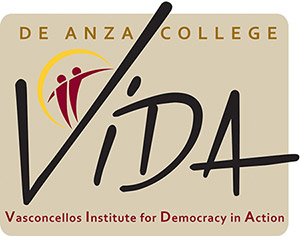 On June 10, the Institute for Community and Civic Engagement was renamed the
Vasconcellos Institute for Democracy in Action
in memory of late California State Senator
John Vasconcellos.
The renaming event took place in the VPAC.
Throughout his career, Senator Vasconcellos was known for his work on public education and his commitment to civic engagement.
VIDA will continue the ICCE's mission to empower students to become agents of change in their communities and beyond.

VIDA could not exist without generous supporters who believe in the power of civic engagement. Following Senator Vasconcellos' passing, VIDA received an extraordinary pledge to perpetuate the vision of the Institute. Community members Jim and Becky Morgan pledged a challenge grant of $198,000 over three years in honor of Senator Vasoncellos' long history of civic work.

Donations to VIDA help to secure funding for future leaders. For more information contact Tess Chandler, Executive Director of the FHDA Foundation at 650.949.6149 or chandlertess@fhda.edu or go to foundation.fhda.edu.