NAEYC Degree Accreditation
The Child Development and Education Department
A.A. Degree Program Certificate of Accreditation
What is NAEYC ECE Degree Accreditation?
As stated by the organization's website, the NAEYC Commission on Early Childhood Associate Degree Accreditation awards accreditation to associate degree programs that demonstrate evidence of meeting the Professional Preparation Standards. Accreditation provides a framework for self study, external evaluation and improvement in the quality of teacher preparation programs.
What De Anza College CDE has done?
The CDE Department faculty finalized and submitted the Accreditation Self Study.The report was approved. Read more about the Accreditation Self-Study Report Revised. The report includes a narrative on program identity, the design of our professional preparation program, a description of who are students are and the services offered to them, the description of our faculty and our responsibilities,and our infrastructure. It highlights learning opportunities, assessment and evidence of student performance as it relates to the following standards.
2010 The Standards
Standard 1: Promoting child development and learning
Standard 2: Building family and community relationships
Standard 3: Observing, documenting, and assessing to support young children and families
Standard 4: Using developmental effective approaches
Standard 5: Using content knowledge to build meaningful curriculum
Standard 6: Becoming a professional
Standard 7: Early childhood field experiences
The Supportive Skills
Supportive Skill 1: Self-assessment and self-advocacy
Supportive Skill 2: Mastering and applying foundational concepts from general education
Supportive Skill 3: Written and verbal communications skills
Supportive Skill 4: Making connections between prior knowledge/experience and new learning
Supportive Skill 5: Identifying and using professional resources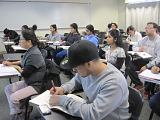 Child Development & Education Conceptual Framework
For more information about this project, contact Angela Buchanan buchananangela@deanza.edu