Recommended Course Sequence and Quarter Offered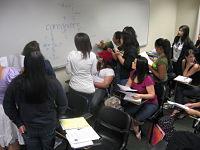 The De Anza College Child Development Program is designed to allow you many options in your course selection. Classes are scheduled days, evenings, and Saturdays. Classes are held in the Fall, Winter, Spring, and Summer quarters. There is a sequence to the course work that you should follow. You are required to take the Basic Courses, so that you are able to understand the concepts presented in the remaining courses. See Course Catalog for course descriptions.
Basic Core Courses (to be taken within the first three quarters) Quarter offered
CD 10G
Child Development: The Early Years
Fall, Winter, Spring, Summer
CD 10H
Child Development: Middle and Adolescence
Fall, Winter, Spring, Summer
CD 50
Foundations of Early Childhood Education
Fall, Winter, Spring, Summer
CD 12
Child, Family, and Community Interrelationships
Fall, Winter, Spring, Summer
Recommended Courses Sequence

Curriculum
CD53, CD54, CD52, CD55, CD56, CD60, CD61,CD64,CD63, CD68
Student Teaching

CD51** (CDC and Mentor Sites)

CD57 (Community Sites)

Specialized courses
CD58*, CD72
Behavior and early childhood mental health
CD71, CD73, CD74, CD75
Administration and Supervision

CD67, CD59G, CD59H

Other courses
CD65, CD66, CD77, CD101, CD102, CD103
EDUC 01
Check with Department Chair
*Take CD 58, Infant Toddler Development, prior to CD 51 when working with infants and toddlers
**Requires you take CD10G, CD54 and 2 additional curriculum courses.