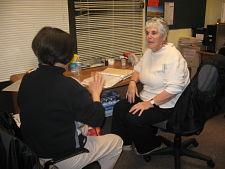 Students are required to see an academic counselor located in the Student and Community Services building.
Department Advising
Our faculty offers department advising experience to department students seeking to complete our programs. Advising includes familiarizing students with campus and community services that enhance a student's educational experience at De Anza. Advising includes, but is not limited to,
Child Development Permit advising
Child Development Program requirements and course sequence
Foreign transcript review information
Early Childhood Education Transfer Degree
Faculty Advising Schedule for Winter 2015



Declare a major, take the placement tests, attend a campus student orientation, and
visit a Counselor to complete your Education Plan.
For Winter 2015 Faculty Advising contact your instructor.

CONTACT INSTRUCTORS FOR AN APPOINTMENT
Name
Day
Time
Location
Phone/email
Mayra Cruz
Tues/Thurs

8:30-9:00am

& by appointment

CD2-21C
cruzmayra@fhda.edu
Dr. Li Wei Sun
CD2-21d

408.864.5329

408.864.5329

Dr. Angela Buchanan
CD3-38

408.864.5420

408.864.5420

Diane Langfelder
CD2-21a

650.365.0347650.365.0347

by appointment

Martina Ebesugawa
Tuesday
10:20-11:20am
CD2-21a
kaumbulumartina@fhda.edu
Fatemeh Zarghami

Wednesday

Saturday

8:30-9:30am

8:30-9:30am

CD2-21c
zarghamifatemeh@deanza.edu
Nellie Vargas
Wednesday
5:30-6:30pm
CD2-21e

408.864.8788

Rachel Talamantez
CD2-21a
talamantezrachel@deanza.edu
Vivian Qian
CD2-21a
quianvivian@fhda.edu
Child Development Training consortium CDTC
Promotes high quality early education to California's children and families by providing financial and technical assistance to child development students and professionals.At De Anza, the consortium funds are used to provide book vouchers. For information contact Dr. Li Wei Sun sunliwei@deanza.edu
http://www.childdevelopment.org/cs/cdtc/print/htdocs/services_permit.htm
California Child Development Permits
The California Commission on Teacher Credentialing (CCTC) offers six levels of the Child Development Permit, each with its own set of issuance requirements and each authorizing the holder to perform different levels of service in child development programs.
Students interested in applying for a child Development Permit can download the permit application at the Child Development Training Consortium website to access the permit application.
Foreign Transcript Review Need an evaluation of a degree achieved outside of the United States? Take a look at these CCTC approved agencies.
2014-15
CARES PLUS participants attending De Anza College will receive advisement from Fatemeh Zarghami. Contact Fatemeh at zarghamifatemeh@deanza.edu
For additional information visit http://www.e3institute.org/pub/htdocs/cares.html
Our CARES Plus Partner Agency, the Provider Connection assists students and workers who work in north geographical area, interested in completing a Child Development Permit Application. For support contact:
Beatriz Pastor
bpastor@paccc.com
3990 Ventura Ct. Palo Alto
CA 94306
(650) 493-3100
(650) 493-3100