Adjunct Study Groups
Interactive Adjunct Study groups are offered to students through the Tutorial Center in L47 or through most classes. For more information please contact your individual professor.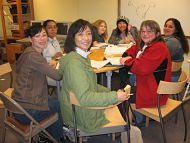 As a part of the department's self-study process for NAEYC accreditation of our A.A. Child Development Degree, we held eight (8) focus groups to gather data on program access, effectiveness and needs.

Student orientations are designed to provide you with information about our child development program, college services, and other resources.