3D Printing @ De Anza in the DMT Dept.
Spring CAD classes begin Monday April 10th 2017

 
---
3D Printing, Reverse Engineering and Rapid Prototyping: Strategies in Industry
What is 3-D Printing or Additive Manufacturing? Questions: cad@deanza.edu
In 2016 we added a new Stratasys Object30 Pro 3D Printer to our training classes.
See the Video and Download the 3D Printable file
Class equipment includes a Stratasys FORTUS 250mc 3D Printer & Optix EScan 3-D scanner.
Stratasys 3D Printers for Schools, Universities & Education info.
Stratasys BLOG
---
The Optix EScan 3-D scanner by 3D Digital Corp.
Using the Escan 3D Laser Scanner - 3D Digital Corp
What is a 3-D Scanner used for?
---
Model Based Metrology Solution for Reverse Engineering, Inspection and Education.
Master3DGage Demonstration
---
DMT 53 Book:
3D Printing and Additive Manufacturing
Principles and Applications (5th Edition)
By: Chee Kai Chua & Kah Fai Leong
ISBN: 978-981-3146-76-1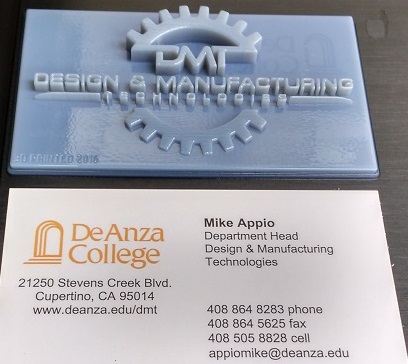 ---
| | |
| --- | --- |
| 3D Laser Scanning info. & resources | 3D Printer info. & resources |
| | |