De Anza's campus security is managed by the Foothill-De Anza District Police.


IN CASE OF EMERGENCY
From a campus phone: Dial 9-1-1
Dialing "9" before 9-1-1 from campus phones is NOT required.

From a cell phone: 408.924.8000




Download a flyer
with FHDA District Police contact information.



For Non-Emergency Assistance

For non-emergencies, call 650.949.7313 or dial extension 7-3-1-3 from campus phones when requiring police assistance:
to report non-violent crimes such as theft
to report non-injury vehicle accidents
to report minor disturbances such as loud music
for assistance with unlocking doors, jump-starting a car, or obtaining a nighttime police escort
to inquire about parking issues, fingerprinting, lost and found items, and general district police information.
When calling the non-emergency number, you will be given an option to reach a Dispatcher 24 hours a day, 7 days a week, even when our campus offices are closed.
FHDA District Police
De Anza Substation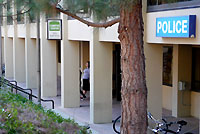 LOCATION
Hinson Campus Center, Lower Level, across from the Advanced Technology Center
SUBSTATION HOURS
Monday-Friday
7:30 a.m. - 11 p.m.
Closed Saturday, Sunday and all district holidays
CAMPUS PATROL

The campus is patrolled 24 hours a day, seven days a week, including holiday, by officers from the FHDA District Police and Santa Clara County Sheriff's Department.