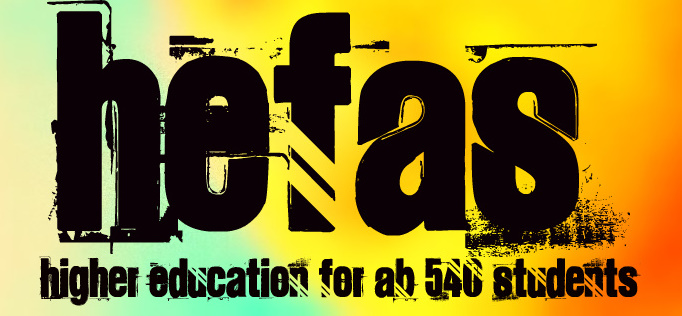 MISSION STATEMENT
Higher Education for AB540 Students(HEFAS) at De Anza College is an institutional and educational program that will provide resources, reduce financial stress, and create a safe learning environment for all students with an emphasis on undocumented/AB540.
It will implement a book loan program, peer advisors, and free access to resources; which will secure their educational success. We are dedicated to empower students, build leadership skills, promote social justice, and advocate for higher education.
GOALS
Provide Resources
Scholarships
Internships
Transfer Information and Aid (especially for schools who are AB540 friendly)
Book loan program
Peer advisors and free access to resources
Computer and free printing
Safe place for support of a community
How to figure out college schedule and start strong(placement testing, educational planning)
Connecting existing campus food programs to HEFAS
Providing materials (i.e. staplers, scissors, cantons/blue books etc.)
Reduce Financial Stress
Refer to payment plane
Stipends to student tutors
Establish money and book loan program
Provide info on college services like ECO pass
Create a job list (career center)
Create a Safe Learning Environment
Keeping things confidential
Friendly environment
"Know your rights" workshops, constitutional rights red cards, police brutality awareness
Identifying community resources such as SIREN and DEBUG!
Empower Students
Build leadership skills
Build social and communication skills
Connect them into similar programs or clubs like IMASS
Encourage participation and "Undocumented and Unafraid" Mentality
ALWAYS! give opportunities to become and develop as leaders.
Provide with tools to develop their leadership skills
Create and show videos!
Leader of the Month
Volunteer of the Month
Tutor of the Month
Advocate for Justice
Bulletin and flyers from clubs, projects, or programs to make aware of their social justice events.
Encouraging the students to attend the events
Motivate people to be active in social work/justice that have to do with bettering our lives
Connecting students to existing on and off campus community partners
Educate
Workshops for students to engage and expand their knowledge (know your rights, E.N.D education not deportation, dead mob)
Materials that people can wear or display to raise awareness ( i.e.buttons to promote HEFAS)
HEFAS members will always be educating people on current issues related to undocumented students and immigration law/acts.
HEFAS social networks to connect with outer community (face-book, twitter)
CONTACT US
If you would like to
get involved with or need more information
on HEFAS
,
please contact
Deanza.hefas@gmail.com