Welcome to the Environmental Studies Department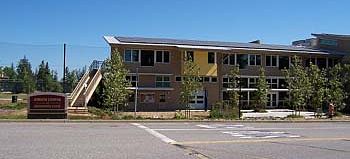 The Kirsch Center for Environmental Studies
The mission of the Environmental Studies Department at De Anza College is to provide students with an environmental stewardship foundation, knowledge of ecological, social and economic concepts, and an awareness of their roles within a sustainable society. Environmental studies and the environmental sciences integrate ecological, sustainability, ethical, socioeconomic and political principles, employing formal and non-formal methods of teaching as an effective means of education.
Students in this department are trained for exciting career opportunities in some of the fastest growing fields in the country. Participants range from entry-level students to already trained professionals. Highly qualified faculty and experienced students make this a rich learning opportunity.
What We Offer

The Environmental Studies Dept at DeAnza College offers:
Transfer opportunities to colleges and universities offering Bachelor's degree programs in Environmental Studies and Environmental Science, including:

CSUs (San Jose State, San Francisco State, Sonoma State, CSU-East Bay, etc.)
UCs (UC-Berkeley, UC-Davis, UC-Santa Cruz, etc.)
Private Schools (Santa Clara University, University of San Francisco, etc.)
Come join us at the Kirsch Center to learn how together we can forge an environmentally sustainable future for both current & future generations!
Cheeseman
Environmental Studies Area (ESA)

Summer 2016 Hours (thru 8/4):

Monday: 9:00 am - 5:00 pm

Tuesday: 9:00 am - 5:00 pm

Wednesday 9:00 am - 5:00 pm

Thursday 9:00 am - 5:00 pm

Friday: CLOSED




Stewardship Resource Center
(SRC)

Summer 2016 Hours (thru 8/4):

Monday: 9:00 am - 5:00 pm

Tuesday: 9:00 am - 5:00 pm

Wednesday 9:00 am - 5:00 pm

Thursday 9:00 am - 5:00 pm

Friday: CLOSED