HP Technology Grant 2007

Wildlife Movement Corridors along the 37th Parallel
ABSTRACT
In our project, technology is combined with environmental studies to teach students how to study and perform scientific research that is relevant to where they live, work and learn.

Wireless technology is integral to the course redesign through the use of the Internet, GPS, GIS, Google Earth and other state-of- the-art applications to gather data on mapping, biodiversity, waterways and watersheds, and community stakeholder perspectives.

Students do fieldwork in teams and communicate with faculty using mobile technology.




Pictured: Using an HP Tablet, Environmnetal Studies students view wildlife images from tracking cameras.


FACULTY
Julie Phillips, Morgan Family Chair in Environmental Studies (PI)
Pat Cornely, Executive Director, Kirsch Center for Environmental Studies
Tanya Diamond, Field Study Instructor and Wildlife Biologist
Student Comments
IMPACT ON TEACHING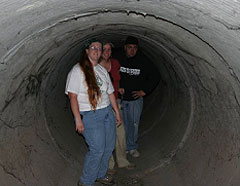 "We use rapid assessment and formal tracking techniques to locate animal movement patterns in Coyote Valley and determine the habitat connection points and the various species' movement needs."
"HP Technology has also evolved our field protocols and greatly enhanced the research being conducted."
-Veronica Davis

Pictured: Large terrestrial mammals
finding their way under Highway 101


IMPACT ON STUDENT LEARNING
"The computers have been invaluable in helping us to learn to use GIS technology, which is becoming more and more important to conservation work."
-Melissa Dekoven & Jessica Gonzalez
"We also feel that we have more ownership of our work, because rather than turning our data in to someone else to process and analyze, we do it ourselves and get to see the results of our work."
-Veronica Davis


TECHNOLOGY INTEGRATION
"HP Tablets make field work so much more efficient. For example, we use digital infrared motion-sensor cameras. Prior to using the HP Tablets, we lost valuable time each week through removing the cameras, taking them home, downloading images and then putting the cameras back in the field."
-Josh Goodwin


Quick Facts