Educational Hub
De Anza College is located in the city of Cupertino, California, 45 miles south of San Francisco and 6 miles from San Jose in the heart of world famous Silicon Valley. The area is home to many of the nation's leading technology corporations, such as Apple, Cisco, Intel, Oracle, Hewlett-Packard, Silicon Grapics, and Sun Microsystems.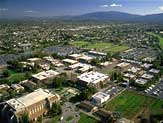 Other major companies based in the San Francisco Bay Area include Bank of America, United Airlines, Chevron Oil, Levi Strauss, and many more. As a result, De Anza is rapidly becoming an educational center in areas such as advanced technology, environmental studies, film and broadcasting, management information systems, etc.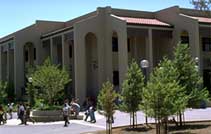 Located on 112 acres, De Anza has a distinct architecture that is in harmony with the surrounding community and creates a natural, comfortable campus atmosphere conducive to study. The buildings are a blending of Spanish and modern architecture with adobe-like walls, red-tile roofs, arches, and fountains. In fact, the logo of De Anza College represents the arches found on campus.
The Flint Center, a major performing arts auditorium, has hosted many outstanding speakers and cultural events, such as the symphony, ballets, and Broadway shows. The College has an Olympic aquatics complex, a 5,000-seat Outdoor Events Arena and is also home to the Fujitsu Planetarium, California History Museum, and Euphrat Museum of Art.
De Anza is conveniently connected by highways and public transportation to San Jose, San Francisco, Berkeley, Sacramento and many fun and exciting places in Northern California. De Anza is located only 20 minutes by car to Stanford University, five hours drive to the mountains for skiing in the winter and 30 minutes drive to the ocean to enjoy a day on the beach.