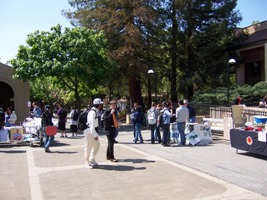 All new F-1 students are REQUIRED to attend the Orientation Program. During the Orientation Program, students will take all necessary placement tests, meet with International Student Counselors, select and register for classes, and take the Counseling 50 (Orientation to College) course.
Visa Application & Arrival in the U.S.A.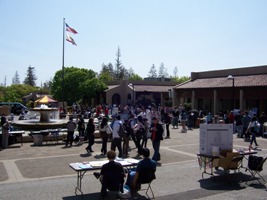 International students can apply for an F-1 visa at a U.S. embassy or consulate in their country within 90 days counting from the reporting date typed on the Form I-20 and enter the U.S. within 30 days from the reporting date. For example: if the reporting date on the I-20 is September 20, then you can apply for the visa as early as June 20 and enter the U.S. as early as August 20. You will need to pay a SEVIS fee and visa application fee, prepare documents, and be interviewed. If your visa application is approved, the U.S. embassy will place a F-1 visa sticker in your passport. You are now ready to purchase your airline ticket and make arrangements to attend De Anza College.
Be prepared to take your placement tests on the first day of the orientation at De Anza College. Placement tests in English, ESL (English as a Second Language), Intermediate Algebra, and Calculus.
For placement tests information and samples, go to the following website: www.deanza.edu/admissions/placement
If you are attending the orientation program, you do not need to register to take the placement test online. You will be assigned an appointment at orientation.
Arriving at a U.S. Port of Entry
To find out what a student can expect upon arrival into the U.S., please click on this link: http://www.ice.gov/sevis/students/
Prepare for your F-1 Visa Application and Interview
This information is for people who plan on entering the U.S. for the first time as F-1 visa holders. Click here.
The Health Verification handout must be completed and returned to the ISP office with all of the appropriate medical documentation attached upon arrival to De Anza College. Failing to do this by the specific deadline (the 2nd Friday of your first quarter) will result in a 'HOLD' on your account which will prevents you from registering for classes for the next quarter.
Please note: The Health Verification handout should be completed by a medical professional or supporting documentation must be attached. Forms that have been filled in by the student and/or are lacking attached proof will not be accepted.
Students who do not have a valid Health Verification can receive the required testing and immunizations at Student Health Services on campus at the beginning of their first quarter. More information about accessing these services will be given during the Orientation Program.
Click HERE for our Local Housing Guide
De Anza International Student Programs also works with an organization called International Student Placements that will find homestays with families for our international students. These homestays can provide daily meals (breakfast and dinner) and serve as excellent opportunities for students to learn more about the American culture and improve their English skills. If you prefer to live on your own or with other students (and you are 18 years or older), you can also contact the ISP homestay program for apartment living and shared housing options.
Click HERE for the homestay quick informational handout
More Housing Tips:
If you would like to find housing/apartments on your own, see the website recommendations and guidelines in the Local Housing Guide above.
Housing opportunities within the De Anza community are frequently shared on Facebook. Join the De Anza International Students group to connect with other international students. You can find available accommodations or post your own advertisements there.
Need Furniture?

Student Furniture and Houseware Rental Packages are available through CORT.

Translators in the following languages are available for this service: English, Japanese, Chinese, Portuguese, Russian, Spanish, Arabic, and Korean!
Contact ISP Program Coordinator Hayley Davidson if you have more questions related to housing.
Disclaimer: The International Student Programs at De Anza College does not assign, endorse, or promote any housing arrangement. Information provided is strictly for advising purposes only. Any housing arrangement carries with it conditions which are beyond the control of the College.