Stay Healthy and Safe
Health Related Issues
The De Anza Health Center has many information and contacts available for you to stay Healthy while enjoying your education at De Anza college. Many health related topics are covered on this website, e.g:
More Important Information can also be found in our International Student Health Brochure
Bike and Traffic Safety
Even if you are just riding your bike, or walk, it is always important to know about the Traffic Rules in order to stay safe. Every Country has different rules and regulations, so be sure to inform yourself about those before riding a bike, or drive a car.
A guide to Bike Rules and Regulations, and General Bike Safety Information is available at the California DMV website.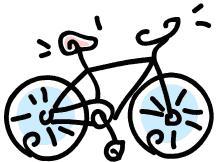 Earthquakes: How to Stay Safe
In California earthquakes are common. Learn more about how to stay safe from this official earthquake safety guide by USGS:
http://pubs.usgs.gov/gip/2005/15/gip-15.pdf