Higher Education for AB 540 Students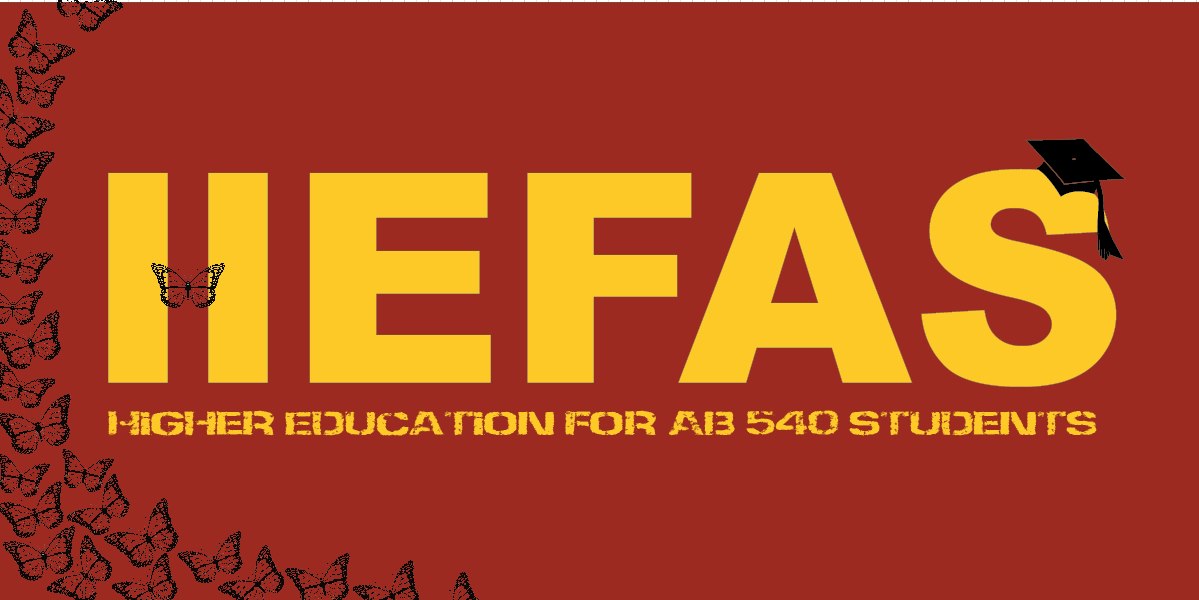 Our Mission:
We are an institutional and educational program that provides free resources, reduces financial stress, and creates a safe learning environment for all students with an emphasis on undocumented/AB 540 information.
We are dedicated to empowering students, building leadership skills, promoting social justice, and advocating for higher education.
Computer and Printing Services
Scholarship and Transfer Information
________________________________________________________________
Who is an undocumented student?
Undocumented students are foreign nationals who come to the U.S. without legal documentation or have overstayed their visas. They may be eligible for in-state tuition under AB 540 at public colleges and universities in CA.
Each year, about 65,000 undocumented students graduate from high schools across the U.S., with more than 25,000 graduating from CA alone

Only 5-10% of undocumented high school graduates pursue higher education at two-year community colleges and four-year universities
What is AB 540?
Assembly Bill 540 (AB 540) allows undocumented students or non-California residents to qualify for in-state tuition. There are 3 requirements to be eligible for AB540:
Attend a CA high school for 3 or more years

Graduate from a CA high school and receive a diploma or General Education Degree (GED)

Be currently enrolled at an accredited institution of higher education in CA (e.g. community college, California State University, University of California, etc.)
Download a form here.
What is the CA DREAM Act?
The CA DREAM Act includes 2 Assembly Bills:
AB 130 allows students who are eligible for AB 540 to apply for and receive non-state funded scholarships for public colleges and universities in CA.
AB 131 allows students who are eligible for AB 540 to apply for and receive state-funded financial aid such as institutional grants, community college fee waivers, Cal Grant, and Chafee Grant.
*Applications due yearly on March 2nd
__________________________________________________________________________________
Contact us:
Office: Lower level of the Hinson Campus Center, Room 132
Join us on Facebook @ https://www.facebook.com/hefas.deanza.5
Our Community Partners
SIREN- Services, Immigrant Rights and Education Network
Educators for Fair Consideration
Community Law Center of East Palo Alto
Vasconcellos Institute for Democracy in Action (VIDA)

Office of Equity, Social Justice and Mutlicultural Education
SSRS- Student and Retention Services