Page 33 - Course_Catalog_2020-2021
P. 33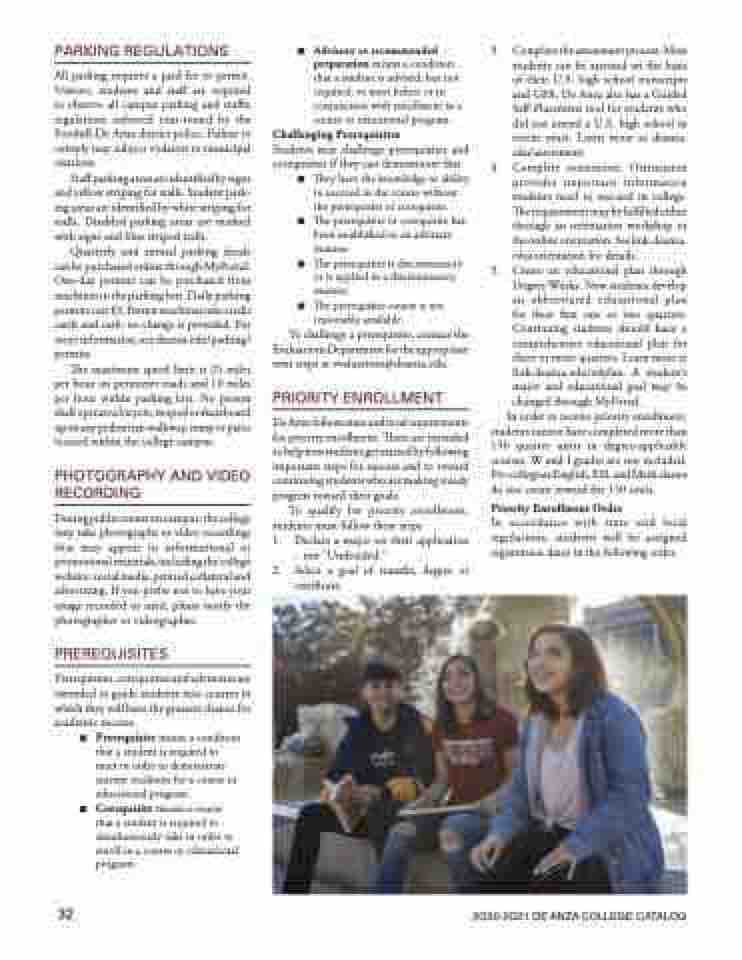 PARKING REGULATIONS
Staff parking areas are identified by signs ■ They have the knowledge or ability and yellow striping for stalls. Student park- to succeed in the course without ing areas are identified by white striping for the prerequisite or corequisite. stalls. Disabled parking areas are marked ■ The prerequisite or corequisite has with signs and blue striped stalls. been established in an arbitrary
Quarterly and annual parking decals manner.
One-day permits can be purchased from or is applied in a discriminatory
All parking requires a paid fee or permit.
Visitors, students and staff are required
to observe all campus parking and traffic
regulations enforced year-round by the
Foothill-De Anza district police. Failure to Challenging Prerequisites
comply may subject violators to municipal Students may challenge prerequisites and citations. corequisites if they can demonstrate that 4.
can be purchased online through MyPortal. ■ The prerequisite is discriminatory 5.
machines in the parking lots. Daily parking manner.
permits cost $3. Permit machines take credit ■ The prerequisite course is not
■ Advisory or recommended 3. preparation means a condition
that a student is advised, but not required, to meet before or in conjunction with enrollment in a
course or educational program.
Complete the assessment process. Most students can be assessed on the basis of their U.S. high school transcripts and GPA. De Anza also has a Guided Self-Placement tool for students who did not attend a U.S. high school in recent years. Learn more at deanza. edu/assessment.
Complete orientation. Orientation provides important information students need to succeed in college. The requirement may be fulfilled either through an orientation workshop or the online orientation. See link.deanza. edu/orientation for details.
Create an educational plan through Degree Works. New students develop an abbreviated educational plan for their first one or two quarters. Continuing students should have a comprehensive educational plan for three or more quarters. Learn more at link.deanza.edu/edplan. A student's major and educational goal may be changed through MyPortal.
In order to receive priority enrollment, students cannot have completed more than 150 quarter units in degree-applicable courses. W and I grades are not included. Pre-collegiate English, ESL and Math classes do not count toward the 150 units.
Priority Enrollment Order
In accordance with state and local regulations, students will be assigned registration dates in the following order.
 cards and cash; no change is provided. For reasonably available.
more information, see deanza.edu/parking/ To challenge a prerequisite, contact the permits. Evaluations Department for the appropriate
The maximum speed limit is 25 miles next steps at evaluations@deanza.edu.
per hour on perimeter roads and 10 miles
per hour within parking lots. No person PRIORITY ENROLLMENT
shall operate a bicycle, moped or skateboard upon any pedestrian walkway, ramp or patio located within the college campus.
PHOTOGRAPHY AND VIDEO RECORDING
During public events on campus, the college may take photographs or video recordings that may appear in informational or promotional materials, including the college website, social media, printed collateral and advertising. If you prefer not to have your image recorded or used, please notify the photographer or videographer.
PREREQUISITES
Prerequisites, corequisites and advisories are intended to guide students into courses in which they will have the greatest chance for academic success.
De Anza follows state and local requirements for priority enrollment. These are intended to help new students get started by following important steps for success and to reward continuing students who are making steady progress toward their goals.
To qualify for priority enrollment, students must follow these steps
1. Declare a major on their application
– not "Undecided."
2. Select a goal of transfer, degree or
certificate.
    32
2O20-2O21 DE ANZA COLLEGE CATALOG
■
■
Prerequisite means a condition that a student is required to meet in order to demonstrate current readiness for a course or educational program. Corequisite means a course that a student is required to simultaneously take in order to enroll in a course or educational program.