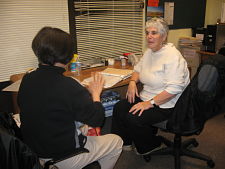 Department Advising
Our faculty offers department advising to department students seeking to complete our programs. Advising includes familiarizing students with campus and community services that enhance a student's educational experience at De Anza.
Advising includes, but is not limited to,
Child Development Permit
Child Development certificate programs and degree requirements
Course sequence
Foreign transcript review information
Early Childhood Education Transfer Degree
Resources to be successful as a student
Faculty Mentors for Advising



Declare a major, take the placement tests, attend a campus student orientation, and
visit a Counselor to complete your Education Plan.
To access the list of department faculty visit instructor.
Winter 2018

Email instructors for an appointment or check the office hour schedule posted in the CDC reception area.
| | | | | |
| --- | --- | --- | --- | --- |
| Faculty | Email | Day | Time | Location |
| Full-Time Faculty | | | | |
| Li Wei Sun | sunli@deanza.edu | | | CD2-21d |
| Nellie Vargas | vargasnellie@deanza.edu | | | CD2-21e |
| Mayra Cruz | cruzmayra@deanza.edu | | | CD2-21c |
| Jayanti Tambe | tambejayanti@deanza.edu | | | CD3-38 |
| Part-Time Faculty | | | | |
| Fatemeh Zarghami | zarghamifatemeh@deanza.edu | | | CD2-21a |
| Jila Malek | maleksalehijila@fhda.edu | | | CD2-21a |
Child Development Training consortium CDTCPromotes high quality early education to California's children and families by providing financial and technical assistance to child development students and professionals.At De Anza, the consortium funds are used to provide book vouchers. For information contact Dr. Li Wei Sun sunliwei@deanza.edu
http://www.childdevelopment.org/cs/cdtc/print/htdocs/services_permit.htm
California Child Development Permits
The California Commission on Teacher Credentialing (CCTC) offers six levels of the Child Development Permit, each with its own set of issuance requirements and each authorizing the holder to perform different levels of service in child development programs.
Students interested in applying for a child Development Permit can download the permit application at the Child Development Training Consortium website to access the permit application.
Foreign Transcript Review Need an evaluation of a degree achieved outside of the United States? Take a look at these CCTC approved agencies.