Page 26 - CommunityEd_Catalog_Summer-Fall-2020
P. 26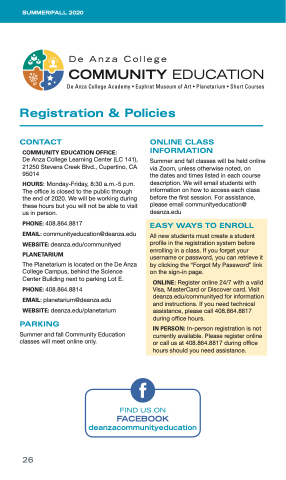 SUMMER/FALL 2020
 De Anza College COMMUNITY EDUCATION
De Anza College Academy • Euphrat Museum of Art • Planetarium • Short Courses
Registration & Policies
 CONTACT
COMMUNITY EDUCATION OFFICE:
De Anza College Learning Center (LC 141), 21250 Stevens Creek Blvd., Cupertino, CA 95014
HOURS: Monday-Friday, 8:30 a.m.-5 p.m. The office is closed to the public through the end of 2020. We will be working during these hours but you will not be able to visit us in person.
PHONE: 408.864.8817
EMAIL: communityeducation@deanza.edu
WEBSITE: deanza.edu/communityed
PLANETARIUM
The Planetarium is located on the De Anza College Campus, behind the Science Center Building next to parking Lot E.
PHONE: 408.864.8814
EMAIL: planetarium@deanza.edu WEBSITE: deanza.edu/planetarium
PARKING
Summer and fall Community Education classes will meet online only.
ONLINE CLASS INFORMATION
Summer and fall classes will be held online via Zoom, unless otherwise noted, on
the dates and times listed in each course description. We will email students with information on how to access each class before the first session. For assistance, please email communityeducation@ deanza.edu
   26
FIND US ON
FACEBOOK
deanzacommunityeducation
EASY WAYS TO ENROLL
All new students must create a student profile in the registration system before enrolling in a class. If you forget your username or password, you can retrieve it by clicking the "Forgot My Password" link on the sign-in page.
ONLINE: Register online 24/7 with a valid Visa, MasterCard or Discover card. Visit deanza.edu/communityed for information and instructions. If you need technical assistance, please call 408.864.8817 during office hours.
IN PERSON: In-person registration is not currently available. Please register online or call us at 408.864.8817 during office hours should you need assistance.