Red Wheelbarrow
so much depends

upon

a red wheel

barrow

- William Carlos Williams (1923)
Red Wheelbarrow, the De Anza College literary magazine, appears each year in both a National and a Student Edition.
The National Edition, published each fall, is open to poets and writers from around the country and the world. The national edition also sponsors the annual Red Wheelbarrow Prize for poetry. The national edition of Red Wheelbarrow accepts unsolicited submissions September 1st through February 15th at weisnerken@fhda.edu. However, the annual poetry prize deadline through Submittable.com is August 15th. See below for more detailed guidelines for both the magazine and the prize. See here below for information related to the National Edition and Red Wheelbarrow Poetry Prize; thanks for your interest!
The Student Edition, published each spring, is open only to submissions from student writers & artists enrolled at De Anza College. See below for student edition information.
Special Note for 2020 online De Anza student edition: Those submitting videos (short films, performances or poems and flash-fiction stories, original songs, dance)…up to 3, not more than 10 minutes, combined—please upload your video (unlisted*) to YouTube and e-mail us the link!
Requirements for Video
Film the video in landscape
Put each piece in a separate video
Maximum 3 video submissions that are no more than 10 minutes total

Ex. submit either one ten minute video or three three-minute videos

Make sure your face is well lit
Make sure audio is clear and minimal background noise
Make sure to introduce the poem by saying your name clearly an the poem title s well. It's OK to very briefly introduce whatever you are reading too J
A few video Ideas:

Just film yourself reading your poem/fiction piece
Make a creative video that complements your piece and do a voiceover of you reading your piece in the background
Come up with your own creative idea
How to create an unlisted YouTube video*
1. Go to https://www.youtube.com/
2. Sign in to your YouTube account
3. Click Create in the top right of the page.
4. Select Upload Video.
6. Customize video details (title, description, etc.).
7. Click the Visibility section of the menu
8. Select Unlisted and copy the video link.
9. Email the link to weisnerken@fhda.edu.
---
WINNERS
"Faustian Bargain" AE Hines
"requiem for a scream," Arien Reed
"Looking," Jim Daniels
FINALISTS
"the visit/alzheimer's," Claire Acerno
"If I Had as Many Hands as Vishnu," Stephen Ackerman
"Post-Partum Depression," Bridget Bell
"Planned Parenthood Abecedarian," Chelsea Bunn
"Mother," Morgan Corona
"Legacy," Susan Florence
"I Lose My Teeth Every New Moon," Russell Karrick
"Stirring the Ashes," Lynne Jensen Lampe
"Summer Crop," Heidi Richardson
"Memory's Fence," Jamie Ross
SEMIFINALISTS
"An American in Paris," Stephen Ackerman*
"Worst case scenario," Imani Cezanne
"Newsfeed," Dante Di Stefano
"Drift," Evangeline Riddiford Graham
"Gingerbread House," Evangeline Riddiford Graham
"Winter 2020: A Premonition," Ben Gunsberg
"Those Mornings," Jared Jared Harél
"Don't Think Twice," Carrie Jewell
"The Glasswing Butterfly," Melissa Kwasny
"Chicago Night," Douglas Macdonald
"At Red River Gorge," Rachel Rinehart
"It Could be Anyone's," Lex Runciman
"The Nest," Matthew Thorburn
"Anaphora is the Name We Give the Daughter We Do Not Have," Julie Marie Wade
"Christening," Emily Paige Wilson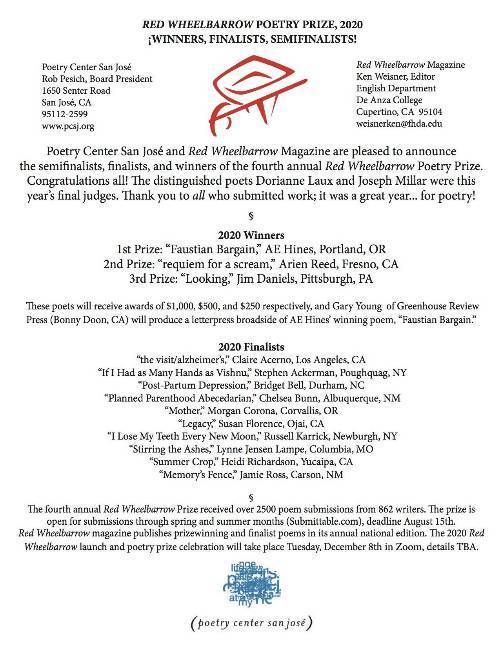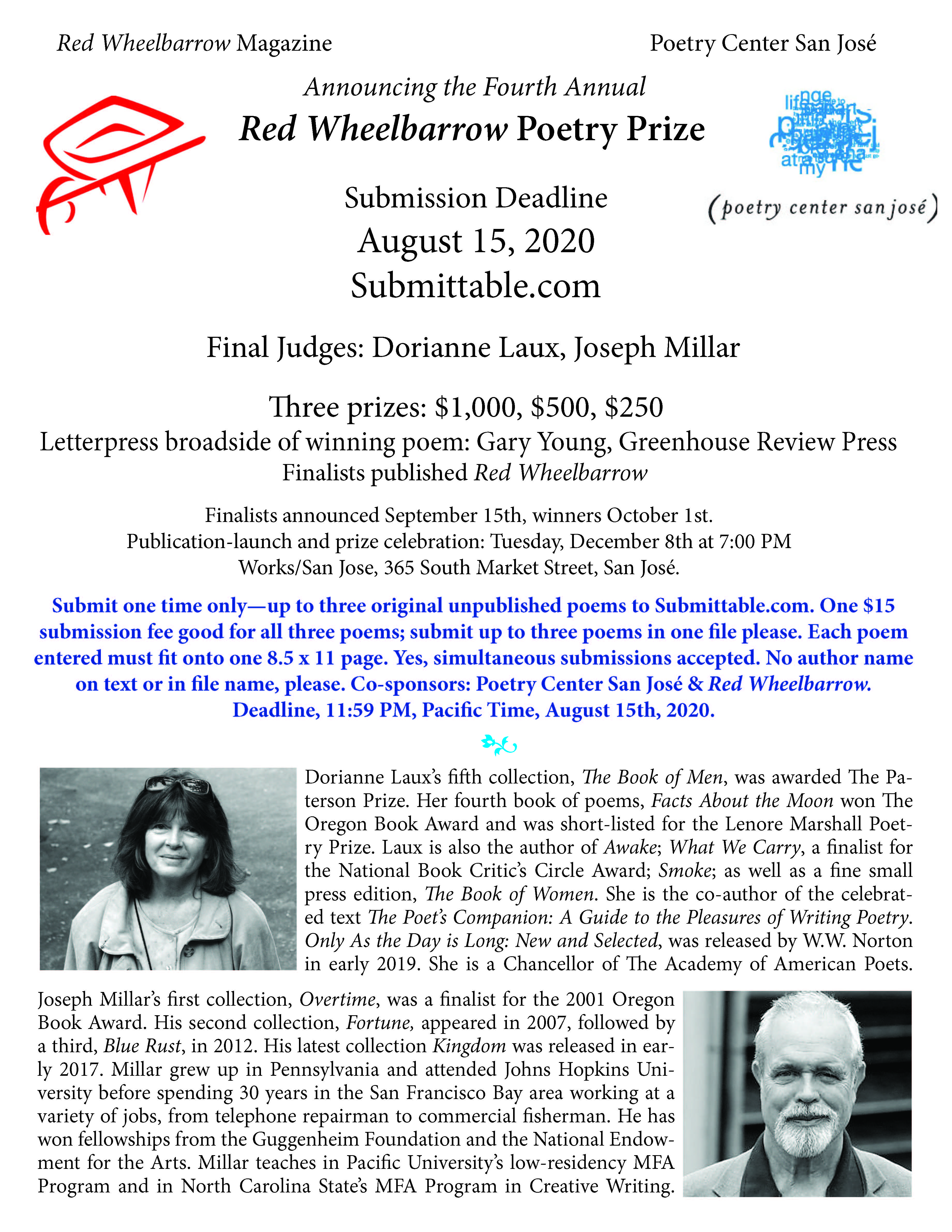 2019 Winners, Third Annual Poetry Prize.
Poetry Center San José and Red Wheelbarrow Magazine are pleased to announce the winners of the third annual Red Wheelbarrow poetry prize.
Marilyn Chin was this year's final judge.
1st Prize: "Timing," by Sandra McPherson of Davis, California
2nd Prize: "Linocut with Intensive Care Unit," by Amy Miller of Ashland, Oregon
3rd Prize: "Lingua Franca," by Lisa Allen Ortiz of Santa Cruz, California
These poets received awards of $1,000, $500, and $250 respectively, and Felicia Rice of
Moving Parts Press has produced original broadside of Lynne Ellis's "Seamstress"
2019 Finalists: "Bitter Fruit," Margaret Chula, Portland, OR
"The End Comes," Brennan DeFrisco, Martinez, CA
"After the War," Susan Kelly-Dewitt, Sacramento, CA
"In the Valley of Ashes," Erin Donnelly, Lisle, IL
"The Shirt," Peter Bloch Garcia, Seattle, WA
"I'm in Love with the California Condor," Jean Prokott, Rochester, MN
"In the beginning the bodies were too soft," John Sibley Williams, Milwaukie, OR
The third annual Red Wheelbarrow Prize received over 1300 poems from 450 writers.
***
2018 Winners, Second Annual Poetry Prize.
Poetry Center San José and Red Wheelbarrow Magazine are pleased to announce the winners of the second annual Red Wheelbarrow poetry prize.
Naomi Shihab Nye was this year's final judge.
1st Prize: "Seamstress," by Lynne Ellis of Seattle, Washington
2nd Prize: "The Way Velázquez Used Light," by Carine Topal of La Quinta, California
3rd Prize: "The Pomegranate," by Stephanie Duhem of Boston, Massachusetts
These poets received awards of $1,000, $500, and $250 respectively, and Felicia Rice of
Moving Parts Press has produced original broadside of Lynne Ellis's "Seamstress"
2018 Finalists: "Essential Chili Peppers of Mexican Cooking," J.D. Amick
"The House with the Piano," Lynne Ellis
"The Thinking of It," Mika Kligler
"How is Home," Lisa Ludden
"Of Frogs," Seth Simons
The second annual Red Wheelbarrow Prize received over 1600 poems from 574 writers.
***
2017 Winners: Inaugural Prize. Ellen Bass was this year's final judge.
1st Prize: "Pop a Wheelie," by Partridge Boswell of Woodstock, Vermont
2nd Prize: "Dancing," by Matt Terhune of Los Angeles, California
3rd Prize: "What My Mother Meant to Say That Night," by John Sibley Williams of Portland, Oregon
These poets will receive awards of $1,000, $500, and $250 respectively, and Gary Young of
Greenhouse Review Press will produce an original broadside of Partridge Boswell's winning
poem, "Pop a Wheelie."
2017 Finalists: "Black Bear" Philip Arnold; "Cityscape with Rainbows," Lauren Goldstein;
"Brother Mockingbird," Susan Kelly-DeWitt; "Praise to the Sewers of Lvov," Donald Levering;
"Mall Run," Jane Miller; "How We All Came to Be Here," John Sibley Williams
The first annual Red Wheelbarrow Poetry Prize received 650 poem submissions from 225 writers.
---
To Order Current or Back Issues
Send e-mail request today to: weisnerken@deanza.edu
In the body of your e-mail, please indicate:
MAILING ADDRESS
WHICH ISSUE(S) YOU WANT
THE QUANTITY YOU ARE ORDERING
Follow up that same day by mailing a check PAYABLE TO RED WHEELBARROW @ $16.00 PER ISSUE (this includes domestic shipping and handling) to the following address:
RED WHEELBARROW MAGAZINE
DE ANZA COMMUNITY COLLEGE
21250 STEVENS CREEK BOULEVARD
CUPERTINO, CA
95014
You can also do this process entirely by USPS. Include all the information listed above with your request.
We will fulfill your order within 7-10 days.
---
Students: Join the Red Wheelbarrow
STUDENTS: To join the staff of Red Wheelbarrow—sign up for EWRT 65/68)
(The class meets from 4:00-5:50 Monday afternoons. The online staff option is EWRT 65AX and 68AX).
EWRT 1B: HOT OFF THE PRESS—"Literary Magazine, National Edition"—is taught winter quarter (January through March). The magazine is published each Fall.
EWRT 68A/AX—"Literary magazine, Student Edition"—is taught spring quarter (April through June). This De Anza student magazine is published each June.
---
Submission Guidelines
Deadlines: Submissions accepted between September 1st and February 15th for the National Edition (and May 20th for the Student Edition).
Submission guidelines: Submissions by post or e-mail. Digital submissions encouraged. Simultaneous submissions acceptable if indicated. Two to six month response time for National Edition. E-mail submissions as WORD or RTF attachments to weisnerken@fhda.edu.
Contact:
Red Wheelbarrow Literary Magazine
De Anza College
21250 Stevens Creek Boulevard
Cupertino, CA 95014-5702
Poetry: up to 5 poems
Fiction: 1 short story (up to 5,000 words), or up to 3 short-shorts
Plays: 1 dramatic piece up to 5,000 words
Creative Nonfiction: 1 piece up to 5,000 words
Photographs/Drawings (student edition only*): up to 5 prints or digital files. *Do not send originals. We require B&W work for the inside of the magazine, but color may be considered for the cover.
Comics: 1 brief graphic story
National edition contributors: Please include a brief autobiographical statement. For snail mail submissions, enclose an SASE and/or an email address for reply.
Student edition contributors: Please do not include your name on the manuscript itself, only in cover letter or body of e-mail. All work (including work submitted by Red Wheelbarrow staff members) is judged anonymously.
---
2020 Entries: Red Wheelbarrow National Edition Poetry Prize
The poetry prize is open for submissions annually through spring and summer (Submittable.com).
Red Wheelbarrow Prize: $1,000, $500, $250
Deadline: August 15, 2020
2020 Judges: Joseph Millar & Dorianne Laux

Finalists published Red Wheelbarrow.
Letterpress broadside of winning poem: Gary Young, Greenhouse Review Press
Sponsors: Poetry Center San Jose & Red Wheelbarrow.
Submit, one time only, up to three original unpublished poems in a single manuscript. Submit online at
https://redwheelbarrow.submittable.com/submit
Each poem must fit onto one 8.5 x 11 inch page;
Do not include any personal identifiers in the manuscript nor in manuscript file name;
Short bio acceptable, not required;
Deadline to submit: 15 August
Simultaneous submission OK but please notify immediately if your work is accepted elsewhere.
$15 submission fee.
Each poem entered must fit onto one 8.5 x 11 page.
---
Poets and Writers listing for Red Wheelbarrow
Red Wheelbarrow Facebook Page
Editor: Ken Weisner, weisnerken@deanza.edu
http://www.deanza.edu/faculty/weisnerken