"One of my favorite quotes is, 'Experience is the Greatest Teacher of All'. Every experience here at the Euphrat Museum has been amazing. Being pushed to get involved and asked to participate here gives me confidence to accomplish my own future dreams. Learning first hand about art and art ideas has helped me understand so much more and fills me with hope that I can be a part of making the world a better place. It has been an opportunity and journey I never thought would cross my path. Blessed people here have shown and taught me so much and these lessons will be with me for my life. My dream is to be an artist and environmental activist and to go back to my country Guam and teach the children there about art and the environment."
– Joey Certeza, De Anza art major
---
"The Euphrat Museum of Art has contributed to this community and our club in ways no other programs at De Anza could offer."
– Charles Tseng, De Anza Honors Club President
---
"During the time that I have worked at the Euphrat Museum and the after-school programs I have been able to learn about the process of setting up for a show and how to better interact with children. This has given me motivation to continue with my educational goals. One of my goals is to one day open a youth center where children could have the opportunity to learn about culture and art. Working at the museum and in the after-school art program has taught me so much and inspires me every day. I also learned about Chicano/a artists I had not heard of before and how Chicano/a activism and political issues can be expressed through art. Seeing at the Euphrat Museum how art can be used as a form to reach out to the youth is very impressive. The museum and the programs they do for youth are awesome!"
– Areana Gomez, De Anza Chicano/a studies major
Students are employed or volunteer in Euphrat programs. They also participate in campus and community outreach projects and events. Students are involved at all levels: learning, trying out new ideas, and sharing their skills and experience with others.
Student Interns
De Anza Student Interns are employed or volunteer as museum assistants and front desk attendants and as teachers' aides in the Euphrat Arts & Schools Program. Students learn how art is connected to other disciplines and cultures and how it can address issues that impact their community. They have opportunities to experience some of the civic and transformative aspects of community-based art and service learning practices. Viewing and reflecting on the art and ideas presented in Euphrat exhibitions and working with the children and youth in the Arts & Schools Program heightens the student's sense of identity and civic awareness. Students are encouraged to develop a lifelong appreciation of art and to recognize the different roles of art and art skills in community service and the world of work.
Student interns reflect and write on their experiences twice each quarter. This learning is individualized through setting and following through on specific goals, often related to their plan of study. Future plans for this program include institutionalizing the program to provide credits for students.
Euphrat student interns at Euphrat Museum's Lunar New Year Unity Parade and International Fair booth: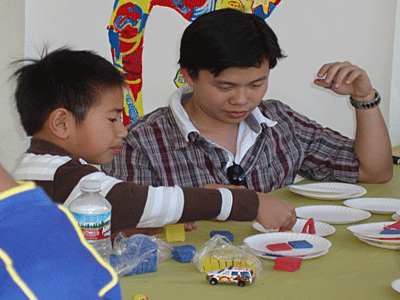 De Anza College student intern Minh Nguyen teaches 2nd grader Duc Vo how to
make dancing figures out of modeling clay at Euphrat Museum's Lunar New Year
Unity Parade and International Fair booth..
Euphrat student interns at Arbuckle Elementary School College Art Day: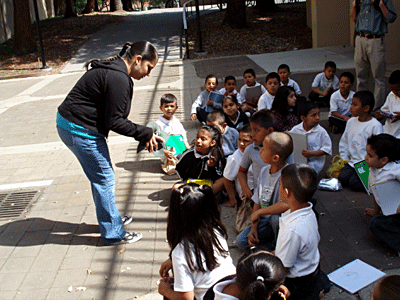 Euphrat student intern Rojana Ibarra talks about her artwork with students of Arbuckle Elementary School of the Alum Rock School District. She and Euphrat student intern Trang Tran worked with Arbuckle students on a hands-on art activity after a Teaching Tour of the Euphrat Museum.
College Art Days bring students from low income schools to De Anza to participate in a Teaching Tour of the Euphrat Museum, do a hands-on art activity, tour the Creative Arts Quad, view public art on campus, and visit the Planetarium.