Previous Exhibitions
---
Fall 2017
Kindness as Resistance
October 30 - December 8, 2017
Acts of Kindness, a special project for the 50th Anniversary of De Anza College, with Teatro Visión and Intercultural Studies students and faculty. This includes a performance, directed by Rodrigo Garcia, and a vegetarian tamale lunch: Wednesday November 29, 11:30 a.m. – 1 p.m, in the Euphrat museum and lobby.
See the article in the Mercury News: "Euphrat Museum's fall exhibit explores kindness and hope."
Cupertino Poet Laureate event, with Celebrate Creativity Awards: Thursday November 9,
7 - 9 p.m.
Open Monday - Thursday, 10 a.m. - 3 p.m., during exhibitions
Open Saturday, December 2, 10 a.m. - 1 p.m.
Open to tour groups by appointment
First Thursday open mic nights November 2, December 7, 5 p.m. - 7:30 p.m.
Painitng of artist Lenore Chinn standing in front of large artwork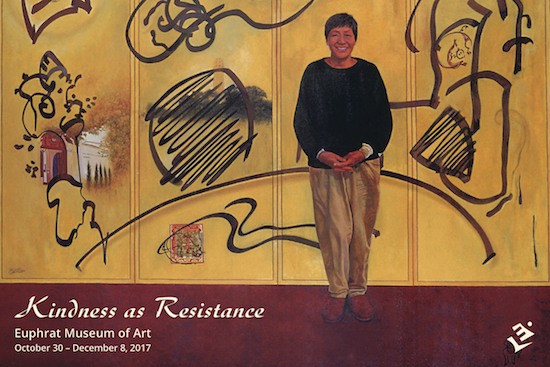 Kindness as Resistance will explore kindness and hope as acts of resistance and positive counter-narratives. Artworks will include grace-filled portraits of diverse people and communities, installations about cultural healing traditions, explorations of faith and hope, and opportunities for connection and communication.
Artists: Elsa Aguirre, Rosanna Alvarez, Tessie Barrera-Scharaga, Branley Cadet, Lenore Chinn, Kate DeCiccio, Lewis deSoto, Shepard Fairey, Yolanda Guerra, Omar Hernández, Elias Kamal, Pantea Karimi, Ruth Morgan, Bmike Odums, Esther Traugot, and Adon Valenziano.
Student projects include Reclaiming Culture with Juan Gamboa's Chicanx Studies classes and Connecting with Rocky Lewycky, Sal Breiter, and Jen Myhre's classes.
---
Check back for more listings of previous exhibitons.