Faculty Ranking Timeline for 2015-2016 Faculty Hires
Faculty Ranking Timeline
for
2015 - 2016 Faculty Hires
Date
Action
Notes
January 13, 2015
First IPBT Meeting for Winter Quarter - IPBT
Receives "Preliminary" List of Faculty Positions for
Review with Constituency Groups.
January 16, 2015
Last Day To Submit Letters of Resignation for
Consideration of Replacement in 2014-2015
January 20, 2015
IPBT Receives "Final" List of Vacant Positions and
Written Justifications For Ranking and Review by
Constituency Groups.
January 27, 2015
Hold For Possible Meeting Of Presentations
by Deans "if needed".
January 30, 2015
Final Ranking Sheets Due To Christina by 5:00 pm
February 3, 2015
Final Outcome of Facuty Ranking Is Released To
IPBT and Division Deans.
February 12, 2015
IPBT Recommendaton of Faculty Ranking is
Presented to College Council for Approval.
IPBT Program Review Timeline for Spring Quarter 2014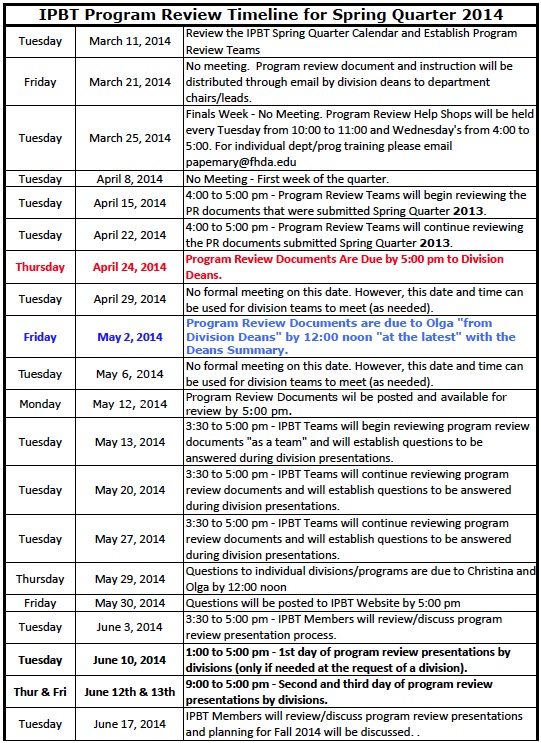 | | |
| --- | --- |
| Date | Action |
| | |
| January 14, 2014 | First IPBT Meeting for Winter Quarter - IPBT Receives "Preliminary" List of Faculty Positions for Review With Constituency Groups. |
| | |
| January 17, 2014 | Last Day To Submit Letters of Resignation for Consideration of Replacement in 13-14. |
| | |
| January 21, 2014 | IPBT Receives "Final" List of Vacant Positions and Written Justifications For Ranking and Review by Constituency Groups. |
| | |
| January 28, 2014 | Hold for possible meeting of presentations by Deans "if needed". |
| | |
| January 31, 2014 | Final Ranking Sheets Due To Christina by 5:00 pm |
| | |
| February 4, 2014 | Final Outcome of Faculty Rankin Is Released To IPBT and Division Deans. |
| | |
| February 13, 2014 | IPBT Recommendation of Faculty Ranking is Presented to College Council for Approval. |
IPBT Program Review Timeline for Spring Quarter 2013
Instructional Program Planning Meeting Calendar
Outcomes: Proposals for Reduction of Instructional Programs for the 2014-2015
| | | |
| --- | --- | --- |
| Friday | March 22, 2013 | No meeting. Program review document and instruction will be distributed through email by division deans to department chairs/leads. |
| Tuesday | March 26, 2013 | Finals Week - No Meeting. Program Review Help Shops will be held every Wednesday from 3:30 to 4:30 and Thursday's from 10:00 to 11:00 am during spring quarter. For individual dept/prog training please email papemary@fhda.edu |
| Tuesday | April 9, 2013 | No Meeting - First week of the quarter. |
| Tuesday | April 16, 2013 | 4:00 to 5:00 pm - Program Review Teams will be established. |
| Tuesday | April 23, 2013 | 4:00 to 5:00 pm - Program Review Teams will begin reviewing the PR documents that were submitted Spring Quarter 2012. |
| Tuesday | April 30, 2013 | 4:00 to 5:00 pm - Program Review Teams will continue reviewing the PR documents submitted Spring Quarter 2012. |
| Tuesday | May 7, 2013 | No formal meeting on this date. However, this date and time can be used for division teams to meet (if needed). Program Review Documents Are Due by 12:00 noon to Div Deans. |
| Monday | May 13, 2013 | Program Review Documents are due to Olga "from Div Deans" by 12:00 noon "at the latest" with the Deans Summary. |
| Tuesday | May 14, 2013 | 3:30 to 5:00 pm - IPBT Teams will begin reviewing program review documents "as a team" and will establish questions to be answered during division presentations. |
| Tuesday | May 21, 2013 | 3:30 to 5:00 pm - IPBT Teams will continue reviewing program review documents and will establish questions to be answered during division presentations. |
| Tuesday | May 28, 2013 | 3:30 to 5:00 pm - IPBT Teams will continue reviewing program review documents and will establish questions to be answered during division presentations. |
| Wednesday | May 29, 2013 | Questions to individual divisions/programs are due to Christina and Olga by 12:00 noon |
| Thursday | May 30, 2013 | Questions will be posted to IPBT Website by 5:00 pm |
| Tuesday | June 4, 2013 | 3:30 to 5:00 pm - IPBT Members will review/discuss program review presentation process. |
| Tuesday | June 11, 2013 | 1:00 to 5:00 pm - 1st day of program review presentations by divisions (only if needed at the request of a division). |
| Thur & Fri | June 13th & 14st | 9:00 to 5:00 pm - Second and third day of program review presentations by divisions. |
| Tuesday | June 18, 2013 | IPBT Members will review/discuss program review presentations. |
| Tuesday | June 25, 2013 | Program review discussion will continue and planning for Fall 2013 will be discussed. |
IPBT Timeline for Spring Quarter 2012
Instructional Program Planning Meetings Calendar
Outcomes: Proposals for Reduction of Instructional Programs for the 2013-2014
DAY
DATE

PLAN/EXPECTED OUTCOME

Sunday

March 11, 2012

APRU template available to College

Thursday
April 12, 2012
APRU/Trac Dat Trainings
Friday
April 27, 2012
Convocation Day
Tuesday
May 1, 2012
APRU uploads to Trac Dat due
Friday
May 4, 2012
Final Dean's Summaries Due
Tuesday
May 8, 2012
APRU's Available For Public Viewing on IPBT Website. In addition, IPBT Members will begin reviewing divisional APRU's.
Wednesday
May 9, 2012
Proposed Day and Time for Division/Department Presentations will be Scheduled on Meeting Maker. Deans will respond to meeting maker invitation by 5:00 pm to confirm or reject the proposed time.
Thursday
May 10, 2012
Finalized Schedule for Division/Department Presentations will be confirmed on Meeting Maker and will be posted to the IPBT Website. In addition, Division Deans will distribute the finalized Presentation Schedule to their respective departments so that individuals can begin making arrangements to be present at the IPBT presentations.
Tuesday
May 15, 2012
IPBT members will continue reviewing divisional APRU's and will begin to formulate questions for specific divisions and/or departments to respond to.
Tuesday
May 22, 2012
IPBT members will meet to finalize questions for individual divisions and/or departments
Wednesday
May 23, 2012
Finalized questions from IPBT members are due by 12:00 noon to Coleen & Christina
Thursday
May 24, 2012
Questions posted to the IPBT website and delivered to Division Deans for distribution to appropriate departments.
Tuesday
May 29, 2012
Division Presentation to IPBT Committee (3:15 PM to 5:00 PM)
Wednesday
May 30, 2012
Division Presentation to IPBT Committee (8:30 PM to 5:00 PM)
Monday
June 4, 2012

IPBT Deliberations and follow-up Presentation (if needed)

(from 9:00 AM to 2:00 PM)

Tuesday
June 5, 2012
Joint PBT Meeting
Tuesday
June 12, 2012
IPBT will have Final Deliberations and Make Recommendation for Proposed Budget Reductions that should be list on the Voting Sheet to be used by IPBT Members.
Thursday
June 14, 2012
Finalized Ranking Sheets With Proposed Reductions To Consider Will Be Delivered by 5:00 pm to IPBT Voting Members.
Monday
June 18, 2012
Finalized Ranking Sheets Are Due by 1:00 pm from individual IPBT Members.
Tuesday
June 19, 2012
IPBT Committee received Final Voting Results and will Determine if Additional Follow-Up is Required Over the Summer.
Green
Items in Green denote "Action Required" by IPBT Members
Blue
Items in Blue denote "Action Required" by Instructional Deans
Red
Items in Red denote "Action Required" by both IPBT Members & Deans
IPBT Timeline for Fall Quarter 2011
Frequency: Every Tuesday unless otherwise noted
Time: 4:00 pm - 5:00 pm
Place: Administration Building Conference Room 109
The Instructional Planning and Budget Team meet during Fall, Winter and Spring Quarters
| | | |
| --- | --- | --- |
| Tuesday | October 11, 2011 | Review Of Division & Department Reduction Plans & Review Of Calendar For Fall 2011 |
| Tuesday | October 18, 2011 | List of Faculty Positions Considered for Hire in 12-13 With Justifications For Each Will Be Available. Continue Review Of Division And Department Reduction Plans. |
| Tuesday | October 25, 2011 | Meeting With Division/Department Representatives To Review Faculty Justifications And Ask Questions |
| Friday | October 28, 2011 | Prioritized Ranking Of Faculty Positions Due To Christina By: 4:30 pm. |
| Tuesday | November 1, 2011 | IPBT Will Be Given The Prioritized List Of Positions To Be Recommended To College Council for 12-13 |
| Tuesday | November 8, 2011 | Discussion Of Criteria To Be Used For Recommendations Of Reduction Or Discontinuation Of Programs/Departments |
| Tuesday | November 15, 2011 | IPBT Sub-Teams Report Out On Their Findings |
| Tuesday | November 17, 2011 | 1:00 to 5:00 pm - Meet With Division/Department Representatives To Go Over Reduction Plans And Recommendations. |
| Friday | November 18, 2011 | Continue To Meet With Division/Department Representatives To Go Over Reduction Plans And Recommendations. |
| Tuesday | November 22, 2011 | Joint PBT Meeting To Share Information And Consider Consequences of Possible Recommendations To College Council. |
| Tuesday | November 29, 2011 | Deliberation about proposals: Determine a list of programs under serious consideration for discontinuance. Reduction, restructuring/suspension recommendations discussed. |
| Friday | December 2, 2011 | Mini-viability team meeting: Descipline faculty from each program shown justifications for IPBT recommendations. Dialogue between faculty and viability team to discuss impact of potential impact on students and college. |
| Monday | December 5, 2011 | Academic Senate informed: Present report about the dialogue between faculty and viability team in regards to the impact of the recommendations on students and college and discussion. |
| Tuesday | December 6, 2011 | Viability team reports back to IPBT Hiring list: Incorporate feedback from viability and academic senate meetings. Finalization of IPBT recommendation list. Final hiring list is formulated. |
| Thursday | December 8, 2011 | College Council: IPBT Co-Chairs present justifications for reductions and discussion. IPBT Co-Chairs present Hiring List of confirmation. |
Meeting Dates 2009-2010

April 6 --4:00 - 5:00 PM
April 13 --4:00 - 5:00 PM
April 20 --4:00 - 5:00 PM
April 27 --4:00 - 5:00 PM
May 4 --4:00 - 5:00 PM
May 11 --4:00 - 5:00 PM
May 18 --4:00 - 5:00 PM
May 25 --4:00 - 5:00 PM
June 1 --4:00 - 5:00 PM
June 8 --4:00 - 5:00 PM
June 15 --4:00 - 5:00 PM
June 22 --4:00 - 5:00 PM