Ready to Walk the Red Carpet?
The Red Carpet Grad Photo Op will be a fun opportunity for graduating students to visit campus – at your reserved time during the week of June 15-18 – and take photos of yourself and family members!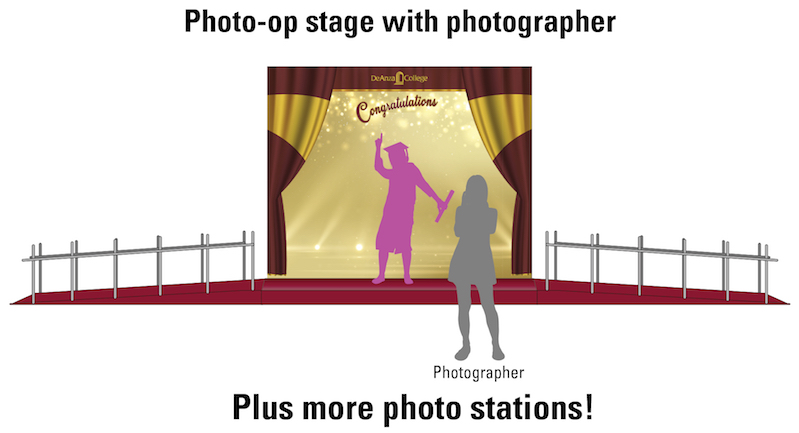 Bring your smartphone or camera to Parking Lot A. We'll have a graduation stage that you can walk across, plus more photo stations with creative props and backdrops!
Note: Be sure to read the important notes and arrival/check-in directions below.
Sign Up for Your Time Slot
Tickets are FREE! We have a limited number of time slots available from June 15-18.
All graduating students are welcome to click "Any Grad (General)" to sign up for an available time that suits your schedule. We've opened up more time slots for the "Any Grad (General)" category – so if you couldn't find one earlier, be sure to check again.
Or, if you're part of an affinity group or program listed below, you can click the button for your program and sign up for one of the times reserved for your group. You may see some customized decorations or other members of your program during this time – but please remember social distancing rules! (See below)
You will receive a confirmation email and a PDF ticket from Eventbrite. Check the ticket or the Order Summary or Registration Information on the email to confirm your personal 15-minute time slot, which will be the starting and ending time for your visit. For example: If you sign up for 4-4:15 p.m., you should plan to arrive by 4 p.m. so you can be finished by 4:15 p.m.
---
Photo Information
There will be a professional photographer at the stage, taking pictures that you can purchase. (Prices start at $9.95 for a 5-by-7-inch photo, with special packages available.) You and your family can also bring your own smartphone or camera and take your own photos for free!

Please Remember
Don't wait to sign up! We have a limited number of time slots available from June 15-18.
You can bring family members with you during your reserved time – limited to one vehicle per graduate.
You must wear masks and keep a six-foot distance from anyone who isn't part of the family group that comes with you.
You have a maximum of 15 minutes to move through the photo stations; please move along so others can enjoy this activity as well.
No food or beverages are allowed.
This activity is open to students who are graduating with an associate degree (A.A., A.S. or Associate Degree for Transfer) in spring or summer 2021 or have graduated in fall 2020 or winter 2021

.

There may be people taking photos and video for the college website, social media or other uses. If you prefer not to have your image recorded or used by De Anza College in informational and promotional materials, please notify the photographer or videographer.

Arrival / Check-In Directions
Please enter the campus from Stevens Creek Boulevard, at the entrance across from Mary Avenue.
Follow the signs to the check-in station at the north end of Parking Lot A.
Please be prepared to show your ticket when you check in. If possible, print out your ticket and place it on the dashboard of your vehicle; or be ready to show your ticket on your phone.
Plan to arrive at your scheduled time, but no more than 10 minutes before your time, to avoid waiting in groups. For example: If you signed up for a 2:00-2:15 p.m. time slot, you should plan to arrive a few minutes before 2 p.m.