Year 2 Project Archive
IMPACT AAPI is a five-year program funded by an Asian American and Native American Pacific Islander-Serving Institutions (AANAPISI) grant from the U.S. Department of Education. The name is an acronym for Initiatives to Maximize Positive academic Achievement and Cultural Thriving focusing on Asian American and Pacific Islander students at De Anza College.
Our goal is to close the academic achievement and transfer among Asian American and Pacific Islander students at De Anza by focusing on Asian Pacific Islander subgroups that are historically underrepresented in higher education. Our integrated curricular pathways are designed to provide educational experiences that support and challenge our students.
March 8, 2013
Partners in Learning Conference
This year's theme for De Anza's annual Partners in Learning Conference is "Building Success through an Ethic of Care". This conference provides a collaborative environment for faculty, staff, and students to work together on ideas for improving student success.
The IMPACT AAPI team will offer a session in the conference posing the question, "How can we connect, show respect and inspire our Asian Pacific Islander student through community and civic engagement work?"
Tom Nguyen, Counselor and Tom Izu, Project Director, IMPACT AAPI, will work with student facilitators to solicit questions, suggestions, concerns, and everything needed to explore how we can have a lasting and sustainable impact on the campus through civic engagement work and our grant program. This will be a great opportunity to help faculty and staff working with students who fit the API demographic of our program explore how civic engagement activities might fit into their courses or services.
Wednesday, February 20, 2013
APIASF Scholar Meet & Greet Luncheon
Campus Center, Conference Room A & B, 12:30pm - 2:00pm
Project IMPACT AAPI will be hosting Asian & Pacific Islander American Scholarship Fund (APAISF) Schholar Meet & Greet Luncheon at the Campus Center, Conference Room A & B on Wednesday, February 20th from 12:30pm - 2:00pm.
At this luncheon IMPACT AAPI will be honoring this year's APAISF scholarship winners from De Anza College.
January 2013
APIASF awards Scholarships to 45 Asian American/Pacific Islander Students at De Anza College!
The Asian & Pacific Islander American Scholarship Fund (APIASF) announced in January, that 45 De Anza College students would receive a $2,500 scholarship through its Community College Scholarship Program. Our 45 students join 90 other students from City College of San Francisco and South Seattle Community College in receiving this award. Here at De Anza, IMPACT AAPI worked closely with APIASF and the Partnership for Equity in Education through Research (PEER) project, to find the 45 APIASF scholars for 2013. The students represent many of the diverse ethnic groups within our AAPI community, including Burmese, Cambodian, Chamorro, Chinese, Filipino, Korean, Native Hawaiian, Hmong, Japanese, Laotian, Samoan, Thai, Tongan, and Vietnamese, and were selected for their persistence, and dedication to achieving success at De Anza.
"With nearly 50 percent of all AAPI students enrolled in higher education attending community college's, APIASF's scholarship programs are critical to ensuring that our nation has a diverse pipeline of skilled workers," said Neill Horikoshi, the organization's president and executive director. APIASF further states that more than 60 percent of the APIASF Community College Scholarship Program recipients are the first generation in their families to attend college and 70 percent of them come from families with incomes less than $30,000 a year.
APIASF is the nation's largest non-profit organization devoted to providing college scholarships for Asian Americans and Pacific Islanders and has since 2003 distributed more than $60 million in scholarships to deserving AAPI students. PEER is a three-year, $2 million effort to help realize the full degree-earning potential of the AAPI student population through scholarships, institutional capacity-building, and institutional collaboration based on research. For more information, please see - www.apiasf.org.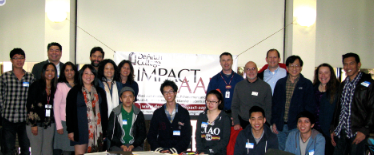 Winter Quarter, 2013
LinC, CREM & MPS Pathways
Our CREM (Counseling, Reading, English and Math) pathway is designed for a targeted group of students and is a year-long program that combines reading, writing, and math classes with a counseling component. For winter quarter, our CREM course is EWRT 1A with instructor Amy Leonard linked with Math 114 taught by Doli Bambhania. Our Language Arts pathway is also a 3-quarter class series that is cohort-based, and focuses on reading and writing. These LinC classes actually combine 2 related classes and are team-taught by instructors who coordinate lessons and assignments so students can relate concepts taught in one class to the other.
The LinC classes take students from developmental through collegiate English reading/writing levels combined with general education transfer classes. This quarter, instructors Karen Chow and Veronica Acevedo Avila are teaching a LART 211 course with Counselor Natasha Joplin providing in-class support for our students.
Our Math Performance Success (MPS) and STEM pathway provides special assistance for those students make their way through math while also encouraging them to consider continuing their academic work in Science, Technology, Engineering and Math areas. We continue to provide support for MPS with our Counselor, Tom Nguyen who works directly with the MPS program and this quarter, especially with instructor Michael Cao's Math 114 class.