Current Conflicts
The De Anza Library, Current Conflicts Collection, contains a wealth of information about:

Peace and Conflict Studies
Conflict Resolution and Communications
World Politics and International Relations
Modern Era Military
Veterans' memoirs and help with readjustment.
Books and videos included in this collection:
| | | | | |
| --- | --- | --- | --- | --- |
| | | | | |
| | | | | |
| | | | | |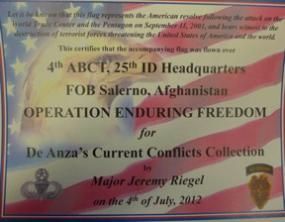 New addition to the collection is a flag flown in Afghanistan.
More Information

The Current Conflicts Collection is located on the second floor of the De Anza College Library. Although only students are allowed to take books and videos home, everyone is welcome to read or view the collection in the library.


De Anza College Veterans Services Home Page


Many thanks to Bob Boehlke, the primary donor for this collection.

Also thanks to John Swensson, De Anza College Professor, and graduate of the United States Military Academy at West Point, the collection's coordinator, founder, and friend to the De Anza College Library.