Measure G at De Anza
---
De Anza College appreciates the generous support of our community members and voters. Measure G will provide the modern facilities and infrastructure that are essential for delivering instructional services and support to enable our students to succeed – today and in the future!
NEW !
Event Center Open Meetings
As part of the market analysis underway, the consultant for the Foothill-De Anza Community College District will conduct two open meetings on Thursday, Feb. 23, to gather input on how to provide the most useful event center space possible. The meetings will be held on Zoom.
One session will be oriented to De Anza students and employees, and one to the general community, but anyone is welcome to attend either meeting.
Noon Session: Students and Employees
Thursday, Feb. 23: Noon to 1 p.m.
Evening Session: General Community
Thursday, Feb. 23: 6 to 7 p.m.
Surveys Remain Open Until Feb. 28
If you haven't already completed a survey for community and audience members, or the separate survey for event organizers and promoters, you can still provide input. The surveys will close Feb. 28.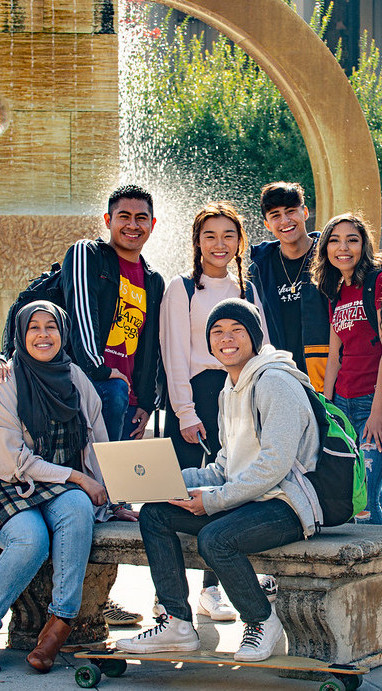 Ballot Measure G, approved by Foothill-De Anza district voters in 2020, authorized bonds to raise up to $898 million to upgrade and repair facilities, classrooms and labs, and to acquire and construct facilities, equipment and sites for both De Anza and Foothill College.
At De Anza, the bond proceeds will fund the construction of a new Services for Students Building and a new Event Center on the north side of campus, among other improvements.
The Services for Students building will help consolidate and centralize important services and programs.
The Event Center will directly serve instructional and student service needs, as approved by the district Board of Trustees, and will also, to the extent possible, help meet community needs for a cultural venue and civic meeting space.
Bond-funded work will also include changes to the main campus entrance at Mary Avenue and Stevens Creek Boulevard, construction of new infrastructure to serve the new buildings and temporary relocation of instructional and studio space for the Creative Arts Division.
Other projects include upgrading fire alarm and fire suppression systems; modernizing building interiors and exteriors, including restrooms; and converting an existing athletic field to a competition facility for the Beach Volleyball athletics team.
View Slides from Dec. 5 Collegewide Measure G Forum
---
For More Information
The following provide more information about Measure G planning and projects