Equity, Social Justice and Diversity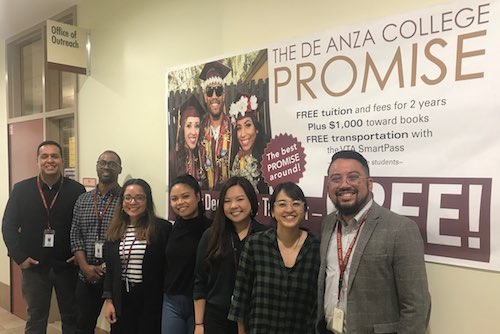 The college profile includes these sections
Equity, Social Justice and Diversity
---
As part of its commitment to promoting equity in student achievement, the college strives to make all students feel supported and included on campus.
This effort begins with the work of De Anza's innovative Office of Outreach and Relations with Schools. Outreach counselors and staff members conduct hundreds of visits to regional high schools each year, and organize annual conferences that bring thousands of high school students to the De Anza campus. The goal is to build early relationships and provide enrollment assistance to prospective students, particularly students from historically underserved communities.
Once on campus, students have numerous opportunities to participate in multicultural programs and share diverse perspectives. The college's Equity and Engagement Division includes an Office of Equity, Social Justice and Multicultural Education, which sponsors campus events and ongoing programs focused on equity, social justice and a healthy respect for diversity. This office also operates the Jean Miller Resource Room for Women, Genders and Sexuality, which is open to all and supports the LGBTQQI+ community on campus.
A number of clubs and Learning Communities, open to all students, also provide support for students of color at De Anza. These include the African American/African Ancestry program, First Year Experience, IMPACT AAPI, Latinx Empowerment at De Anza (LEAD), the Men of Color Community (MC2) and Puente.
De Anza also has programs to assist students who are economically disadvantaged, extending beyond traditional sources of student financial aid.
The De Anza College Promise offers free tuition for two years, plus $1,000 toward books and materials, for first-time college students attending full-time. This program also provides dedicated counselors and other support through the college Office of Outreach.
The Extended Opportunities Programs and Services (EOPS) office provides academic counseling, financial assistance, transfer support and other services to students who face social, economic, educational or linguistic barriers.
The Occupational Training Institute (OTI) offers job training and other services for students who have been laid off or are transitioning from the state's financial assistance program for needy families.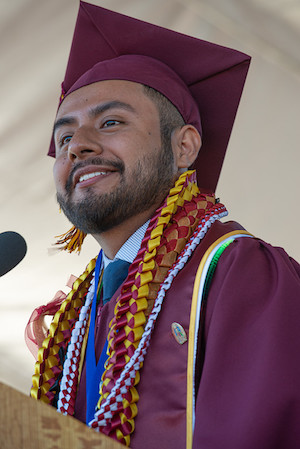 Through the Office of Outreach, De Anza has developed a multi-pronged effort to assist the significant number of students who struggle to meet basic needs for food, shelter or transportation. A recent survey found 62% reported experiencing food or housing insecurity in the previous year. The college Food Pantry provides students with food staples, snacks, toiletries and emergency vouchers, while satellite locations around campus offer items such as peanut butter and jelly sandwiches. The Outreach Office provides referrals to agencies that offer emergency shelter assistance. The college also provides a SmartPass, for which students pay a nominal quarterly fee to ride free on the county transit system. The college recently launched a promotional campaign to make more students aware of these resources.
De Anza also provides extensive support for students with disabilities, including dedicated counselors, physical accommodations, adapted physical education, a computer accessibility lab and programs for students who are deaf or hard of hearing. De Anza served 1,280 students with disabilities last year.
Other specialized programs include Higher Education for AB 540 Students (HEFAS), which provides peer support, advocacy and resources for undocumented students, and the Veteran Services office, with dedicated counselors to assist students who are military veterans or military dependents.
De Anza draws international students from around the world, with about 1,700 students attending on F-1 visas last year. These students enroll in a variety of classes and participate in the general life of the campus, while receiving specialized services from dedicated counselors and advisers in the office of International Student Programs.
---