Mobile Tutoring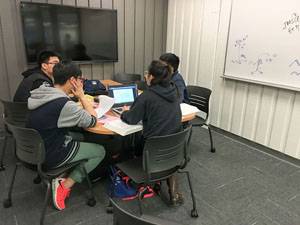 We are excited to announce our newest tutoring service--where the tutor comes to you! We are currently offering mobile tutoring for basic to advanced levels math and physics courses in the De Anza Library group study rooms, including the "Collaboration" area in room 107!
Reserve your group study room in the Library here. The Collaboration area (room 107) is open to all.
How to Request the Tutor
Text (408) 618 - 3490 and let the mobile tutor know the room number and course. (Ex. "Hello mobile tutor! Can you come to room 104 to help us with MATH 212?")
The tutor will reply to the text to confirm the estimated time of arrival. There could be a wait time.
Hours for Winter Quarter
Monday through Thursday: 10 AM - 12:30 PM, 1 PM - 3 PM
Friday: 8 AM - 12 PM
Contact
Melissa Aguilar, Student Success Center Co-Director
408.864.5422
aguilarmelissa@deanza.edu