The Story of the JMMR
In 2013, students in the Latino Empowerment at De Anza (LEAD) program conducted campuswide surveys and secured funding through DASB to establish the Jean Miller Resource Room for Women, Gender and Sexuality – since renamed as the Women, Gender and Sexuality Center.
The center was created to provide resources, training and programming aimed at increasing awareness and advocating for issues around the intersections of gender and sexuality with race, ethnicity, class and disability.
On this page, you can read more about Jean Miller and previous work done by the center, including past video projects.

About Jean Miller
Jean Miller was a beloved educator at De Anza College. She was a mentor not only to students but also to her colleagues, including faculty and staff.
Born and raised in Denver, Miller worked in a variety of jobs over a 20-year period, before she became an educator. She sold office supplies, wrote legal briefs, modeled for students at art schools, sold magazine subscriptions and wrote computer code. During those two decades, she also participated in social movements, advocating for peace, civil rights, women's rights and gay rights.
Around the time her son turned 12, Miller went back to school. She earned a bachelor's degree from New College of California and a master's degree in creative writing from San Francisco State University. She began teaching English at De Anza in fall 1989.
The center represents Jean Miller's legacy to current and incoming students at De Anza.
---

Projects and Accomplishments

Chosen Name and Pronoun Policy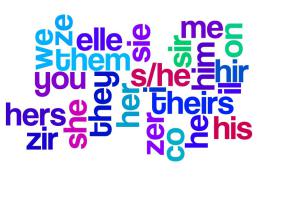 Student interns Nahielly Torres, Mei Suzuki and Matthew Travers created the Chosen Name and Pronoun Policy which allows students across the De Anza and Foothill campuses to identify their chosen name and pronoun on campus documents, especially class rosters, preventing the trauma and anxiety that comes with being miss-represented in the classroom or when seeking services on campus.
You can change the name used on unofficial documents, including class lists, grade reports and unofficial transcripts, by using the "True/Preferred Name Form" that is posted on the Admissions Student Forms webpage and in MyPortal under Adobe Sign Student Forms.
You can notify the college of a change in your legal name, which appears on official documents including official transcripts and 1098-T tax forms, by using the "De Anza Record Change Form" that is posted on the Admissions Student Forms webpage and in MyPortal under Adobe Sign Student Forms.
---
Queer Intervention Task‐Force (QIT)
The Queer Intervention Task‐force (QIT) is a coalition of engaged students, faculty, and community activists addressing intersectional equity issues faced by lesbian, gay, bisexual, trans, and queer students at De Anza College.Through transformative change, we aim to create a safer, more inclusive campus for LGBTQ identified people.QIT is an Equity Action Council Advisory Group.
QIT was founded in June 2015 by student intern Maximus Grisso and a group of students and faculty concerned with De Anza College LGBTQ+ equity and campus safety. From this initial meeting, the group produced a list of goals and objectives for De Anza College. Since then, QIT picked up the Chosen Name and Pronoun Policy project, originally started by the Jean Miller Resource Room, and the Equity Action Council adopted QIT as an Advisory Group. QIT goals were:
To increase LGBTQ equity at De Anza College
To centralize De Anza College LGBTQ programing, activism, and advocacy
To follow through the Chosen Name and Pronoun Policy in a accessible, sensitive way
To create an inclusive, welcoming campus for LGBTQ identified individuals
To facilitate LGBTQ staff development and ally work
---

Ask a Student Video Series
Working Class Students & Intersectionality
---
Clothesline Project (Part of Take Back the Night)