Student Experiences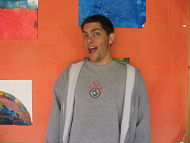 "My name is Ross Cartwright and this quarter I have had the privilege of inspiring and hopefully changing the course of a student or students by capturing their imagination. The most specific example would have been my first day observing when all the students were asking what grade I was in and what college life was like. I told the kid that I liked math and wanted to be a math teacher. He really liked this, as he happened to be in a special advanced math class."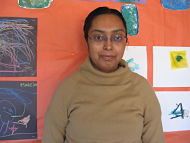 My name is Rina Bhattacharya. I work at John Muir Elementary School in Cupertino Union School District. I help in a 3rd and 4th grade English Language Development classroom. This time I had a very rewarding experience with a girl. She is not only a non speaker but had a very disturbing background. She came from a shelter and from a very abusive father. She remained totally silent. Her teacher shared her history with me and told me she keeps moving from school to school because of her father. She hardly gets any chance to develop her skills in anything. I felt a strong connection with that girl. I had been asked to work with her about an hour every week. The first week she was not ready to sit beside me. She did not know how to even hold a pencil. She had no concept of math. It was very hard in the first week when I was trying my best to gain her confidence. The second week was easier. She wore the same clothes every day and did not even look at me. I did not give up. I increased my time with her and went on volunteering more often. By the third week I realized that she expected me to come. She started to cooperate with me. I first taught her how to hold a pencil than made her familiar with every day words. She listened but never said a word. But something happened at the end of the third week. It was raining and I tripped in the water and hurt my knee. She talked to me that day. She asked me, "Are you ok?" Then she started talking. From the fourth week onwards she was awesome. She is very sharp and intelligent. She still wears the same clothes but her hair is now properly combed and braided. She looks clean. She used to stand up and get her books out as soon as she saw me. On Valentine's Day she surprised me. She gave me a card and a cookie. She told me, Happy Valentine's Day. I made this card and cookie just for you." That day I realized that there can not be any better reward than this"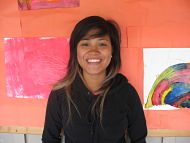 "I am Kathleen Gonzales and I am working with the second grade class. My most outstanding experience I had in the classroom working with the children was when I would help them with their math and they felt that with my help they were able to finish. A lot of the times they were able to do the math activity on their own, knowing that I helped them through it."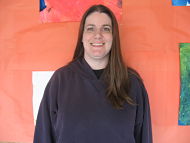 "My name is Lauren Gould and this quarter I had the opportunity to create a lesson plan. the lesson involved writing letters and an art project. The second grade class enjoyed it and were all jumping out of their seats to participate. The joy in learning they had experienced made me extremely proud. I look forward to creating more of these experiences."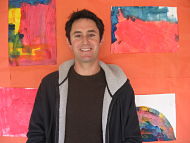 "Rob Rinsky (Mr. Rob): I've been working with Ms. Lin's 2nd grade class at Nimitz throughout the quarter. After having had the wonderful kids warm up to me after a few visits, I asked Ms. Lin if I could teach a lesson. Without hesitation, she replied"sure", and I started brainstorming ideas. With Valentines Day fast approaching I decided to incorporate the theme of hearts with some math concepts they had been studying, and ended up with a creative arts and crafts activity. The project required about 1 hour of preparation and planning to ensure the students would e able to accomplish the fun assignment and learn in the process. I had a fantastic time standing in front of the class and explaining to seventeen excited kids the steps required to complete the project."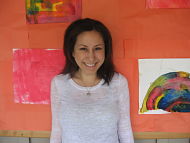 "My name is Ana Berg. An outstanding experience that I had was when I learned how to shadow and choral read with the children. When I would shadow read with a small group of children, I would read a sentence and the children would then read the sentence after me. With choral reading, the children would read out loud in unison. By learning two types of reading, I was able to assess the reading comprehension of each child. I was especially glad to see the improvement in the children over time knowing that I made a difference."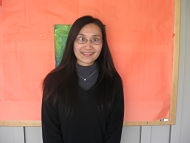 "My name is Julie Chu. It has been a wonderful experience working as an intern in Ms. Kuan's first grade class. I have learned so much from observing her in action. One unforgettable experience I had in the room was when I helped her make the Oobleck on Dr. Seuss's birthday relating to a science lesson they are covering in class. When they first saw the green slime they were fascinated by it. They were not quite sure it belongs to the solid or liquid category. Each of them were given a cup of slime. At first many of them used the spoon to scoop it up. After awhile they started grabbing it with their hands and had a blast with the Oobleck. I still remember the smiles on their faces when they were squeezing the slime between their fingers. Ms. Kuan not only read the book Barthalomew and the Oobleck from Dr. Seuss in celebration of his birthday but successfully linked it to the science lesson and gave the students an excellent hands on activity that they will remember."