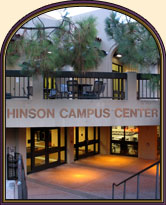 Testimonials
Guadalupe Rubio


Transferred to San Francisco State University
Liberal Studies major

When I started at De Anza, I was not doing great. My first quarter was Fall 2011, right after high school. I had dropped all of my classes because I was working full time, 32 hour a week, and I was a full time student. Winter quarter 2012 began, and I told myself, "You have to quit this job and go back to school," because if I missed another quarter, I knew I would never go back. So I decided to go back, but I had to start from the lowest English and math classes. I was doing well in in my English class and moving up, but on the other hand, I was doing horrible in my math class. I was getting tired of not passing my math class, so I went to see a counselor. I told her about my situation, of how I had quit my job to go to school. She had told me about this program called E.O.P.S. She told me how they would help me pay for my books, and how they had academic counselors to help me to stay on track. At first, I was really just interested in the book vouchers, but as the quarter went by, I was super grateful to have the counselors. My E.O.P.S counselor advised me to join the M.P.S. program to help me pass my math classes. My counselor also sat down with me, and we planned out a whole year plan of the classes that I was going to take. Literally, my first year at De Anza, I was just choosing whatever classes look fun, but the classes that we had planned out were actually classes that were going towards my major. I started to get better grades because I actually had someone that cared about my grades and my success in school. I never would have thought that the girl that dropped all her classes the first quarter would now be transferring to San Francisco State.

Well, after I graduate with my Bachelors degree from San Francisco, I want to get a Masters in Education. I want to become a teacher, or I really want to be a college academic counselor. I want to help out other students, the same way my E.O.P.S counselor helped me.

Hong Hoang
Transferred to San Jose State University
Biochemistry major
In the year 2000, I graduated from high school in Vietnam. Since then, I did not have the opportunity to attend school because of financial issues. My parents raised ten children and worked very hard to support our family. Unlike in the United States, in Vietnam, we did not have any social welfare programs to support students from low-income families. I had to make the very hard decision to give up my studies because I did not want to burden my family with more financial difficulties. Nine years later, I was fortunate enough to be able to move to the United States through a family reunion program. The very minute I set foot on San Francisco International Airport, I was fascinated by American culture. As I explored the Bay Area, new buildings, and American businesses around me, I came to realize that the only way to gain a good and decent life around here is to continue my studies. I understood that I had to start attending college in order to gain essential academic knowledge and life skills so that I could provide a good life for me and my family. My American dream began at De Anza college in Spring of 2010.

Luckily, my friend introduced me to the EOPS program from scratch. EOPS provided me with academic, career and personal counseling to enhance my success in college. As a mother of two kids, I was so busy taking care of them, and I did not know how to survive in college. Academic and EOPS counselors helped me identify an educational objective and outlined a plan for attaining my educational goals. Especially with an earlier registration date, I could enroll in competitive classes for my biochemistry major. Furthermore, EOPS's Book Service Program provided me with book vouchers to help me buy textbooks each quarter. I can conclude that without EOPS, there would be no me of today.



I am a student at De Anza College, completing an associate's degree in science and planning on transferring to a four-year college or university. My educational aspirations consist of acquiring a bachelor's degree in biochemistry science that would assist me in pursuing a career as a pharmacist. I developed the dream to become a pharmacist because I am interested in medicine practice and admire how helpful pharmacists are. My mother, who is now seventy years old, has also become a huge influence on my dream. She is in bad health and needs to take medicine every day. I always have to go to local drug stores to get them for her. Speaking with pharmacists frequently makes me want to become one of them because they are so knowledgeable about medicine and are able to help people in need.On the other hand, my career vision is to one day be able to provide affordable medicine care to immigration communities in the United States.

Denise Dovali
Transferred to University of California, Santa Cruz
Business Management Economics major

My family has never been financially stable. Currently, both of my parents are unemployed. I support them to the best of my ability with financial matters. I also support myself. Paying for tuition, books, and living expenses has been especially difficult since my job is not stable. I have found it increasingly difficult to solely focus on my school work because of the wavering changes that have occurred these past few years. In spite of the circumstances that I have faced, I continue to pursue my educational endeavors. Currently, I have earned an Associate of Arts degree in Business and Computer Information Systems, and will be graduating with Phi Theta Kappa honors and cum laude after the spring quarter.

EOPS has been a grand factor in my success. Every year, I have been reminded that I have the potential for greatness, and the dedicated staff has become my support group. The book vouchers have also relieved a financial load off my shoulders and I have been able to purchase books I can write in and use for studying instead of having to rent them or find alternate means of studying. My first year at De Anza, I was confused and unsure of what educational path I should take, but EOPS helped me make a path and stay on it. The staff also motivated me to continue working hard despite my circumstances and was eager to help me whenever I dropped in. I feel lucky to be a part of such a close-knit program and I am truly thankful for all the help I received.



I plan to earn a bachelor's degree in Business Administration and Management. I also plan to earn an MBA. Eventually, I want to become a senior executive of sales and make presentations to thousands of people around the United States about new exciting product lines and technology. If I do not pursue sales, I plan to open my own child development center.

Cheree Hardy
Associate in Arts
Liberal Arts: Arts & Letters Emphasis
EOPS has helped contribute to my success in a number of ways. Some of the most important contributions I was privileged to enough to benefit from were book vouchers, early enrollment, and simply counselor advising. Being a single parent and going to work to basically provide for my child and pay bills left me with scarce finances towards school. EOPS, however, helped alleviate at least some stress by providing book vouchers, which ultimately resulted in one less bill for myself, which would help reduce anyone's stress, especially one taking 18 units.

The early enrollment also helped tremendously due to the majority of my classes being mandatory G.E. classes that filled up almost immediately. The option to enroll early, however, helped me to ensure that I finished my course requirements in a timely manner, which is almost dire when you have debt piling up from classes that could take longer to complete had there been no early enrollment option, resulting in having to take the class at a later date due to it being full already.

Lastly, the counseling really helped drive everything home. Being able to talk to my counselor not only in regards to school but about personal stresses I currently faced helped reassure me that there are people out there that have your best interest at heart and to continue pushing forth although you may not feel like there is anyone behind you. My counselor, who had my best interest at heart without expecting too much from me, helped me set a path and pave my way through. I can't say enough good things about EOPS! School by itself is stressful enough, let alone throwing a child in the mix; it makes it almost nauseating. With EOPS, however, I was able to succeed and accomplish exactly what they knew I could. Having this program standing behind single parents is a phenomenal feeling and I cannot thank them enough for taking my stresses into consideration! THANK YOU!!!!!!!!

My ultimate goal is to get a well-paying job to get out of the debt I accrued while taking courses between 2008 and 2014. I would love to go back to school a little later in life and pursue my Bachelor's and maybe even Master's; however, my current short term goal is to stabilize my rocky foundation so I can build on it better, for myself, and for my three-year-old daughter.
Angela Garcia
Transferred to San Jose State University
Business Administration – Management major
The EOPS program has been a major contributor to my success at De Anza. I can honestly say that I would have been lost without EOPS. The encouragement that I received from Truly Hunter was amazing. I really felt a sense of genuine care and understanding when it came to my education process. Truly was the first to inform me about the scholarship link on the De Anza website and encouraged me to apply. After listening to her advice, I applied and was awarded The Agnes Smith Memorial Scholarship a couple of weeks ago. The EOPS staff has always made me feel welcome every time I have visited. I was able to use the computer and printer in the EOPS office today. It's nice to know that those services are available to students in the program when needed. I was pleasantly surprised to find out that we qualify to have our cap and gown expenses covered by the EOPS program. That is such a blessing and appreciated beyond belief. It is having programs like this that bring help and hope back to students like myself, a single mother raising two boys.



My ultimate goal after college is to be working in business. I would definitely like to own my own business one day. It would be amazing to have a company that will help educate and give back to people. With everything that has gone on in the economy since the recession, it's time for our generation to make changes like taking care of the environment, ethical business practices, empowering our youth and bringing stability back into the market.



My knowledge has expanded so much over these past years at De Anza. I'm very grateful to have this opportunity to go back to school at a later age in life. It's never too late to pursue your dreams. Now it's time to stand up and make a difference in the world.

Shayan Azizi
Transferred to University of California, Davis
Biological Sciences major

I could not imagine how difficult it would have been for me to make the right academic choices without EOPS. Ever since I was a child, I wanted to become a doctor, but having a single parent who works full time as well as working almost full time on the side myself, made it hard for me to focus on transfer planning. Mr. Robles, Roxana, Truly, Melinda, Lan and Maria have all been a big part of my academic career here at De Anza. I have nothing but good memories as I walk through the EOPS doors to receive nothing but great advising and help on the things I should do. The printing center has always been on my side, as there were many days through the course of two years where I did not have any money to print some very important documents.



After finishing my undergraduate degree, I am planning on attending medical school to become a Trauma surgeon. Regardless of time, I will always have De Anza EOPS in my heart, for helping me reach my goal of transferring to a great undergraduate institution so I can reach my dreams. Thank you.

Monica Cardenas
Transferred to University of California, Irvine
Psychology major
I really appreciate what EOPS has done for me, especially my counselor Lily. I am the first in my family to ever attend college; however, there is no doubt in my mind that EOPS has guided in me in completing everything I set out to. I don't think I would have transferred so quickly if it wasn't for EOPS. My counselor, Lily, helped me with EVERYTHING, from choosing the right class to filling out my college applications! When things got a little complicated, she was always there helping me look for a solution. Since I am a first generation college student, this guidance was definitely a factor in my success.



My ultimate goal after my education is actually simple. I want to provide a better stepping stone for generations to come. I want to set the example that college is not impossible, but very obtainable. I hope to provide a better life to my family, and I do believe I can personally do this through educating myself.

Tamara Sanchez
Transferred to San Jose State University
Political Science major
When I first began attending De Anza I knew I wanted to return to school but didn't exactly have any set goals. I did okay in most of my classes but I was just taking classes for the sake of taking them. Once I signed up for EOPS I had people to guide me, while I failed in some courses, Truly and George never gave up on me. I recall there was a quarter I just no longer wanted to return to school because I felt I had failed myself and Truly was there to pick me up. She has been a great inspiration and I still recall the day she had me apply for graduation, I left the office crying because I couldn't believe what was happening. I even came by yesterday to make sure I was graduating and she showed me the program to show me that it was really happening. Truly has believed in me when I had lost all my faith, aside from raising two children on my own, this is my one of my greatest accomplishments and I owe it all to her. I wish she knew just how much she has changed my life and how many times I have cried in disbelief because I still cannot comprehend what is happening. I want to thank everyone at EOPS, the people greeting me at the front, the ones that call me to remind me I have appointments, Virginia for giving me vouchers and everybody else that makes this possible. I want to thank TRULY and GEORGE and I want them to know just how much they make a difference, not just in my life but in my family's lives.



From here I am going to San Jose State to fulfill a long dream of obtaining a Political Science degree so I may pursue a Juris Doctorate. I like to set small goals before the big ones so for now I am going to San Jose State and I do not know how I will do this without all of you. I am certainly excited and I owe this in huge part to all of you. Thanks again.

Tram Pham
Transferred to University of California, Santa Cruz
Psychology major
UCSC Karl S. Pister Leadership Opportunity Award recipient
The EOPS program truly played a huge role in my higher education journey at De Anza College. Not only financially helping with the book voucher and rental, EOPS' priority registration helped me complete all the classes I needed on time. This was one of the greatest benefits! But most importantly, I couldn't have been successful without my counselor's guidance and the EOPS Staff support through quarterly meetings and informational workshops. My counselor kept me on track of my goals and constantly encouraged me to keep pushing forward. She became my role model that made me become who I am today. Thanks to her, I'm graduating from De Anza College this spring, and transferring to UC Santa Cruz in the Fall with an honor to receive the Karl S. Pister Leadership Opportunity Scholarship. And with my appreciation to the entire EOPS Staff, thank you for everything!



After finishing my Bachelor Degree in Psychology at UCSC, I plan to pursue a Master Degree or higher in Education and Counseling Psychology. I would like to continue giving back to the community by providing social and educational support services to underrepresented students.

Gabriela Martinez
Transferred to San Jose State University
Social Work major
This program took a load off my back. It opened a door that I thought was not there. I had been working by myself and guiding myself to what I thought was the right path, worrying about not being able to pay for all my books and my classes. However, when I finally reached EOPS, things were put back into place. This program has provided financial assistance; for example, the book voucher meant a lot to me and was very useful. Aside from this, the counselors held my hand to success, helping me fill out applications, providing help choosing classes, sharing stories with me, always being there to answer questions, and giving advice for school and troubles outside of school. This program also offered early registration, which is great for college, and was always on top of due dates.

The fact that you need to meet with counselors on certain times and decide on classes contributes a lot to one's success. You feel that you are not alone and know if you are doing things right or not. They collaborate with you and your schedules on the times you need to meet and are very reasonable and understanding. Thank you for having this door open and helping us go through this door, community college, and guiding us to the next journey at a university.
I will be starting San Jose State Fall 2014, and in two years, if God allows it, I will be graduating and getting my degree in social work. I want to make a difference on people's lives and help them in any way I can. My goal is to work with low-income families and guide them to programs that they might not know exist. Coming from a low-income and single parent home, I understand and have experienced many different struggles in life. However, my ultimate goal with this major is working with children, who are abandoned, abused, special needs, or adopted children. I want to work at an orphanage or foster home and guide or counsel children, showing them that one can overcome anything, that one is important in life, and to fight for what we want and take a path that will lead to success. I want to touch lives, to teach people to value themselves and learn to make a difference and care for others. I have worked hard at De Anza. I will be receiving my AA in social and behavioral science and will soon be getting my bachelor's degree. In one way or another, this is because programs like EOPS had people who have cared and have provided me with the tools I need.
Jiaqi Luo
Transferred to University of California, Los Angeles
Economics major
I had a really great experience in EOPS throughout my two years of community college life. EOPS provided me with many useful services such as book vouchers, early registration, and financial aid application assistance. It not only reduced my financial burden, but also gave me the opportunity to register for my planned courses with first priority. Moreover, my counselor, Lily, helped me academically throughout these two years. She helped me with choosing my major, planning my courses, and completing my AA Degree requirements. Without Lily's help, I wouldn't have straightforwardly finished all of my IGETC and major requirements. There was one time when I was struggling with whether to drop EWRT 2 or not because I had Math 1A and Accounting 1A at the same time. However, after I talked to Lily and she helped me analyze the positive and negative sides of taking EWRT 2, so I decided to stay in EWRT 2 and eventually got an A-. Without Lily's encouragement, I would have dropped EWRT 2 and retaken it in the next quarter, and I would have had more pressure because I had Math 1B in that quarter. Therefore, I really appreciate what EOPS had provided me with throughout these two years, not only financially, but also academically.



Now that after I have completed my education, my goal is to acquire a higher level of education at UCLA and pursue my dream. Stepping into a four-year university, I hope to gain more work experience and enrich my life with more extracurricular activities. My goal at UCLA is to absorb more knowledge and make use of it in my real life. I will also combine what I learned at De Anza College and my new education at UCLA to find a new internship in order to gain more work experience before I graduate. I also hope to pursue a Masters Degree after my four-year university. Now that I have completed half of my four years of college, I will continue to do better and work harder in order to pursue my dream.

Juanita Nicole Vance
Associate in Arts
Liberal Arts: Social and Behavioral Science
My experience at De Anza with EOPS has been incredible! I received so much assistance from all the resources that were given. The support that I received wasn't only academically, but also financially. The EOPS book voucher gave me more than enough money to budget the cost of my books. This helped in a major way because buying books was one of the hardest parts about taking classes. I was given supplies fall quarter to last me through spring quarter. All of the resources that were given to assist financially made everything much easier and less stressful. When I came to De Anza, I worked on general coursework at EVC & SJCC. I was in their EOP program and I didn't get much assistance throughout my time there. Going to De Anza after EVC, I was guided so much more and all of the counseling appointments were worthwhile.

I feel strongly that EOPS was my support system. I don't have support from my family at home. I'm the only one out of my family that has graduated from high school and attended college. Soon I'll have an A.A. and for me, this is a milestone, considering how much sacrifices I have made throughout the past two years. This is my motivation to keep going to my education. A special thanks to my counselor Roxana. She kept me motivated and hopeful that I would get to where I wanted to be. She had so many alternatives considering there were many bumps in the road for me. Every time I met with Roxana, she eased my worries. I was often stressed out about classes I was taking and also classes that needed to be done. She always assured me that I was doing my best and there will always be alternative opportunities for me. She's one of the reasons I didn't give up.



I started out with Nursing. I'm still interested in pursuing nursing, but considering that all of the programs are impacted, I will be taking an alternate route. Hopefully I'm granted admission for CSUEB for winter quarter. I will work on a Psychology major while I'll be waiting for a spot in a nursing program. This is my career path I will take to ensure that I stay on track with my education. In the long run, my career goals are to become a Nurse Practitioner, and specialize in Labor and Delivery (Midwife). I'd love to return to De Anza to speak about the program once I get more established with my education.



Lastly, I'd like to close with a special thanks to all staff for running such a great program! You've all made a difference in De Anza's EOPS students.

Hanh Nguyen
Transferred to University of California, Berkeley
Sociology major
In retrospect, during my first year at De Anza College, I suffered a lot. As a newcomer to this country, my language ability was a great ordeal for me. However, I could not sign up for any ESL classes, because they had been filled up quickly before it was my turn to sign up. I had to choose other G.E. classes and put much more effort into the classes than any other students in these classes.

However, thanks to the help of EOPS, I had opportunities to sign up for the classes I needed. That was the greatest support. I could choose the classes that best fit my schedule to balance my study and work and finish my requirements on time. Also, individual counseling contributed a lot to my success. Before I knew about counseling, I chose classes based on my interests and what I had heard from my friends. Thanks to the great advice from my counselor, I had better knowledge about choosing the right classes to save time and finish my requirements on time.

Before I attended college here, I only thought about obtaining a bachelors degree and then starting work in order to help my family. However, attending college made me envision my future goal. I have stronger beliefs in what knowledge can bring. I realize that knowledge is the most powerful tool for me to help not only myself but also others. I want to further my education path to exceed my limit. I want to obtain the highest degree that I can so that I can use my knowledge and experience to inspire the next generation. I want to let them see that I also suffered but I will not let such challenges stop me from trying and reaching higher goals.
Beatriz Castro
Transferred to San Jose State University
Social Work major
EOPS has contributed to my success in many ways. First, thanks to all the amazing and helpful counselors, I have been able to focus on the classes that I need to graduate and get all my preparation to transfer done. Truly Hunter, my counselor, has helped me so much, not just school-wise but also has helped me in believing in myself, that I can do it, and that I have a lot of potential. EOPS has helped me with my printing and computer resources, which I am very thankful for because I do not have a printer at home, so it was really hard for me to print my assignments on time, and there is not a line in EOPS like other places on campus. Also, the book vouchers have helped make my life less stressful and less worrisome about money and having enough to buy all my books. EOPS has helped me purchase the most important tools for my success, which are my textbooks.



After I complete my education, my very first goal will be to help people in need. I want to be a great and helpful Social Worker and have the opportunity to work in a hospital or orphanage with my degree. I want to help people, but I really want to focus on children in need. I would like to have the opportunity to travel the world and help people and their communities. Also, I want to help build schools for children and programs that will help them with their education, and help people with getting health resources. During my journey as a professional Social Worker, I want to gain more experience and knowledge towards my career. Finally, I want to enjoy my life with the people that I love and care about.

Tay Nguyen
Transferred to University of California, Davis
Biological Sciences major

When I first attended De Anza College, EOPS contributed a lot to my success. I still remember on the "Open House" day, I had no clue what the EOPS program was about, but I was then introduced to the program and helped to check if I was qualified for the program. The EOPS staff was so friendly and helpful. They guided me through the application process and answered my questions. Through EOPS, I had the chance to talk to the counselors and discuss my academic plan. They helped me choose the best classes for my major, Biological Science. Moreover, they helped relieve my stress. There was one time I was really panicked because I did not do well in one of my classes. By talking to my counselor, I was told that I could take a W, which wouldn't have much effect on my academic record. Also, she suggested me a few good ways to handle the materials in that class. Besides this, EOPS has also provided me with early registration and money for each quarter to help with books, which I am really grateful for. Furthermore, when I applied for CSUs and UCs, my counselor helped me with the application process and gave me feedback on my personal statement.



With the help from EOPS, I am now accepted to UC Davis and UC Irvine, and I will be attending at UC Davis for Fall 2014. Without the support from EOPS, I wouldn't be who I am today. I would especially like to thank Truly Hunter and Lily Greene for helping me throughout my three years at De Anza College. I also want to thank the EOPS staff for helping me arrange my appointments and always smiling whenever I come.



After I complete my education, I would love to work in the medical field as an Emergency Physician. I would love to provide first aid to patients and help them reduce their pain. Also, I would like to travel back to my country, Viet Nam, to provide the best care to poor people who don't have opportunities or conditions to receive medicine. I would love to help out people in the community, the way I was helped.

Melvin Faulks
Transferred to Tuskegee University
Nutritional Science and Biology major
I have had nothing but great experiences with the EOPS program at De Anza College. I have worked with Lily Greene this entire year, and she has provided me with all the information and resources I needed to become a successful college student. She always gave off the aura of speaking with an aunty, rather than a counselor. What I appreciate about the EOPS program was how they would constantly remind me about what I needed to do in order to continue participating in the program for following quarters, and also the phone reminders for counseling appointments happening the next day. Considering that I work two part jobs and am a full-time student, those reminders and updates have definitely helped me stay on track.



My goal after I complete my education at De Anza is to continue being a hardworking, determined college student at Tuskegee University, and to graduate by age twenty-three with two bachelor's degrees in Nutritional Science and Biology, then pursue medical school.

My Duyen Ho
Transferred to San Jose State University
Athletic Training major
EOPS has been playing an important role in my life of attending De Anza College since 2010. The staff, counselors, and all of the services they provided helped me to fight forward in achieving my goals. Through the hard times that I was struggling, they never once put me down or disregarded my goals in academics, because they were always there to motivate and understand me. They took great measures in providing many services, such as academic counseling, drop-ins, and even early registration, which played a vital role in contributing to my success in school. Without academic counseling, I would not be where I am now to transfer out of De Anza College. The EOPS counselors understood what was best for me, and I was able to decide what I really wanted to do through them giving me such care and support in motivating me not to give up. EOPS is an outstanding program that needs to be more known to low-income students. When I transfer, I will proudly say that I was in EOPS care.



My ultimate goal after I complete my education is to get a Master's Degree in Nursing after graduating from San Jose State University. My other goals would be to participate in club activities on campus to get more involved. My other goal would be working in a laboratory on campus while pursuing for my Master's Degree. Once I finish with my MSN, I would like to work in a hospital, which is my ultimate goal throughout my education.

Tu Vu
Transferred to University of California, Berkeley
Chemical Engineering


No words can describe how grateful I am for being a part of the EOPS program at De Anza College. Without the financial and academic support from all of the members in EOPS, I could not have reached my goal to transfer to university. I believe that the registration priority that EOPS offered to students was the most important and valuable thing. Besides being a student, I had to work, and always struggled to get my school schedule to fit around my work hours. However, with the earlier registration date, I could freely choose all of the classes I wanted with the most favorable times. Moreover, I didn't have to worry about not getting into the required class for transferring. I still remember that the first quarter at De Anza College, I could not take all the needed classes because of the late registration. Thanks to the EOPS program, students like me no longer worried about the registration. We could spend more time focusing on learning and getting good grades.



$200 per quarter for the book voucher was especially important since the cost of textbooks increased rapidly. No matter how good the teacher lectured, without the book, my understanding about the subject was not fully comprehended. EOPS's book voucher program reduced the cost and made my life easier. EOPS definitely played an important part in my educational journey.



My ultimate goal after transferring is to get a degree in chemical engineering. With the knowledge in that major, I wish I can successfully synthesize new materials to replace the plastic bag, which causes the environmental pollution. I hope it can increase the well-being of our community. I will try my best to get involved in research groups at the university. They can be stepping stones to realize my dream.

Khanh Lam
Transferred to San Jose State University
Business Administration – Accounting major

I would say that I owe a huge "gratitude" to every EOPS staff. They are amazing in helping me on my way to success.

First of all, the personal academic advisors and counselors are extraordinary. Before becoming an EOPS student, I was almost lost on making my own academic plan. However, after becoming an EOPS student, I was helped thoroughly. They encouraged me to make up my mind and carefully made a perfect plan for me so that I could be successful and graduate on time. In addition, they patiently explained things so that I could understand them more clearly. Thanks to what they planned for me, my academics significantly improved, and I will be graduating very soon.



Second, I love the prioritized registration for classes. Before being an EOPS student, I could not sometimes register for classes because they were full, and I ended up on the waiting list. As a result, I sometimes could not get in any classes, and therefore, I postponed taking the classes until the next quarter. This was very inconvenient because I took random classes and those classes seemed to waste my time. After becoming an EOPS student, things have gotten much easier. I have been able to register for the classes I want, and I feel that I could finish classes much faster and more conveniently.

Finally, book vouchers really saved me a lot of money. I would say that I love the book vouchers because I can use the saved money for my other expenses such as gas and food. Besides saving money, I also prioritized buying books in the bookstore before school and before books run out of stock.

I am very happy to finally realize that I am going to graduate after this quarter. I appreciate what EOPS has done best for me, in providing me opportunities to succeed, but I thought there is still a more challenging path waiting for me.

Therefore, after completing my education at De Anza College, I will continue my higher education at San Jose State University, and this is my ultimate goal. I feel more challenged when thinking that EOPS will not be there with me when I attend SJ State this Fall of 2014. However, I hope that I can learn something from EOPS and use these experiences to continue striving to succeed there.