Our goal in the Biology Department is to support student learning and provide excellent teaching.
You've come to the right place whether you want to pursue a career in biology or need to fulfill a general education requirement.
The Biology Department has 11 full-time faculty, and many part-time instructors.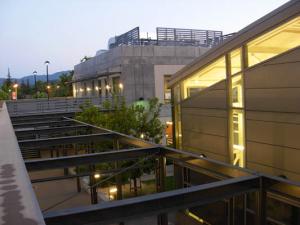 Our biology courses take a comprehensive approach, encompassing all levels of biological organization from molecules to ecosystems. We share our offices and laboratories with the Chemistry Department in Science Center Buildings 1 and 2.
As well as serving general education requirements and biology majors, the department offers pre-requisite science courses for students going into professional programs such as Nursing, Dental Hygiene, Radiology technician, Respiratory therapy, and Pharmacy.
Contact Us
Department Chair
Jason Bram
Phone: 408-864-8654
Fax: 408-864-5630
E-mail: bramjason@fhda.edu
Why Study Biology?
A major in biological sciences is preparation for advanced academic work, for careers in civil service, industry or teaching; as a background for professional training in such fields as biotechnology, public health, nutrition, laboratory, and field research, medicine, dentistry, pharmacy and veterinary medicine.
Required Courses
Students planning to transfer to a four-year college with a major in biology or those pursuing a career in medicine, pharmacy, dentistry, or veterinary medicine would be advised to complete as many of their lower division general education courses as possible before they transfer. Doing so will increase their chances for admission to the four year institutions as well as their performance in upper division courses.
These students should take the following science courses:
Biology: 6A, 6B, 6C
Chemistry: 1A, 1B, 1C (General Chemistry)
Chemistry: 12A, 12B, 12C (Organic Chemistry)
Physics: 2A, 2B, 2C
Math: 1A, 1B, 1C
Read our mission statement and more about the department.