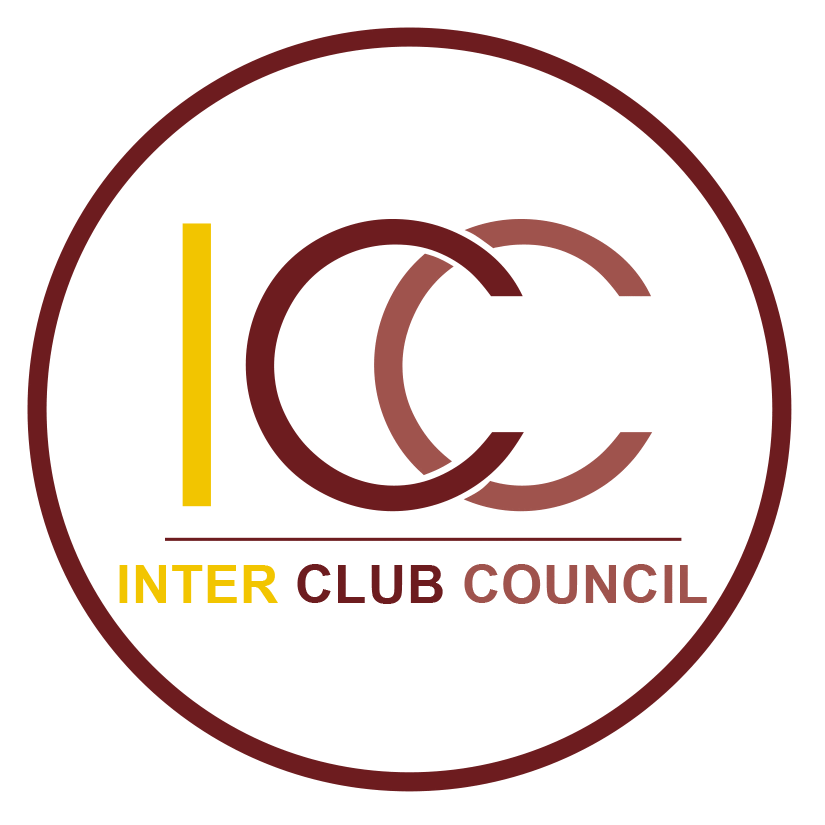 Welcome
Want to create new friendships, develop new talents, and build your leadership skills?

You've come to the right place.

The "ICC" stands for "Inter Club Council", which is an umbrella organization that manages, oversees, and coordinates more than 60 active clubs in various aspects, ranging from interest to religion, from sports to literature.

Education means more than just textbook knowledge, it means getting involved. A true education should be balanced well between learning and applying. With the large number of clubs available, you would certainly find opportunities to explore yourself, to apply what you have learned, and to get inspired. There will certainly be a club that can fit your packed schedule.

ICC, a place to inspire creativity and connections.

Don't wait; get involved now!

ICC Quick Links


ICC-Sponsored Events

Welcome Week
And Many Mor
Club Listing
A list of current clubs (alphabetical or by category) and their meeting times and locations (alphabetical or by category) are available.
Don't see a club that catches your fancy? Start one! Download a "How to Start a New Club" packet (Adobe Acrobat Reader required, see link at bottom of page to get it) and a Club Constitution Template (Microsoft Word 97 or later required) to get started.
Questions or confusions? Everything is welcome. Just catch us on the phone, by email, or better yet, at the ICC Office during our office hours. Our contact information and office hours are listed below.
ICC Representatives
The ICC itself consists of an ICC Representative from each club, an adviser, and three officers: ICC Chair, ICC Chair of Finance, and ICC Chair of Programs.
Messages from the ICC Officers
Jay Hu, ICC Chair

Glad you guys are back to De Anza College Spring quarter! I know it's been a short spring break, let's kick it! We are having many exciting club events on campus for you guys. The next big event we have is Club Day at the main quad (front of the library). All of the clubs will be displaying themselves and this will be the day for you to join the clubs you want! Come to the Club Day on April 25 (11am to 1pm) and "join De Anza clubs, live De Anza's life"! This is my first quarter being your Inter Club Council Chairperson, I hope we can become buddies. Like us on our Facebook page:http://www.facebook.com/deanzaicc to get updates about the upcoming events! I hope you guys will be successful and achieve your goals at De Anza!!

---
Chang Zhang, ICC Chair of Finance

Hello everybody, how's it going? I am doing awesome because this is my first quarter to be ICC Chair of Finance! I feel so excited that I can not wait to devote myself to ICC! I hope every club can enjoy this spring quarter, and more new clubs will join in this big family. So far we have had more than 70 clubs at De Anza, and each of them has their own specialties. I strongly recommend you to join in and experience it. It can make your college life colorful, and I am sure about that you will meet lots of talented and versatile people in club events. As an enthusiastic person, I have to remind you of three fantastic events in the spring quarter, which are ICC Karaoke, ICC/DASB Dance Party, and SPRING CARNIVAL!!! Especially for Spring Carnival, it's the most exclusive event in the spring quarter. There are various games and prizes waiting for you! So please do not hesitate, come and join us!!! If you have any suggestions or questions about ICC, you can contact me also. Don't be shy! I am willing to hear your voice!

---
Shaw Kitajima, ICC Chair of Programs

Hi everyone, and welcome back to the Spring quarter at De Anza College - loaded with new clubs, new opportunities, and a new set of ICC Officers! My name is Shaw Kitajima, and I will have the pleasure of serving as your ICC Chair of Programs for the next year! Your time at De Anza is what you make of it, and I, along with over 70 clubs, want you to experience the best. Come out to our many activities, and see firsthand what our clubs have to offer you! I promise that whatever group you decide to join, it'll become an integral part of your school life.
Join De Anza Clubs - Live De Anza's Life! If you have any questions, come see me in the ICC office - or better yet, at Club Day!

---
Henry Kwok, ICC Chair of Marketing

Hello everybody! I feel extremely happy in welcoming you all to the ICC. How was your spring break? Hope you enjoyed it. This is going to be my first quarter as the Chair of Marketing. I believe that some of you are going to transfer in the coming academic year, and this will be your last quarter at De Anza College. In this Spring Quarter, ICC is bringing you various exciting events such as Spring Carnival, Club Karaoke... more and more! Don't hesitate, please grab the precious opportunities and join us! For the new ICC clubs, if you need help on promotion, feel free to find me during my office hours. Last but not least, please keep an eye on our Facebook Page: www.facebook.com/deanzaicc for updates and announcements. I look forward to seeing you in the coming events. Wish you a fruitful and successful quarter!
ICC Officer and Staff Directory
Name
Title

---

Telephone
E-mail

---

Jay Hu
ICC Chair
Office Hours:



Chang Zhang
ICC Chair of Finance
Office Hours:



Shaw Kitajima
ICC Chair of Programs
Office Hours:




Henry Kwok
ICC Chair of Marketing
Office Hours:



ICCMarketing@deanza.edu

---

---

ICC Office

(408) 864-8693

---

---

La Donna Yumori-Kaku
ICC Advisor

Office Hours:

(408) 864-8692
ICCAdvisor@deanza.edu
The ICC Officers' Agenda/Budget Meetings are on Mondays from 1:30 pm to 2:30 pm in the Student Council Chambers.