World Languages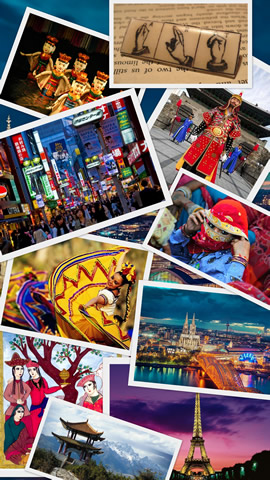 See the World Language Proposed Offerings.
---
World Language Prerequisite Clearance
Please see World Language Prerequisites if you are registering for any World Language courses numbered 2-6 (e.g., SPAN 3).
Don't forget to fill out the World Language Prerequisite Form, 4 weeks prior to enrollment!
---
Campus Community Partners
---
Degrees and Certificates:
Click the information pages identified on the left to get degree and certificate requirements and links to other similar resources.
If you cannot find the information you're looking for, please call the IIS division office at 408.864.8769 or e-mail okabekubojoann@deanza.edu.
What is Take Back the Night?
Take Back the Night (TBTN) is a local and national movement aimed at ending sexual and gender-based violence. This year's activities focus on state-based forms of gender and sexual violence, physical and sexual violence in the home and strategies for combating violence through self-defense, protest, and art.
TBTN Events and Locations
Wednesday, April 20, 2016
10:30 AM to 12:00 PM: Film Screening "Out of the Night" (Campus Center Conference A & B)
11:00AM to 2:30 PM: Clothesline Project and Poster Making (Main Quad)
12:00 PM to 1:00 PM: Write a Letter or Make a Card to LGBTQ Prisoners (Campus Center-El Clemente and Santa Cruz Rooms)
2:30 PM to 3:30 PM: Self-Defense Classes (Campus Center-Conference Room A)
7:00 PM to 7:30 PM: March (meet at the Main Quad at 7:00 PM)
7:30 PM to 9:30 PM: Community Art Event and Open Mic (Campus Center Conference A& B)

---
Summer 2016 World Language Classes
6-Week Summer Session: June 27-August 5
If you have successfully completed the First Quarter coursework at another institution (including high school), and plan to register for the second quarter or higher, please submit the World Languages Prerequisite Clearance Form.
FREN D001.01 (Loubna Hafid)
Elementary French 1st Quarter
MTWR 1:00AM-12:25PM Room L61
JAPN D001.01 (Min-Jin Kuo)
Elementary Japanese 1st Quarter
MTWR 10:00AM-12:15PM Room TBA
KORE D001.01 (Yurha Lee)
Elementary Korean 1st Quarter
MTWR 3:00PM-5:15PM L65
SIGN D001.01 (David Rawson)
Elementary American Sign Language 1st Quarter
MTWR Time 7:30AM-9:45AM Room TBA
SPAN D001.01 (Ruben Abrica-Carrasco)
Elementary Spanish 1st Quarter
MTWR 7:30AM-9:45AM MLC109
SPAN D001.02 (Nelly Valencia)
Elementary Spanish 1st Quarter
MTWR 12:30PM-2:45AM Room TBA
SPAN D002.01 (Jeffrey Mancilla)
Elementary Spanish 2nd Quarter
MTWR 10:00AM-12:15PM Room TBA
SPAN D003.01 (Carmen Ramos)
Elementary Spanish 3rd Quarter
MTWR 10:00AM-12:15PM L66