EOPS Earns Board Recognition
De Anza's EOPS program earned special recognition this week from the Foothill-De Anza board of trustees, which adopted a resolution in honor of the program's 50 years of service to disadvantaged students at the college.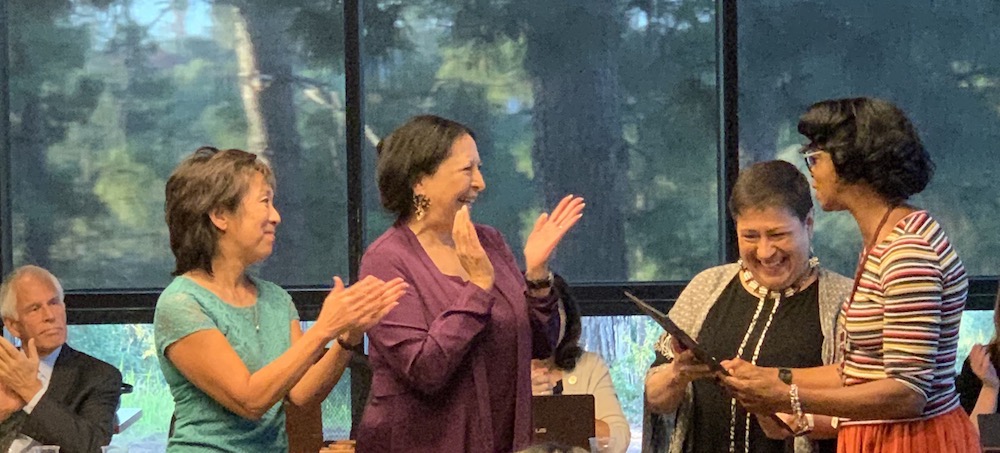 From left, district board President Pearl Cheng, Chancellor Judy C. Miner and De Anza College Interim President Christina G. Espinosa-Pieb with EOPS's Melinda Hughes.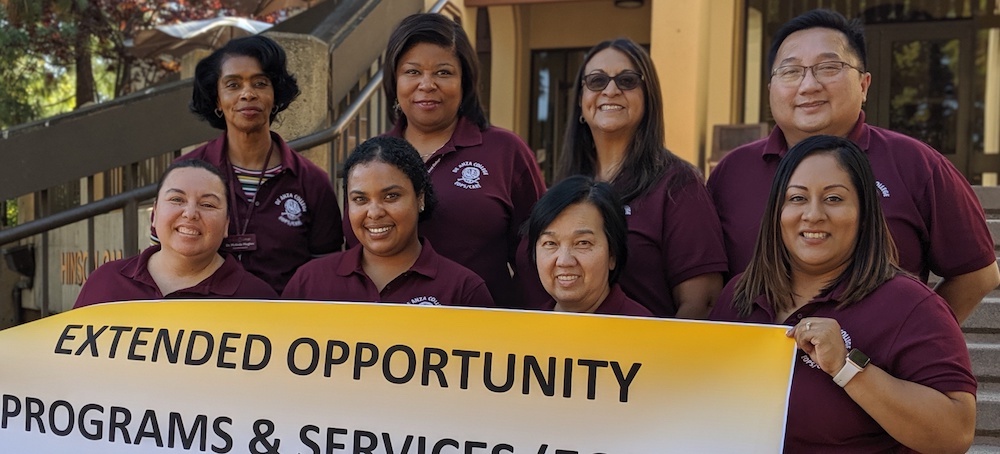 EOPS faculty and staff join Michele LeBleu-Burns, dean of Student Development and EOPS (top row, second from left), outside their offices in the Campus Center.
---
Extended Opportunities Programs and Services (EOPS) is a state-funded program that provides academic counseling, financial assistance, transfer support and other services to students who face social, economic, educational or linguistic barriers to achieving their goals.
"I've seen the transformation of our students' lives for the better, because of the EOPS program," Melinda Hughes, faculty assistant director of the De Anza program, told the trustees after accepting a framed copy of the resolution on behalf of the program.
"Our students come from different backgrounds and different walks of life," she added. "They go on to do great things and become great people, because of the EOPS program."
The board resolution congratulated current and former faculty, staff, administrators and students who have participated in the program, which has served more than 45,000 students over the years. EOPS has also garnered recognition and support from community leaders and philanthropists such as Kathleen Santora, former president of the Foothill-De Anza Foundation board, and her husband, Mark Santora.
District trustee Patrick J. Ahrens, a De Anza alumnus, added a personal tribute before the board voted unanimously to honor the program.
"I was an EOPS student at De Anza, and if it weren't for being in that program, I would never have gotten the courage to apply to UCLA and get accepted," he said.
"I definitely would not be sitting on the board today, if it weren't for all the encouraging people telling me to keep striving despite all the difficulties that a lot of our students face," Ahrens added. "It is an amazing program."
(Posted on Oct. 8, 2019)