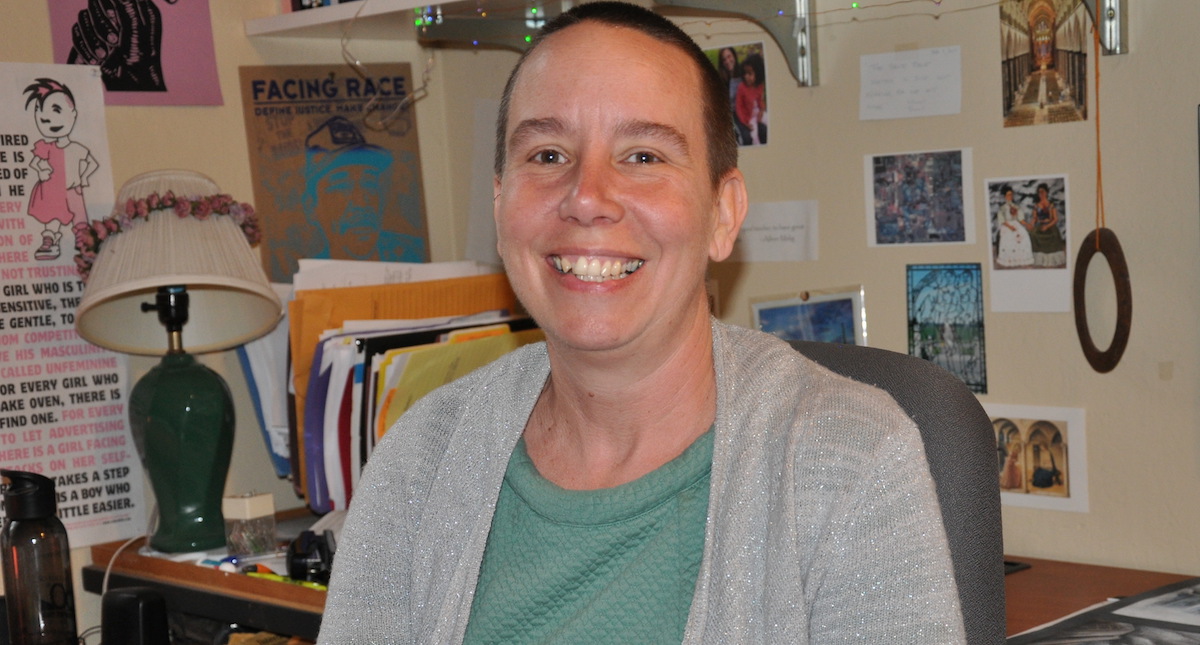 (Pictured: Sociology Department Chair Jennifer Myhre)
An ambitious digital storytelling project, designed to build bridges while exploring economic inequality, is moving forward at De Anza and in the broader community with help from a new grant.
Sociology Department Chair Jennifer Myhre said the $20,000 grant represents an important boost for the "1500 Stories" project, which will use interviews and community meetings to produce digital video, photo and audio stories about life at different economic levels in Silicon Valley and the United States.
"The goal of this project is to focus public attention on the chasm between the rich and poor in the U.S. through storytelling and the humanities," Myhre wrote in her grant proposal to the nonprofit California Humanities organization. "It uses empathy and community building to mend the toxic and polarizing public discourse that the widening economic gap has produced."
"I see this project as an empathy-generating machine," she added in a conversation. "The idea is to tell the stories we don't always hear."
Myhre, an award-winning documentary filmmaker, is directing the project in collaboration with the California History Center, Euphrat Museum of Art and the Vasconcellos Institute for Democracy in Action (VIDA), along with off-campus community organizations.
The name of the project comes from a poster created by economist Stephen J. Rose, which illustrates the distribution of income and wealth in the United States. An early version of the poster in 1998 showed the gap between the nation's richest and poorest inhabitants was equivalent to the height of a three-story building. Twenty years later, Myhre says, the gap has grown to the equivalent of a building 1,500 stories tall.
With this project, Myhre and her partners aim to collect and share actual stories that depict the experience of income inequality in our society. Volunteers have already gathered more than 50 hours of audio interviews and more than 200 documentary photographs. Myhre says more audio and video interviews will be gathered to produce digital short stories for the project website.
In addition to the California Humanities grant, Myhre said she's raised more than $7,000 from other sources and will probably seek additional support. But the grant is a big step, she added. "I was really excited when I got the word."
Myhre is also working with off-campus groups including Sacred Heart Community Service, a San Jose-based nonprofit that serves low-income residents, to organize a series of public meetings in early 2019. Community members will be invited to view the digital stories and talk about their own experiences.
While focusing on Silicon Valley, the "1500 Stories" website includes sample questions, research on income inequality and other tools that can be used by teachers, students or activists who want to continue the project in their own communities.