The new top cop for De Anza and Foothill College is a veteran officer who has pledged to strengthen relationships between his agency and the diverse communities on both campuses.
Danny Acosta, a familiar face on campus after four years as assistant chief, was sworn in Monday as chief of the Foothill-De Anza district police department. Chancellor Judy Miner presided over a ceremony that included an Aztec dance performance by Acosta's daughter and a honorary resolution by local Assemblyman Evan Low.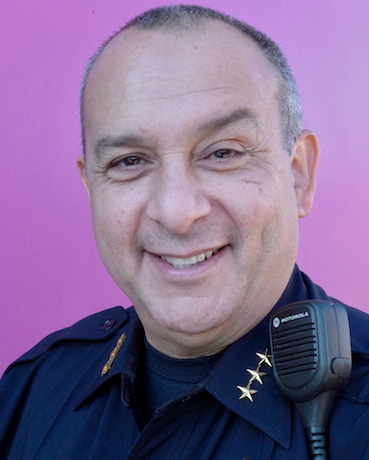 Acosta, 56, has underscored the importance of community policing in his plans for the department.
A key part of creating a safe campus includes making sure that students, faculty and staff members all feel comfortable with campus police, said Acosta, who was a longtimeSan José police commander before he joined the district department four years ago.
To that end, Acosta said he'll form a new Chief's Advisory Committee, drawn from diverse constituencies, which will hold regular public meetings on both campuses of the district.
He also plans to build on recent initiatives that he helped lead while serving as assistant chief based at De Anza, including "Coffee With a Cop" events in the Main Quad, where anyone can stop by to ask questions or just shoot the breeze.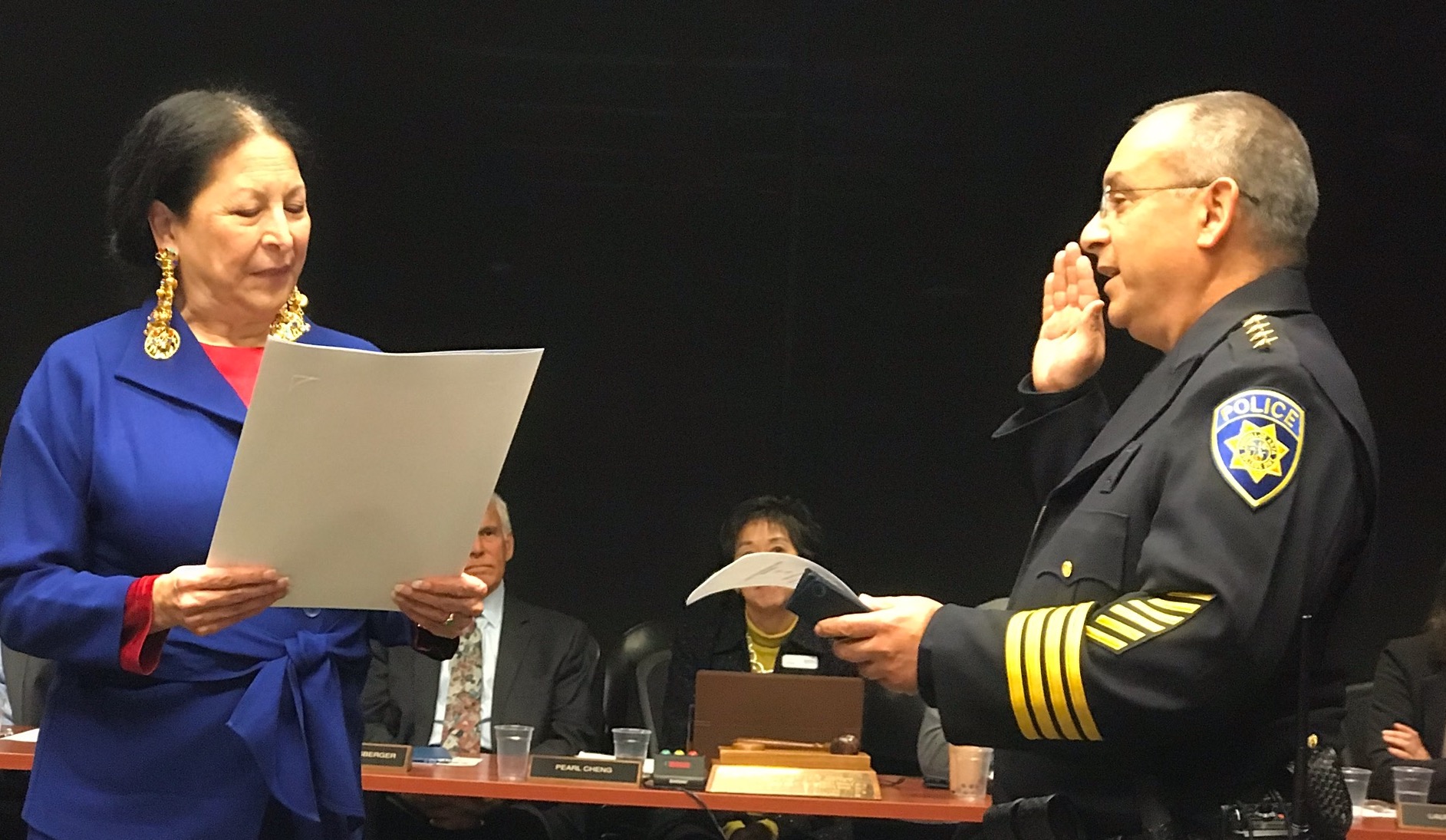 "We want to keep those conversations going," Acosta said – even if it's just an informal chat about baseball or the weather.
Acosta also hopes to host more speaking events like the one he organized last fall with Luis Cortes Romero, an immigration rights attorney who is himself an undocumented immigrant in the DACA program.
Romero visited campus at Acosta's invitation in October. He spoke about his own experience and answered questions from students about their legal rights. Acosta said he wants undocumented students to feel safe and welcome on campus.
Acosta, whose parents came to the United States from Mexico, was born in the California town of Colusa and raised in San José. In announcing his appointment, Miner noted that his life experiences are similar to those of many De Anza and Foothill students.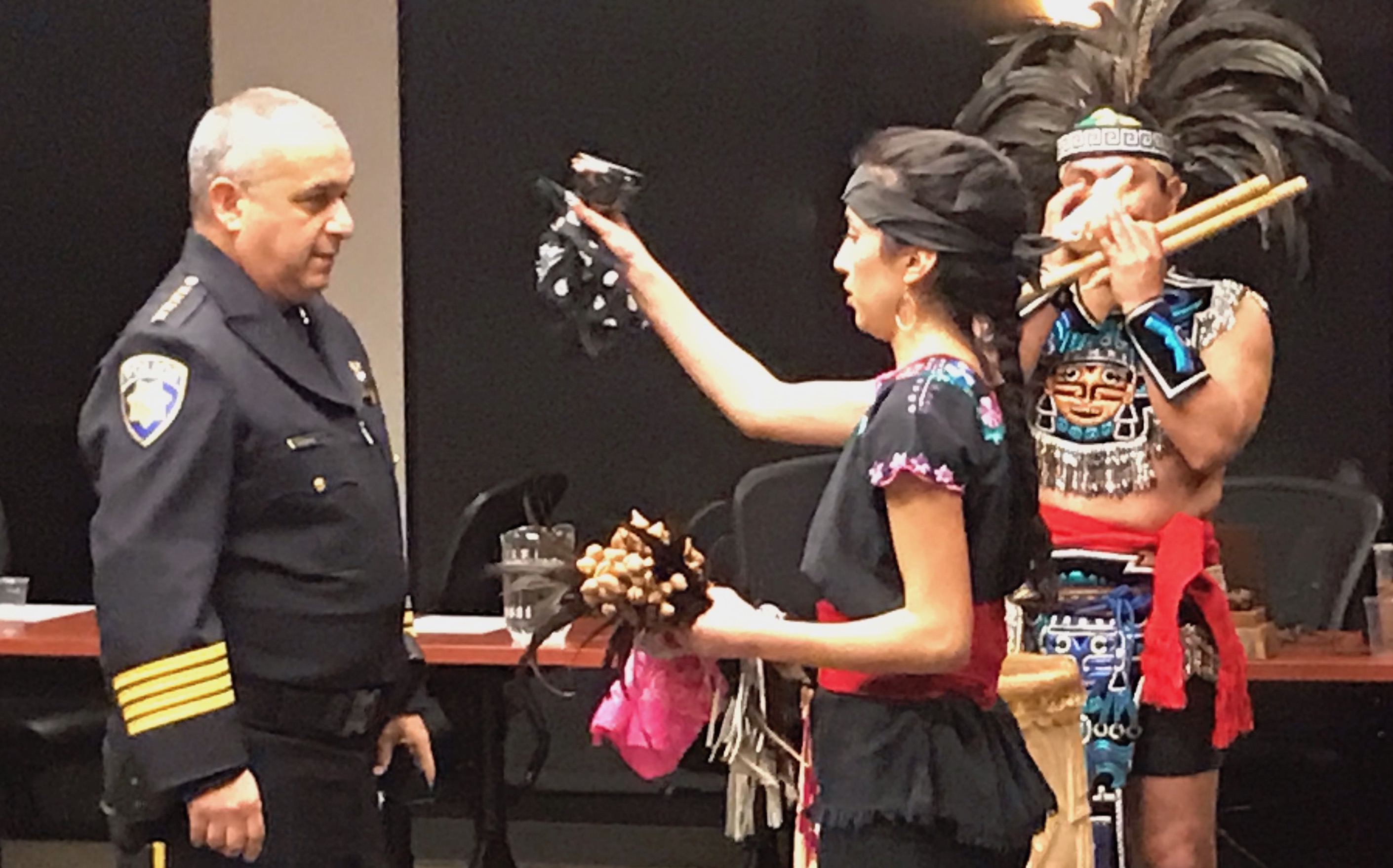 "Danny is fluent in Spanish as the son of Mexican immigrants and grew up in a low-income neighborhood," Miner said. "His personal story as a first-generation college student will undoubtedly resonate with a great many of our students, for whom he will be a role model."
She added: "Since joining the department in 2014, Danny has helped us build a strong foundation of community policing. As chief, he will be able to leverage the relationships and partnerships that are unique to his history with the district and the larger community."
Acosta worked his way through San José State University, where he earned a bachelor's degree in psychology and minored in Mexican American studies.
"I worked and helped my parents pay the bills," he said. "So just by saying to students, 'I know what that's like,' it may mean something. Hopefully it makes it a little easier to have a conversation."
Acosta was one of three finalists recommended by a districtwide search committee to replace Ronald Levine, who retired last month after 15 years as chief.
During his 29 years at the San José Police Department, Acosta rose to the rank of lieutenant while working in a variety of areas, including patrol operations, auto theft, training, internal affairs and gaming control. He has also been an instructor for local police training programs and a volunteer with several community groups.