March 2013
---
Around Campus and the Community
PG&E Rewards De Anza College for Energy Savings
The Foothill-De Anza Community College District has received $77,270 from PG&E for energy savings achieved through De Anza College's Media & Learning Center (MLC) and the A9/PE6 renovation and retrofits. The Savings by Design program is administered by California utilities and encourages high-performance, non-residential building design and construction.
The MLC has achieved an energy savings of 37.5 kW and 142,653.00 kWh, or 34.84 metric tons of avoided CO2 emissions—the equivalent of powering seven homes or removing five cars from the road for one year. The savings resulted in a $63,105 check from PG&E, with the remaining $14,165 for the A9/PE6 renovation and retrofits. The A9/PE6 project resulted in a combined savings of 36,607 kWh and 5,380 therms, the equivalent of avoiding 37.49 metric tons of CO2 emissions and enough to power nine homes and remove six cars from the road for one year.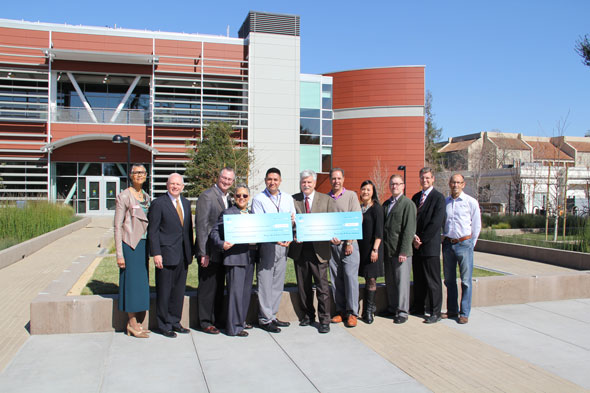 Pictured at the March 1 ceremonial check presentation are Donna Jones-Dulin, associate vice president of Finance and Educational Resources, De Anza; Charles Allen, executive director of Facilities, Operations and Construction Management, Foothill-De Anza; Kevin McElroy, vice chancellor of Business Services, Foothill-De Anza; Letha Jeanpierre, vice president of Finance and Educational Resources, De Anza; Vince Mendoza, student trustee, De Anza; Brian Murphy, president, De Anza; Frank Arroyo, customer relationship manager, PG&E; Danielle Musumeci, implementation manager for new construction, PG&E; Lance Kincaid, senior engineer, Newcomb Anderson McCormick, consultants; Mike Matson, associate principal, Ratcliff Architects; and Tom Armstrong, director, bond program, De Anza.
Spring Quarter Exhibit at California History Center
The CHC and the Los Gatos-Saratoga Camera Club will host "Lens on Silicon Valley," a special exhibit of 48 original photographs taken by club members that explore places, ideas and themes capturing the essence of Silicon Valley.
When: March 12-June 20
Where: California History Center
The opening reception for the exhibit is Saturday, March 23, 2-5 p.m. Contact Tom Izu at izutom@deanza.edu or 408.864.8986.
Ends this Week! In the Euphrat--War & Healing
This exhibition invites viewers to examine their perspectives about war and reaffirm their sense of humanity. The exhibition is presented in partnership with Silicon Valley Reads 2013 and was recently featured in the New York Times and in ULTRA:EXTRA.
When: Monday-Thursday, Feb. 4-March 21, 10 a.m.-3 p.m.
Where: Euphrat Museum of Art, VPAC 101
Contact Diana Argabrite at 408.864.5464 or argabritediana@deanza.edu. Group tours by appointment only.
Jean Miller First Year Experience Scholarship Fundraiser
You're invited to the fourth annual First Year Experience afternoon of cultural performances and entertainment. A silent auction will feature arts and crafts from local artists.
When: Thursday, March 21, 4-6 p.m.
Where: Conference Rooms A&B
Learn more about the program at www.deanza.edu/ssrsc/jeanmillerscholarship.html. Contact Jen Myhre at 408.864.8560 or myhrejennifer@deanza.edu.
Creative Arts Events in March and April
De Anza Chamber Orchestra, Friday, March 22, 7:30-10 p.m., VPAC, $10 general and $5 students and seniors
De Anza Symphonic Winds with Portland State University Wind Symphony, Saturday, March 23, 1:30-3:30 p.m., VPAC, $5
De Anza Classical Guitar Concert, Sunday, March 24, 7-10 p.m., A-11
Winter Heat with the De Anza Jazz Ensemble and guest Daddios Big Band, Sunday, March 24, 6:30-10:30 p.m., VPAC, $5
Classical Guitar Student Recital, Sunday, March 24, 7-8:30 p.m., A-11 Choral Hall
Study Abroad in Viet Nam 2013
Please remind your students that this will be the final information/recruiting meeting. Only a few seats remain for this summer's trip.
When: Wednesday, March 20, 2:30-3:30 p.m.
Where: Library 235, second floor next to DeCillis Viet Nam Collection
For more information see www.deanza.edu/news/2013vietnamsummer.html.
Massage Therapy Clinics
De-stress at De Anza's own massage clinic. Sign up for a 45-minute massage.
When: Tuesdays & Thursdays, Jan. 22-March 21, 9:15 a.m., 10:15 a.m., 11:15 a.m.
Where: Clinic Office, PE 12L
Call 408.864.5645 to make an appointment and see the Massage Clinic website (http://www.deanza.edu/pe/massage/clinic.html) for more information and rates.
Free 2012 Tax Filing Assistance for Students!
Let your students know about this free service: Students qualify to file their 2012 Federal and State Income tax return free if they made $51,000 or less last year. This includes total household income for filers who are single or married filing jointly.
When: Through April 5, 9 a.m.-noon
Where: Upper floor of Campus Center in the lobby across from Dining Services
IMPORTANT: Students must bring these items to the VITA site to have their tax returns prepared:
Proof of identification
Social Security Cards for themselves, their spouse and dependents, and/or a Social Security Number verification letter issued by the Social Security Administration
Birth dates for themselves, their spouse and dependents on the tax return
Current year's tax package (if they received one)
Wage and earning statement(s) Form W-2, W-2G, 1099-R, from all employers
Interest and dividend statements from banks (Forms 1099)
A copy of last year's federal and state returns, if available
Bank routing numbers and account numbers for Direct Deposit
Total paid for daycare provider and the daycare provider's tax identifying number (the provider's Social Security Number or the provider's business Employer Identification Number)
To file taxes electronically on a married-filing-joint tax return, both spouses must be present to sign the required forms.
Other Santa Clara County VITA sites: www.211scc.org/vita.htm
1st Thursdays Open Mic Series
Join De Anza students, faculty and staff for The Open Mic Series. If you are a poet, singer, rapper, spoken word artist or someone who wants to join the show, come out for good vibes, good beats and good talent.
When: First Thursday of the month through June, 5-7 p.m.
Where: Euphrat Museum of Art, VPAC 101
Contact the De Anza Black Student Union at deanzabsu@gmail.com.
Closing Event of Silicon Valley Reads 2013
The two featured authors, Brian Castner and Sue Diaz, come back together for a conversation about their books and the Silicon Valley Reads experience moderated by De Anza College President Brian Murphy. The announcement of winners of the Cupertino Library Foundation Essay Contest follows, along with book signing. This event is co-sponsored by Cupertino Library Foundation. For more information call 408.446.1677 or see the Silicon Valley Reads website.
When: Saturday, April 13, 1:30 p.m.
Where: Cupertino Community Hall
Infinite Possibilities -- Student Literary Competition 2012-2013
De Anza College is hosting the League for Innovation's annual student literary competition. The competition enables community college students to compete with their peers across North America and showcases a selection of the best works being created by today's community college students. For complete details, entry form, contest rules and judges' bios, visit www.deanza.edu/litcompetition/ or contact English instructor Ken Weisner at weisnerken@deanza.edu, campus coordinator for the competition.
Stressed Out?
Health Services will present its "Stress Town" wellness event on Wednesday, May 16, 11 a.m.-2 p.m. in the Sunken Garden. Watch for more info at www.deanza.edu/healthservices.
Save the Date!
A biannual retirement workshop for district employees co-sponsored by FA, ACE and CSEA is scheduled for Friday, May 17, 11:30 a.m.-4:30 p.m. in Conference Rooms A&B. Details so far:
Registration 11:30 a.m.-noon
STRS/PERS 12-12:45 p.m.
Part-time faculty retirement 12-2 p.m. (location TBA)
Wellness with Karl Knopf 1-1:30 p.m.
Social Security/Medicare 1:30-2:30
Retiree Health Benefits for pre-97 and post-97 hires with Chris Vo 2:45-3:45 p.m.
Retirement Options for Faculty with Anne Paye 3:45-4:30 p.m.
Athletics Update
Support Your De Anza Athletes! Come out and enjoy these home games.
Baseball vs. West Valley: Thursday, March 21, 2:30-4:30 p.m., Baseball Field
Men's and Women's Swimming and Diving Invitational Conference Meet: Friday, March 22, 12-3 p.m., Main Pool
Men's Tennis vs. Foothill: Friday, March 22, 2-4 p.m., Tennis Courts
Badminton vs. City College of San Francisco: Friday, March 22, 6-8 p.m., Main Gym (PE 21)
Women's Tennis vs. City College of San Francisco: Tuesday, March 26, 2-4 p.m., Tennis Courts
Baseball vs. Canada: Thursday, March 28, 2:30-4:30 p.m., Baseball Field
Men's Tennis vs. Cabrillo: Tuesday, April 2, 2-4 p.m., Tennis Courts
Softball vs. Cabrillo: Tuesday, April 2, 3-5 p.m., Softball Field
Baseball vs. Chabot: Thursday, April 4, 2-4 p.m., Baseball Field
Men's Tennis vs. Chabot: Friday, April 5, 2-4 p.m., Tennis Courts
Men's and Women's Swimming and Diving District Dual Meet: Friday, April 5, 2-5 p.m., Main Pool
Baseball vs. Mission: Saturday, April 6, 12-2 p.m., Baseball Field
Baseball vs. Monterey Peninsula: Tuesday, April 9, 2:30-4:30 p.m., Baseball Field
Softball vs. Foothill: Tuesday, April 9, 3-5 p.m., Softball Field
Baseball vs. Hartnell: Saturday, April 13, 12-2 p.m., Baseball Field
For more information on Athletics games schedules see www.deanza.edu/athletics.
Faculty and Staff News
New Online Faculty Leave and Substitute Pay Reporting System Replaces Paper
A new online faculty leave and substitute pay reporting system will replace the paper process beginning April 22. Complete details and instructions are available at www.ets.fhda.edu/facultyleave. A training video will soon be posted to the page.
Drop-in training sessions will be available the week of April 15. Calendar invitations to the sessions will be sent soon.
Because the system is fully integrated with Banner and the faculty schedule, including absence dates, leave hours are automatically calculated, approvals are online and substitutes will be paid faster. The Business/CIS Division participated in the successful pilot of the new system. Implementation team members districtwide are listed here: http://fhdafiles.fhda.edu/downloads/etsfhda/FacultyLeaveContactList.pdf.
Music Instructor Shines in Photography
One of music instructor Dan Mitchell's photographs was selected for inclusion in Yosemite Renaissance 28: A Juried Exhibition of Contemporary Art of Yosemite and the Sierra. Mitchell's black and white photograph, "Shoreline Reflections, Tenaya Lake," earned a second place award in the exhibit and can be found at http://www.gdanmitchell.com/2010/07/03/shoreline-reflections-tenaya-lake. Information on the show, which runs through May 5, can be accessed at https://plus.google.com/100243301491554815806/posts.
Workforce Education Coordinator Granted Scholarship
Margaret Bdzil, Workforce Education Coordinator at De Anza, will be attending the Fulbright Community College Administrators Seminar in Russia April 3-17. Bdzil will be presenting information about the American Community College system to college administrators and government officials, and providing technical assistance through participation in roundtables and meetings.
Biology Instructor Interviewed for Journal
Jeff Schinske was interviewed for an article in the current issue of the journal Nature. The article talks about how U.S. scientists passionate about teaching can find rewarding work at community colleges. The full article can be seen at http://www.nature.com/naturejobs/science/articles/10.1038/nj7439-129a.
Photography Instructor is Featured Poetry Reader
Wilfredo Castano will be reading poetry at the Santa Cruz Main Library on Sunday, March 17, 2-4 p.m. The reading is sponsored by Poetry Santa Cruz, and the library is located at 224 Center Street.
Classified Professionals Flex Day--Save the Date!
Join colleagues from De Anza, Foothill and Central Services for a day of being "Safe and Sane" on Friday, May 24, 7:30 a.m.-4:30 p.m. at De Anza, breakfast and lunch included. Watch for a SurveyMonkey in early May to register for the retreat and sign up for individual workshops on topics such as building a safe place to work, brain games, self-defense, exercise, mental health, samba and Bollywood dancing, PGA and much more.
Child Development Center Taking Applications for 2013-14
Child Development Center is now taking applications for free and low-cost child care for the children of Foothill and De Anza college students from ages18 months to 5 years old for 2013-14 school year. Contact Linda Koyama at 408.864.8891 or koyamalinda@deanza.edu to make inquiries about eligibility for this program. Also, the center offers child care to district faculty and staff as well as community members. District employees receive a 5% tuition discount.
Legal Aid Services Available for Staff
Attorney and business instructor Ron Goularte provides free legal counseling to staff and students through the Office of College Life. Call 408.864.8756 for more information.
Congratulations to De Anza Employees
The board of trustees has approved the following personnel actions since February 2013.
New Hires: Samera Hadi, Financial Aid Outreach assistant; Claudia Ruelas, Financial Aid assistant; Aye Khine, Parvin Lonbani, Erika Owens and Jessica Weiner, Child Development Center teacher assistants
Professional Growth Award: Larry Ching, Technology Resources Group
Newly Tenured Faculty: Robert Alexander, Randy Claros, Cleve Freeman, and Jue Thao, all from Counseling and Matriculation; Ronald Francis, Physics; Shagundeep Kaur, Language Arts; Kevin Mello, Business and Computer Systems; Jeff Schinske, Bio/Health
Employee of the Month Award - March 2013
Patti Whelan is the senior secretary for Disability Support Services. She provides vital, day-to-day support for the DSS program and is the first contact for her division. "Patti is committed to bringing a high level of customer service to students, instructors and staff," says her nominator Berta Pace, division administrative assistant for Business & Computer Systems.