October 2014
---
De Anza Grad Accepted Into Prestigious Pharm D. Program
Parjosh Sangha never expected to become involved in De Anza's student government. She came to community college for financial reasons and wanted to transfer as quickly as possible.
"When I did my research I learned that this school has a high transfer rate and is a really good community college," said Parjosh. "During orientation, students would encourage us to join clubs, and I was surprised I became one of those people presenting to new students coming in."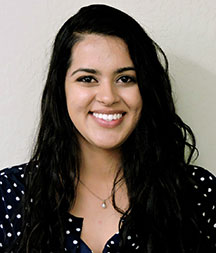 Parjosh graduated in June with an A.S. in biological sciences and is entering the accelerated Pharm D. program at the prestigious University of the Pacific in the fall -- no small feat for a student without a bachelor's degree. For every hundred students entering the Pharm D. program, only two or three have not yet received a bachelor's degree.
Parjosh credits her involvement in De Anza's vibrant student life with her success.
"Being in student government got me really involved in campus and made me more outgoing and social," Parjosh said. "I looked up any volunteer opportunities in the area and I would help get other students involved."
When Parjosh first arrived at De Anza, she was "a little lost." Unsure of her career interests, she decided to study nutritional sciences and eventually transfer to UC Berkeley. Then, two teachers invited her to be a supplemental instructor for their courses. Through tutoring, Parjosh met students involved in DASB and joined the honors club. She ran for club treasurer. A year later, she was Honors Club president and head of the DASB Diversity Committee. Parjosh also participated in one of the professional photo shoots on campus and was recently featured in the college's VTA bus ad campaign.
parjosh sangha"From the first moments that Parjosh was in my class, I could tell she was a special person and student. She was always so collaborative, and she never saw her education as competitive," said English instructor Lydia Hearn. "Instead, she welcomed ideas from her fellow students to help her grow and she shared her own thoughts to help them grow. The emotional and intellectual maturity that Parjosh displayed and continues to display is admirable."
As her student life was taking off, Parjosh was laying the groundwork for her professional career. She worked as a cashier at her local pharmacy and liked the environment so much that she earned her Pharmacy Technician certification. She also switched majors and decided to attend pharmacy school.
"When I was applying to University of the Pacific, my resume was three pages," Parjosh said. "At De Anza I was given so many opportunities, and I tried to take advantage of as many as I could to expand and grow."
Parjosh would like to return to work at her local pharmacy when she finishes her studies in two years. For now, she's looking forward to university life, and is even contemplating joining student government once again.
"The senate helped me a lot with leadership and understanding others needs," Parjosh added. "Don't lose confidence and don't be afraid to get involved."
New Vice President of Finance & College Operations
A native Californian who grew up exploring the outdoors, new vice president of Finance & College Operations Susan Cheu studied natural resources as an undergraduate and spent three years working for the U.S. Forest Service. She started her post-college career doing spotted owl surveys in the Stanislaus National Forest.
"It was perfect because basically what I was assigned to do was hike and backpack," Cheu said. "I spent my last few months as a hydrologist doing stream surveys and analyses of watersheds."
When Cheu's position was eliminated because of budget cuts, she returned to the Bay Area and starting doing temp work. To her surprise, she discovered she really liked numbers.
"As an environmental person, the numbers people were the ones who kept you from doing what you wanted to do," Cheu said. "But I really enjoyed it. I took a couple classes, and I ended up getting my master's."
With her master's degree in accountancy, Cheu began working at Arthur Anderson as a staff accountant. That position required a lot of traveling, so Cheu took a job at Diversified Software to be closer to home. She was there for eight years as an accountant, then senior accountant. When the company was sold, she applied for the director of Business Services position at Gavilan College in Gilroy.
"That really opened up a whole new interest for me," said Cheu. "I could do my accounting, but also in a small way help to make the world a little better because I'm helping people to improve their lives."
Cheu worked as director of Business Services for six years before being promoted to interim chief financial officer. She had been in that role for a year and a half when she applied for the vice president position at De Anza.
"I really am impressed with De Anza's commitment to students, the energy on campus, the enthusiasm, the collaboration," Cheu said. "I'm very excited to be a part of that and to continue to make our students successful."
Cheu still enjoys hiking, though she does so less than in her Forest Service days. She quilts, knits and crochets, and her commute to De Anza gives her plenty of time to listen to her favorite audiobooks on a wide range of topics.
Relocated Library Offers Services During Renovation
Due to bond-funded renovations, Library Services has moved to the second floor of Learning Center West. Many great services are still available for students, faculty and staff.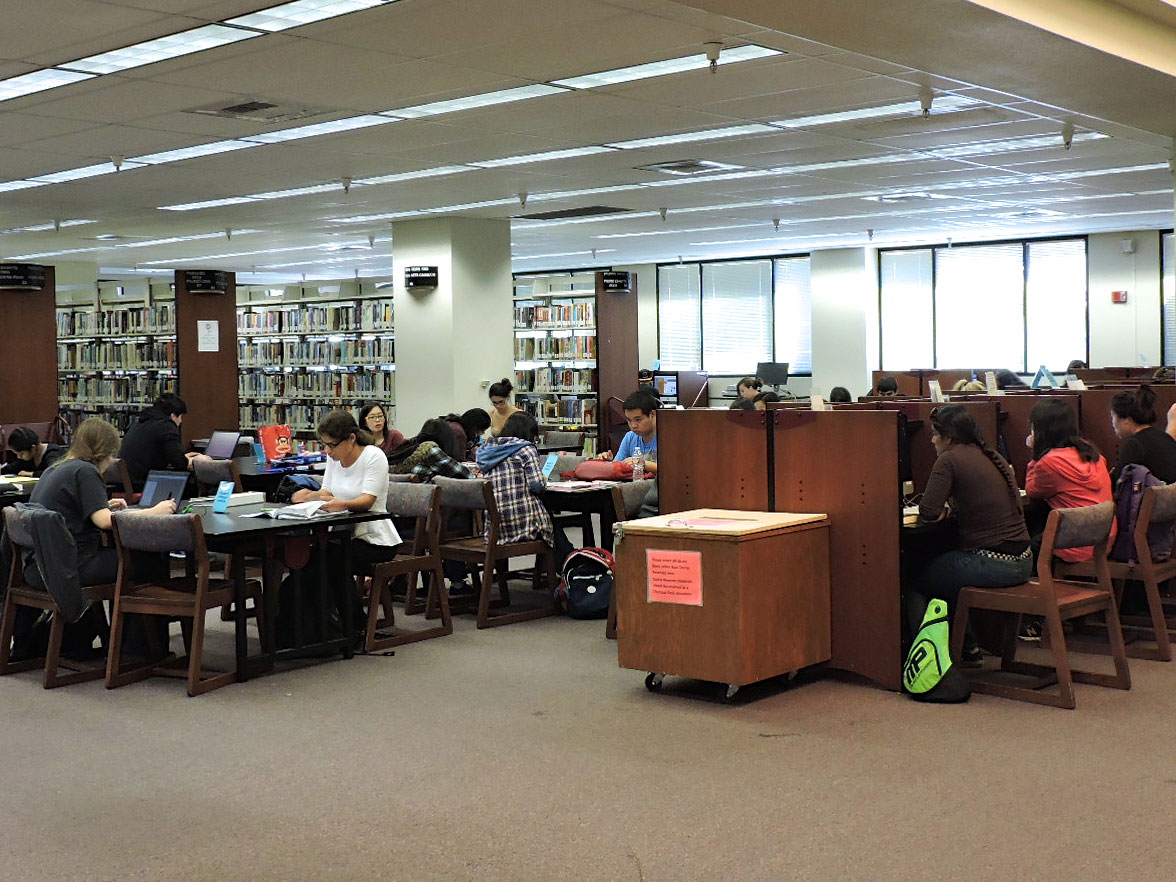 "The library offers access to more academic databases then ever before, including two new video databases," said Tom Dolen, faculty director of the Library. "All of these resources are available 24/7 through the Library's webpage."
The e-book collection has more than 100,000 titles covering a broad range of academic subjects.
Faculty may place items on reserve, and library instruction will continue during renovation. Computers, copiers and ePrint stations are still open for use.
"Our temporary space has everything our students need to to succeed in the classes they are currently taking," Dolen added. "Come on by and say hi."
The renovated Library opens in fall 2015 and will feature:
A brand-new, modern look
Upgraded wireless access
Improved individual study areas
Group study rooms with state-of-the-art technology
Improvements, such as additional electrical outlets, for bringing your own laptop or tablet
Student Veteran Awarded Silver Star
Biology student and former Marine Corpsman Jonathan Kong was recently awarded the Silver Star for his service in Afghanistan. The Silver Star is the military's third-highest decoration for valor.
Kong's award was featured in a San Jose Mercury News article.
Students Emphasize Community at Opening Day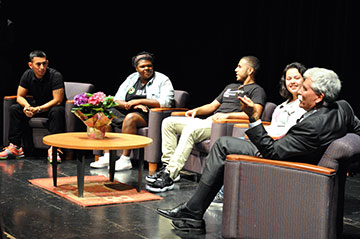 As part of the Opening Day program, student panelists from campus Learning Communities participated in a roundtable discussion with Brian Murphy about their experiences at De Anza.
Pictured are Edgar Medina (Puente),Nahielly Torres (LEAD),Myah Rodriguez (Sankofa Scholars) and Brandon Quintanilla (Puente). All attributed their success to the mentorship and sense of "familia" within their respective Learning Communities.
In Memoriam
The De Anza community mourns the passing of Joan Crandall, retired executive assistant in the Office of Instruction (1995 to 2010) and former division administrative assistant to the Physical Sciences, Mathematics, and Engineering Division (1987 to 1995). Our thoughts are with her family during this difficult time.