March 2015
---
LEAD Co-President Passionate About Food Justice
On a recent overcast morning, Brian Romaine was pleased to see students working in the garden behind the Kirsch Center.
"I have a lot of dreams and aspirations for this garden," he said. "There aren't many students on campus on Fridays, but there are still volunteers here when we didn't organize any."
This garden is Romaine's latest project as co-president of Latina/o Empowerment at De Anza (LEAD). In his first LEAD class, students were required to write a personal narrative that described who they are, their interests and what they want to do. Romaine realized that his own passion for social justice is closely aligned with the food industry and the way its workers are treated.
"In the next few years, we're going to see major changes in the way we think about food -- the way it's distributed and grown, and the way we treat people who harvest and serve it," he said. "I want to be part of that change."
The need for change is one reason Romaine decided to move to California after a stint at a small liberal arts college in North Carolina. While working full-time, he met several people who had attended De Anza and successfully transferred to four-year colleges. Eventually he decided to enroll.
"I thought it was such a great system to harness your academic skills in preparation to transfer to a university," Romaine added. "I knew that the classes were incredibly interactive, collaborative and enriched [students] beyond the classroom."
Romaine felt that sense of interactivity and collaboration in that first LEAD class with adviser Marc Coronado. LEAD members work together in familias with a mentor who helps students evaluate themselves and their academic progress. Romaine's mentor and current co-president, Mia Hernandez, took him under her wing and encouraged him to use his people skills to help fellow students. Romaine is now a mentor himself.
"One of the things you learn as a LEAD mentor is how to communicate with people from all walks of life -- from older students like myself to people fresh out of high school," he said. "I've really tried to encourage people to set quarter goals, year goals and do things today that will help them reach those goals in the future."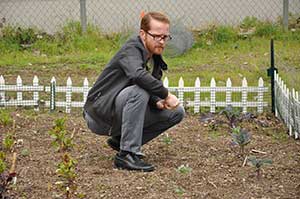 Romaine helps plan the annual Global Issues Conference and is also involved in an ongoing project with migrant workers in Watsonville. Last summer, he served as mentor for a class that visited a workers' camp. The workers spend half the year in California, then return to Mexico when the camp shuts down in November. Students talked to the children there and captured many of their stories. The LEAD group will return to the camp when it reopens in the spring.
"To go into that place was enlightening and, at times, maybe disheartening for [the students] to see how [the workers and their families] live, and it all started with a LEAD class," said Romaine. "This is not new. It's been going on for centuries and I feel inspired to help in that realm."
Romaine hopes to produce enough food in the garden to hold a LEAD-sponsored eat-in on campus. He intends to transfer to a UC and pursue an interdisciplinary major that will merge his multiple interests. He wants to study human behavior and plans to continue his activism on and off campus.
"As far as personal development goes, I wouldn't be the same person if I hadn't come to De Anza," he said. "The journey hasn't been easy but it's been extremely rewarding because I've had a structure of professors, mentors and counselors around me who didn't let me give up."
---
Excellence Award Winners Announced
President Brian Murphy recently named three De Anza faculty members as winners of the League for Innovation John & Suanne Roueche Excellence Awards for their outstanding contributions in teaching and leadership. Winners are Randy Bryant, Jackie Reza and Bob Stockwell. Bryant and Reza attended the League conference in Boston last week.
---
Randy Bryant, Auto Tech Instructor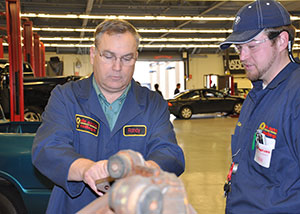 The Auto Tech garage in Building E has the look and feel of a professional repair shop. Students in blue coveralls, names stitched on the front, peer under the hoods of cars and read diagnostic information from computers. Students are required to always be on time, and treat the space with the respect they would show their own business.
Randy Bryant, head of the Automotive Technology Department, is proud of his students' professionalism. The high expectations of the classroom prepare them for full-time work.
"I love working with our students at De Anza College," said Bryant. "I'm inspired by our students and their desire to learn and get ahead in life."
Bryant served in the U.S. Air Force Reserves for more than 30 years and retired as a Chief Master Sergeant. He earned his associate's degree in Aircraft Systems Maintenance Technology at the Community College of the Air Force. He also earned a bachelor's degree in Emergency and Disaster Management from American Military University and a master's in education from Eastern New Mexico University. Bryant has worked as an automotive technician for 30 years and been at De Anza for 15. He said he is honored to receive the Excellence Award.
"I am inspired and grateful to work in an environment that places such a high value on equity, social justice and civic engagement," he added.
Bryant currently teaches the chassis and air conditioning classes. He is the vice president of the college Academic Senate. He also serves as vice president and director of workforce development for Green Transportation Workforce Development, and is a board member for the Silicon Valley Clean Cities Organization. He owns Bryant Auto Electric in Santa Clara.
"My personal message to students is, 'You are good enough, you are smart enough, you can do it and I will help you," Bryant said.
In his free time, Bryant enjoys mountain biking, golfing and spending time with his children and grandchildren. He credits his wife, Selina, for his success and accomplishments.
---
Jackie Reza, Staff & Organizational Development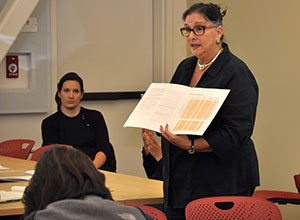 "Work together, work together! Help your colleagues," Jackie Reza urged the faculty members in her fall workshop, "Teaching and Learning Seminar: Enhancing Learning Via Emotional Intelligence in the Classroom."
Whether teaching students or faculty, Reza encourages collaboration. In her 30 years at De Anza, she has counseled countless students, facilitated scores of workshops and taught courses in Women's Studies and Human Development. She is the faculty director of the Office of Professional and Organizational Development and a member of Academic Senate, DARE and the Equity Action Committee (EAC).
"Meeting students where they are makes the magic of learning happen," Reza said. "Receiving this award is recognition of my philosophy of education, and encourages me to continue making the magic happen."
A San Francisco native, Reza earned a B.S. in zoology at Ahmadu Bello University in Nigeria before completing a B.A. in La Raza studies at San Francisco State. She also earned a master's degree in rehabilitation counseling and established a small private practice as a licensed Marriage and Family Therapist. After 10 years as a counselor, Reza earned her doctorate in International and Multicultural Education from the University of San Francisco.
"As a lifelong learner of teaching, two questions have informed my practice over time," said Reza. "How do I [help faculty] go from good to great, and how do I teach from a socially just, equitable and inclusive perspective, regardless of content?"
Reza teaches part-time in the program where she received her doctorate. She has served on many boards throughout the Bay Area and the state, all committed to social justice and equity. She has published several articles on Latina leadership in higher education and received multiple awards for her work. She also wrote a book, "Anti-Biased Curriculum for the Heart," for the Roma Project in Hungary and Bulgaria. The book has been translated into 22 Eastern European languages.
Reza spends her free time with her children, and also enjoys gardening and reading.
---
Bob Stockwell, Political Science Instructor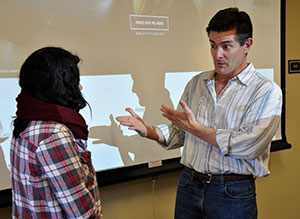 Bob Stockwell has been teaching political science at De Anza for 11 years and continues to be impressed by the passion and dedication of his students.
"I can say without hyperbole, that our students are simply the best," Stockwell said. "They are a delight to work with – smart, creative, and committed. They inspire me every day to be the best teacher and mentor I can be."
Stockwell holds political science degrees from UC San Diego, The New School for Social Research and UC Irvine. This quarter, he's teaching American Government and Politics. He is also the Faculty Association PAC internship supervisor and executive council representative. Stockwell has participated in many committees on campus, including the Instructional Planning and Budget Team (IPBT), College Planning Committee (CPC) and Professional Relations Committee. He was chair of the Political Science Department from 2011-2013.
"I feel privileged to work with excellent colleagues -- faculty, staff and administrators -- committed to advancing the interests of students and their communities," Stockwell added.
This year, Stockwell and fellow political science instructor Jim Nguyen are teaching the Public Policy School for the first time. A program of the Institute of Community and Civic Engagement (ICCE), students learn in the Public Policy School to craft messaging and lobby effectively for change. The group attends workshops and receives training, then goes to Sacramento and Washington, D.C. to lobby elected officials.
"[We're] teaching the Public Policy School this year with the goals of furthering student understanding of the policy-making process and promoting student political advocacy skills," said Stockwell. "Our Public Policy School students are committed to advancing the campaign for affordable, accessible, high-quality higher education in California and the nation."
In his free time, Stockwell enjoys spending time with family and friends, reading, surfing, golfing and hiking.
---
Students Receive Scholarships at APASA Luncheon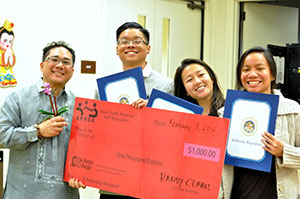 Marie Elaine Fajardo, Cecilia Ng and Hy Nguyen each received a $1,000 scholarship and a commendation from Assemblymember Evan Low at the annual APASA Lunar New Year Luncheon.
Farjado is a biological sciences major and has participated in APASA activities on campus.
Ng and Nguyen received the special community service scholarship. Ng is an urban studies major who plans to transfer to UC Santa Cruz, UC Davis or San Jose State. Nguyen is a sociology student with plans to transfer to UC Berkeley.
This year's keynote speaker was part-time faculty instructor Tony Santa Ana. Santa Ana was the first student to receive a scholarship at the inaugural APASA luncheon. De Anza alumnus and Low staffer Patrick Ahrens presented the commendations on behalf of the assemblymember.
---
Filmmaker Sally El Hosaini Visits Film/TV Class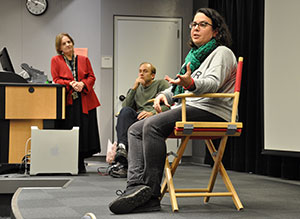 British-Egyptian filmmaker Sally El Hosaini recently dropped by instructor Susan Tavernetti's Contemporary World Cinema class to talk about her career and the film industry in general. Prior to Hosaini's Q&A, the class screened her debut film, "My Brother the Devil." The film tells the story of two British Arab brothers growing up among the gangs of East London.
The film was a labor of love that took Hosaini five years to complete. In that time, she immersed herself in the world the film depicts and got to know the actors -- most of them untrained non-professionals. The film was independently financed and won numerous awards, including the World Cinema Cinematography Award at the 2012 Sundance Film Festival.
During her talk, Hosaini encouraged students to read the scripts of their favorite movies, to write constantly and to remain resolute in the face of disappointment and discouragement.
"You only have one chance to make your first film," Hosaini said. "They're only going to say yes to one out of a hundred -- you just have to be the one who lasts longest."
Hosaini recently ended a residency at the San Francisco Film Society. Last year, director Danny Boyle chose her to direct three episodes of his series "Babylon" for the Sundance Channel. She is working on her next feature film.
---
Grads show work at Local Film Festival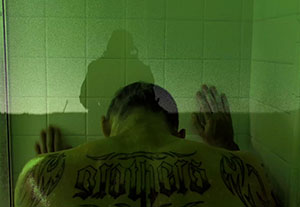 Two former film/TV students had their work shown as part of the annual Cinequest Film Festival in San Jose.
Jeremy Deneau's six-minute film "No Refuge" was selected for the Shorts Program 8: College Film Competition. A still from the film is pictured here. The competition included selections from prestigious film programs at UCLA, NYU, Columbia, Stanford and the London Film School. De Anza was the only community college represented in the competition.
"No Refuge" is about a U.S. war veteran with PTSD who struggles to adjust to life at home. Deneau transferred to the USC School of Cinematic Arts last year.
Alum Kurt Kuenne co-wrote and edited the festival's opening night film, "Batkid Begins: The Wish Heard Around the World." The film, directed by Dana Nachman, documents the day San Francisco was turned into Gotham City to fulfill a sick child's wish. "Batkid Begins" was the official selection of the 2015 Slamdance Film Festival in Park City, UT.
---
Now Announcing: The Office of Communications
The Office of Marketing/Communications is now the Office of Communications.
Requests for assistance with projects can be made using the Web, Print and Communications Services Form. Video production services are also available to faculty and staff. Request recording or captioning assistance through the Video Production and Captioning Request Form.
The Office of Communications can also help promote your event. Use the checklist for event planning and contact the office if you need assistance.