May 2015
---
Campus Highlights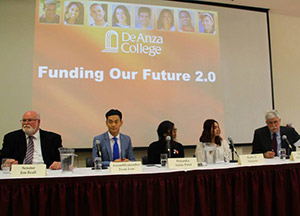 Senator Jim Beall and Assemblymember Evan Low returned to De Anza for Funding our Future 2.0, a panel discussion on the budget challenges facing community colleges. The event, which included President Brian Murphy and students Priyanka Amin-Patel and Karla X. Navarro, built on a forum that was hosted at the college two years ago.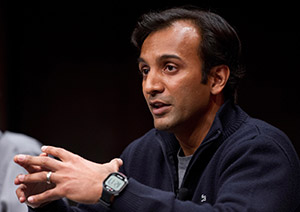 De Anza alum and U.S. Chief Data Scientist DJ Patil recently sent a message to the White House email list explaining how community college helped him get where he is today. Patil also gave his support to President Obama's free community college proposal. Read the entire message here.

Edsmart.org recently named De Anza #1 among large community colleges in California. See the rankings.

A draft of the Educational Master Plan is now available for viewing. The EMP helps guide campus decision-making for the future.
---
Myah Rodriguez, a Voice for Change
In high school, Myah Rodriguez never saw herself as a voice for change in her community.
Rodriguez, a San Jose native, made a last-minute decision to follow her sister to De Anza after her senior year. Unsure what to expect, she enrolled in Women of Color in the USA, a GE class taught by Julie Lewis.
"That class changed my entire life," said Rodriguez. "[It] opened my eyes. It showed me you can make changes for not just yourself, but your community and everyone else."
Lewis invited Rodriguez to join the newly-created Black Leadership Collective. BLC is a program for students to develop leadership skills and advocate for social justice issues affecting the African American community. The first summer Rodriguez joined, BLC hosted a leadership training institute.
"It was just a whirlwind from there," Rodriguez added. "You learn how to really talk about making change. I wanted to get involved in the community and build people up."
Around the same time, a friend introduced Rodriguez to Cynthia Kaufman, director of the Institute for Community and Civic Engagement. Through ICCE, Rodriguez learned about the Certificate of Achievement in Leadership and Social Change. The Certificate prepares students to be community leaders, and helps them develop the skills necessary to successfully advocate for a more equitable society. Rodrigez completed the program and earned her certificate in 2014.
"This campus has amazing resources and tools to empower students to really take control of their lives," said Rodriguez.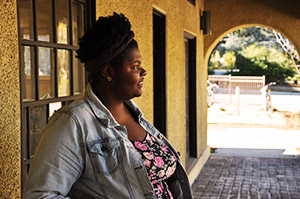 Now, Rodriguez can be seen all over campus. She was part of the student panel at Opening Day for faculty and staff in September. During a recent event in the VPAC, she gave comments from a student perspective before activist Angela Davis spoke on racial justice. Rodriguez is a student coordinator for the ICCE, and is still very much a part of BLC. Last summer, she participated in the African American Arts and Leadership Intensive led by artist Titus Kaphar and Euphrat Museum of Art director Diana Argabrite.
"Myah is the one of the most compassionate, caring, and overall joyful people I have ever met," said Lewis. "Her smile will light up any room, her boisterous personality will change your mood, and her spirit will inspire you into action. She is a true gift."
Rodriguez is studying political science, and hopes to graduate with a dual degree in liberal arts. She plans to transfer to UC Santa Cruz in fall 2016. She is passionate about continuing her social activism and her quest to make the world a better place.
"Coming to De Anza was one of the best decisions of my entire life," Rodriguez said. "It's shown me a purpose in life -- I want to be that person who inspires changes and who makes people's lives more positive. "
---
Art, Equity and Inclusion Project Chosen as Innovation of the Year
The Art, Equity and Inclusion project hosted at the Euphrat Museum of Art was recently announced as the De Anza College Innovation of the Year.
The project includes a series of activities held at the museum over the last three years. The Art and Social Justice Institute was held last August and included a three-week residency with visiting artist Titus Kaphar. De Anza students from BLC and the Creative Arts program created art around the theme of mass incarceration. The works were shown as part of the fall district faculty and staff show, and Kaphar's own "Jerome Project."
Collaborators Diana Argabrite (director, Euphrat Museum), Julie Lewis (instructor, Intercultural Studies) and Veronica Neal (director, Office of Equity, Social Justice and Multicultural Education) were awarded an Innovations Grant from the FHDA Foundation and the President's Fund to host the Institute again this summer. This year, the Institute will include a multicultural art education curriculum, a student facilitated forum and a faculty-learning day.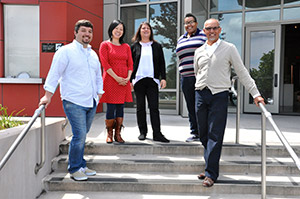 "By connecting art and transformative practices with social justice issues, we're preparing students to be radical, compassionate and creative thinkers across disciplines," said Argabrite. "Students can explore new solutions, re-frame the world and learn to create what they want to see."
Each exhibit at the Euphrat typically includes several student works. The Art, Equity and Inclusion projects are designed to raise issues of the day and bring together diverse communities and perspectives. Argabrite teaches Gallery and Exhibition Design, and directs all student projects with collaboration from various faculty members. Instructors Eugene Rodriguez, Juliana Kang-Robinson, Chesa Caparas, Marco Marquez, Alicia Cortez and Lydia Hearn were also recognized.
"It's an honor to receive an award that recognizes innovative thinking and creative collaboration," Argabrite added. "Working with great faculty, artists, students and [the] community has been very rewarding. I so appreciate the creative opportunities to bring together art and social justice in a dedicated art space at De Anza."
The following exhibits were included in the Art, Equity and Inclusion project:
Toxic Networks, designed in conjunction with the Silicon Valley Reads 2014 theme and books. "Toxic Networks" won the Stanford Human Rights Education Initiative Outstanding Project Award, and was displayed at Stanford University in conjunction with the SHREI conference. This project was a partnership with Language Arts instructor Chesa Caparas and Internship in Art and Gallery Exhibition Design students.
What is Art Worth? An interactive game mural in the 2014 De Anza Student Show. Artwork by Eugene Rodriguez's Todays Working Artist class and Internship in Art students.
Basketball Pyramid installation in "Making Space," fall 2013. Created in collaboration with visiting artist David Huffman, participants included BLC, Puente, Sankofa Scholars, ¡LEAD!, Gallery and Exhibition Design students, and visiting teens from Toyokawa, Japan.
The Costs of War mural in "War & Healing," designed in conjunction with the Silicon Valley Reads 2013 theme and books. Artwork by Eugene Rodriguez's Color and Design class with Internship in Art students.
Global Equity mural in "Invoking Peace" exhibition, designed in connection with Silicon Valley Reads 2012 theme. Artwork by Eugene Rodriguez's Color and Design class with Internship in Art students.
---
Taking the Student Textbook Challenge
When Virginia Marquez and David Byars received the RFP for the college's annual Partners in Learning Conference, they knew they wanted to address the high cost of textbooks. Marquez, senior EOPS specialist, and Byars, senior library technician, both help students obtain the required materials for classes.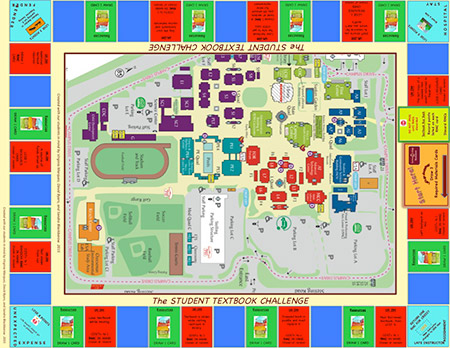 "Over the years we've seen a dramatic increase in the cost of textbooks, required materials and add-ons that have made attending college cost-prohibitive for many students," said Marquez. "We chose to address this issue to encourage faculty to learn about simple practices they can personally adopt that have a big effect on textbook cost for our students. "
Marquez and Byars decided a game was the best way to get faculty to understand the problem from a student perspective. Upon hearing about the game, Sandra Blackborow asked to help. Blackborow, instructional support coordinator at the Student Success Center, works closely with students and has seen the challenges associated with the rising cost of textbooks.
Together, the group created the Student Textbook Challenge board game. Players are asked to play as one of six students described on Student Start Cards. Incomes and backgrounds vary; some are low-income, some are wealthy, some live with parents, some on their own. One student is undocumented and another is a foster youth. As players travel around the board, they encounter obstacles, but also receive assistance and resources that help them on their academic journey. The game offers best practices for mindful textbook adoption, and encourages the use of Open Education Resources (OER) and other cost-efficient alternatives to expensive textbooks and add-on materials.
"It's difficult to be a successful student without the proper materials. Ultimately, we hope that faculty who play the game will have that aha moment... and [also] learn a tip or two about how they can directly affect the cost to students," said Marquez. "We hope that students don't need to choose whether to take a class solely based on the cost of materials for the class."
The Student Textbook Challenge is available on Creative Commons with an Attribution 4.0 International license that allows adaptations of the game.
---
Scholar-Athletes Shine on the Field
The De Anza Dons have had many successes recently. Thanks to Kulwant Singh (athletic director), Dan Atencio (head football coach) and Coleen Lee-Wheat (dean, Physical Education and Athletics) for the following updates.
Badminton
De Anza defeated Fresno City last week to win the Coast Conference Championship for the third straight year. The team is the two-time defending state champion and recipients of last year's California Scholar-Team award.
Baseball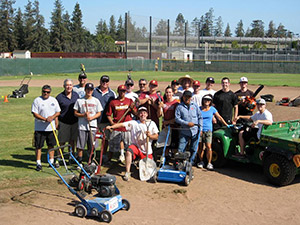 Head Coach Erick Raich led the team to the playoffs for the first time since 2004. The team continues to grow and improve under the leadership of Raich and his staff.
In January, the team held an alumni vs. alumni game and kick-off dinner. Proceeds went to the De Anza Field Renewal Project to upgrade the current field and equipment. Donations are being accepted via the FHDA Foundation website.
Post-season Awards: Pitcher of the year in the Coast Conference, Alex Zarate (Fr). Alex had a sixth best in the state ERA of 1.32. First team Coast Conference Utility, Alex Martinez (Soph). Alex had six wins, an ERA of 2.38 and a batting avg of .342. Second team all conference: Infield- TJ Conroy (Soph), Alejandro Roque (Fr). 1B- Justin Edgar (Soph) and OF Isaiah Fitzhugh (Fr).
Football
Four former players were recently invited to attend the annual San Francisco 49ers local Pro Day. Josh McCain, Trevor Pardula, Robertson Daniel and Kevin Vye were part of the select group of individuals invited to attend. Local Pro Day is for players who have roots in the Bay Area. Often players who excel are drafted or invited to fall camp. Pardula signed with the KC Chiefs last weekend, and Daniel recently signed to the Oakland Raiders.
The football team is currently fundraising for new uniforms and equipment. Visit https://app.snap-raise.com/fundraisers/3064 for more information.
Swimming and Diving
De Anza College had an outstanding CCCAA State Championship Meet at East Los Angeles College. The Dons finished 15th for women and 16th for men overall out of 37 teams represented at the Championships (and 83 programs state-wide). For the first time in 15 years,
the men's team qualified in four relays, and various individuals qualified in other events.
Women's Program
Thuy Phi was a three-time All-American in the 200 individual medley (IM), 400 IM, and the 200 fly. She was the state runner-up in the 400 IM. Diana Lee finished fourth in the state on the 100-meter and earned All-American honors for diving.
Men's Program
Brandon Conroy, Jed Lee, Dannill Lyapin and Charlie Prochnow broke the school record set in 1991 for the 4x200 medley relay. They also won the consolation finals in that event.
Conroy was an All-American in 100 backstroke, finishing 8th in the event. He also swam in the consolation finals in the 100 butterfly and 200 breaststroke. Prochnow finished 15th in the 50-yard freestyle and served as the men's team anchors in all four relays.
Congratulations to Coach Danielle Altman Von Matt, her staff and her student-athletes.
Tennis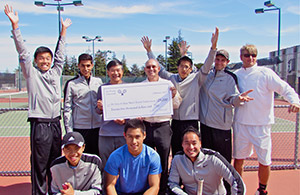 Coaches Ron Ward and Sergey Gorshenin led three singles players and two doubles teams to the State Men's Tennis Tournament. Three singles players and two doubles teams also reached the State Women's Tennis Tournament.
Congratulations to scholar-athletes Kim Do, Than Lien, Hatif Sayhad, Leonard Ting, Polina Gorshenina, Jaklyn Lee, Van Nguyen and Stephanie Wei. Nguyen and Gorshenina only lost one match all year.
The Men's Tennis Program, in partnership with local tennis pros, has created an endowment to offset operating expenses. Raise a racket and rally for the team at their fundraiser on Saturday, June 6. See the website for more info.