January 2016
---
New Videos Highlight Campus Life
The Office of Communications recently collaborated with the Phi Theta Kappa Honor society on two videos that highlight the vibrant student life on campus. The videos are part of PTK's service project for the year. These videos are also available on the college YouTube page and the College Life section of the website.
---
Rotary Club of San Jose Gifts $9,500 to EOPS

The Rotary Club of San Jose Foundation recently awarded the EOPS program a Community Grant of more than $9,500 to purchase computers and printers for its computer lab.
Extended Opportunities Programs and Services is a state funded program to assist low-income and academically disadvantaged community college students. Eligible students receive support services including early registration, personal and academic counseling, transfer assistance and book assistance.
Nearly 800 De Anza students rely on the services provided by EOPS, and the office serves as a home base for most of them throughout their time at the college. The new EOPS computer lab will be dedicated in the spring.
"This generous donation will allow EOPS to provide in-office computer access and printing services to our students," noted Michele LeBleu Burns, dean of EOPS/CARE and student development. "It is essential to our students' success that they have ready access to information online and are able to print class assignments. Thanks to the Rotary Club of San Jose, this expanded computer lab will remove a major barrier for them."
Founded in 1949 to support the charitable activities of the Rotary Club of San Jose, the foundation has given more than $5,000,000 to local and international projects including grants to 150 organizations that serve the community. The Rotary Club of San Jose, founded in 1914, is one of Silicon Valley's most active service organizations and is made up of more than 3,000 business and community leaders.
---
Communications Office Seeking Input on Website Redesign
The Office of Communications is beginning a comprehensive redesign of the college website and is seeking extensive input from students, faculty and staff.
VisionPoint Marketing has been selected to assist with the redesign, and consultants will visit the campus next week to conduct a listening tour. You are invited to attend either of the open sessions below to give your opinion on the current website and suggestions for improvement.
Monday, Jan. 25, 1:30-2:30 p.m. Conference Room B
Thursday, Jan. 28, 11 a.m.-12 p.m. Don Bautista
Consultants will also be at the regular governance groups meetings scheduled for next week. You are welcome to attend any of those meetings to give input.
Academic Senate: Monday, Jan. 25, 3-4 p.m. ADM 109
Campus Budget: Tuesday, Jan. 26, 1:30-2 p.m. ADM 109
Instructional Planning and Budget: Tuesday, Jan. 26, 4-5 p.m. ADM 109
Equity Advisory Council: Wednesday, Jan. 27, 3-3:45 p.m. MCC Conference Room
Faculty, staff and randomly selected students will get a survey via email next Monday on how to improve the website. You may also give your viewpoints by using the comment form, available by next Monday on the Office of Communications website.
---
Save the Date: Library Reopening Celebration Friday, Feb. 26
You're invited to celebrate the renovation and reopening of the A. Robert DeHart Library at De Anza College.

Friday, Feb. 26
2-3:30 p.m.
Program 2:15 p.m.

Tours * Refreshments * Giveaways

A Library for the Digital World
Increased support for bringing your own laptop or device
Improved group study areas
Updated, inviting environment
---
EO Reps Needed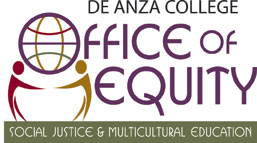 The Office of Equity, Social Justice & Multicultural Education needs EO reps to help facilitate equity work across the campus. EO reps can serve the campus in a number of ways, which include but are not limited to the following:
Hiring Committees
Equity Divisional Liaisons
Equity Action Council Member
If you are interested in serving on hiring committees, you will need to attend EO Level 1: Hiring Committee Overview Training. EO reps serving in this capacity also have opportunities for ongoing professional development throughout the duration of service. EO reps are strongly encouraged to also participate in the EO Level 2 training on equity advocacy. EO refresher courses are offered quarterly.
The next Level 1 training will be held Wednesday, Feb. 10 from 10:30 a.m. - 1:30 p.m. Level 2 is scheduled for Wednesday, Feb. 24, 8 - 11 a.m. Trainings will be held in the Equity Office at the MLC. For additional information, contact Veronica Neal at nealveronica@deanza.edu.