February 2016
---
Excellence Award Winners Announced
President Brian Murphy has named four winners of the League for Innovation John & Suanne Roueche Excellence Awards for their outstanding service to students and contributions to campus. Winners are Mike Appio, Donna Jones-Dulin, Truly Hunter and Barry Johnson. The four will be recognized next month at the 18th annual Innovations conference in Chicago.
---
Mike Appio, Department Head/Instructor, DMT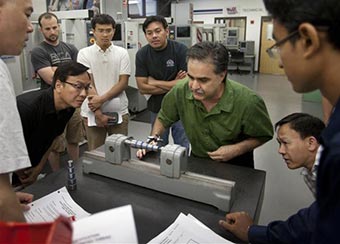 Mike Appio has worked at De Anza for 13 years. He graduated from the college in 1984 with a degree in Machine Tool Technology/Tool and Die.
"It seems like just yesterday I was a young student sitting in the same classroom at the same college as I now teach," Appio said.
Appio has seen the program evolve over the years. What was once known as CAD and MCNC was recently renamed the Design and Manufacturing Technologies Department (DMT). While the name has changed, the high quality of instruction and dedication from instructors has remained the same.
"The success of the Design and Manufacturing program and success of our students would be impossible without trust, cooperation and support from colleagues, staff and administration," added Appio.
Appio started at De Anza as a part-time instructor and became full-time in 2006. He has been department head since 2008. He also serves on the college Curriculum Committee. At the state level, he has served as community college adviser for the Department of Education, Manufacturing and Engineering Advisory Committee since 2011. He formerly represented community colleges for the North American Haas Technical Education Council. In his free time, Appio enjoys auto racing and other sports.
"The students are my inspiration and motivation to create a learning environment that is second to none," Appio said. "The feeling of having a young student come back and thank you for changing their life is truly indescribable."
---
Donna Jones-Dulin, Associate Vice President, College Operations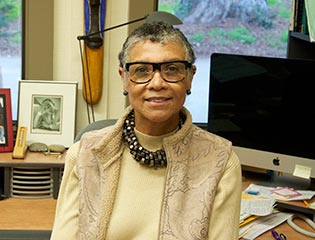 As AVP of College Operations, Donna Jones-Dulin is responsible for the services that support instruction and college life. This includes Dining Services, the Bookstore and Printing Services, as well as construction, facilities rental, mail services, custodial and grounds operations. Put simply, Jones-Dulin helps the campus run smoothly and look beautiful.
"What motivates me is providing our students with a state-of-the-art educational and social environment," she said.
Jones-Dulin will retire this year after 15 years at De Anza. She was first hired as the director of College Operations, a position that transitioned into the associate vice president role. She has served on many committees, including the College Environmental Advisory Group, Joint Labor Management Committee, Executive Bond Committee and Benefits Committee. She is also the chair of the Campus Center Advisory and Facilities committees.
Jones-Dulin earned her bachelor's degree in political science from American University and her masters degree 's design from San Francisco State. Throughout her life, Jones-Dulin has been an outspoken advocate for social justice. She believes that young people have the power to change the world, and that education is an important step toward empowerment.
"Some students may have a preconception of what a community college campus is like, and I want them to leave De Anza College feeling that not only the classes, but also the buildings and grounds, surpass their expectations and provide a true college experience," she said.
In her free time, Jones-Dulin enjoys designing, sewing and spending time with her family, which now includes a grandson.
---
Truly Hunter, Assistant Director, EOPS
For 20 years, Truly Hunter has worked in Extended Opportunities Programs and Services (EOPS). First as a counselor and now as assistant director, she works with economically disadvantaged students on both personal and educational matters.
"I love being a counselor for the EOPS program," Hunter said. "I always remember that my role is to provide support for students as they navigate through college and through life."
Hunter has also provided support to her colleagues. She has served on College Council, SSPBT and DARE, and chaired the Tenure Committee and Multicultural Staff Association. She is an equal opportunity representative and has served on several hiring committees in that role.
Hunter's biggest satisfaction is watching her students grow. One wall of her office has pictures of her students in their graduation cap and gowns.
"I tell my students to find something that they're passionate about," Hunter said. "I share with them that I get paid for doing what I love -- helping others. My reward is their success."
Hunter earned her doctorate in counseling psychology from Argosy University, master's degree in counseling from Clemson University, and bachelor's degree in psychology from Winthrop College. She loves to read and write, and volunteers as a reading tutor at the local elementary school. Her goal is to write a family history and eventually start an African American Museum in her hometown in South Carolina.
---
Barry Johnson,
Supervisor
, Admissions and Records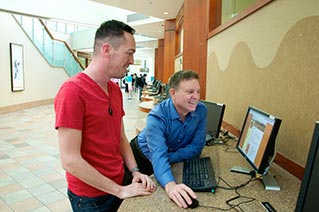 Barry Johnson has worked in Admissions and Records for 20 years. It was here that he first used email. He can remember when students had to wait in lines to add and drop classes.
"Online registration is rather amazing," he said. "The changes in the office over the years have been great."
Johnson enjoys helping students enroll and register for classes. Working with dedicated staff, Johnson successfully guides students through the admissions process. "Watching students succeed in their educational goals is the most satisfying part of my job," he said.
Johnson has an associate degree in fine arts from Evergreen Valley College, and his bachelor's degree in design and illustration from San Jose State. In his free time, Johnson enjoys drawing and painting, movies, concerts and plays. He has been to many Broadway shows and visits New York City often. He recently has traveled to Europe and Malaysia.
---
Gene Haas Foundation Awards $1 Million to DMT Department
De Anza College was recently awarded a $1 million gift by the Gene Haas Foundation to expand its Design and Manufacturing Technologies (DMT) classrooms and labs. The expansion and dedication event will be held later this year.
"We deeply appreciate this gift from the Gene Haas Foundation," said De Anza College President Brian Murphy. "The students of the DMT department, the college as a whole and the community will benefit tremendously from the foundation's generosity."
The college's DMT department contains some of the nation's leading programs. It is National Institute of Metalworking Skills (NIMS) accredited in machining, and offers approximately 35 courses including CAD, CAM, and CNC mill and lathe. De Anza is one of only a few colleges in California that is NIMS accredited.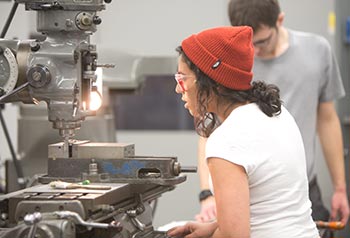 More than 1,500 students enroll in the program annually. The department offers four certificates and three A.S. degrees. It has a robust advisory council that includes some of Silicon Valley's leading employers.
"The Gene Haas Foundation Board has chosen to honor Gene's commitment to manufacturing education by investing in the top CNC programs in North America," noted Kathy Looman, the foundation's administrator. "De Anza College's Design and Manufacturing Technologies Department is one of those stellar programs. Thanks to the leadership of Mike Appio, the college has been an integral part of the Haas Technical Education Centers (HTEC) network, a network of more than 3,000 schools worldwide that are training skilled programmers and operators for the manufacturing industry. Gene Haas will be very proud to have his name on this program."
Last year, De Anza was chosen as HTEC's western teacher training facility in response to the need for more instructors to prepare students for the anticipated 3.5 million manufacturing jobs anticipated in the next decade. In addition to the $1 million grant, the Gene Haas Foundation is committed to providing scholarships to the region's students and teachers.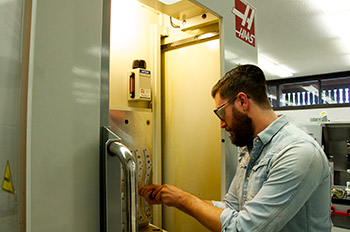 The Gene Haas Foundation, in Oxnard, was founded in 1998 by Gene Francis Haas, founder of Haas Automation, Inc., one of the world's leading CNC machine tool manufacturers. The foundation continues to be a leader in philanthropy around the nation in the areas of advanced manufacturing, teacher training and food security.
Last September, the Gene Haas Foundation announced a $1 million capital gift to New York's Hudson Valley Community College as part of the college's technology center expansion. In November, NIMS officially opened the Gene Haas Education Center in Fairfax, Virginia, to help educators and businesses deliver high-quality manufacturing training for students and employees.
To date, more than 1,200 charitable organizations and schools have received more than $27 million from the Gene Haas Foundation.
---
Foundation Raises More than $25,000 on Giving Tuesday
On Dec. 1, 2015, the Foothill-De Anza Foundation participated in its first Giving Tuesday, a global day dedicated to giving back. A big thank you to the generous friends, alumni, faculty and staff who helped the Foundation raise more than $25,000 to support students. Your donations help to change student lives, and the Foundation and the college is grateful for your support.
Mark your calendars for this year's Giving Tuesday on Nov. 29. You can give all year by going to the Foundation website.
---
ICYMI...
Faculty member David Denny recently released his latest collection of short stories, "The Gill Man in Purgatory." In 2011, Denny was chosen as Cupertino's first poet laureate. Read more in the San Jose Mercury News.
The 14th annual Day of Remembrance event will be held Thursday, Feb. 18 from 1:30-3:30 p.m. in Conference Rooms A&B. This year's event will not only look at the World War II internment of Japanese Americans, but also the current dangers of Islamophobia. With special guest speakers Brice Hamack, Northern California civil rights coordinator, Council on American Islamic Relations and Shirin Sinnar, assistant professor, Stanford Law School.
"Ain't I A Woman" is a chamber music theatre performance by the Core Ensemble, featuring Shinnerrie Jackson as Zora Neale Hurston, Clementine Hunter, Fannie Lou Hamer and Sojourner Truth. Watch it live on Friday, Feb. 19 at 2 p.m. in Conference Room B.
---
Save the Date: Library Reopening Celebration Friday, Feb. 26
You're invited to celebrate the renovation and reopening of the A. Robert DeHart Library at De Anza College.
Friday, Feb. 26
2-3:30 p.m.
Program 2:15 p.m.
Tours * Refreshments * Giveaways
A Library for the Digital World
Increased support for bringing your own laptop or device
Improved group study areas
Updated, inviting environment