March 2017
---
Faculty, Staff Earn League Awards for Excellence
A veteran chemistry instructor, the chief of custodial operations and a crew of dedicated Outreach workers will bring honor to De Anza College when they receive awards for excellence from a national academic group, the League for Innovation in the Community College.
At a March 15 ceremony in San Francisco, league officials will present awards to De Anza's Ram Subramaniam, chair of the chemistry department; Manny DaSilva, manager of custodial operations; and the staff of the Office of Outreach and Relations With Schools.
The annual John and Suanne Roueche Excellence Awards are given for outstanding contributions in teaching, leadership and service.
---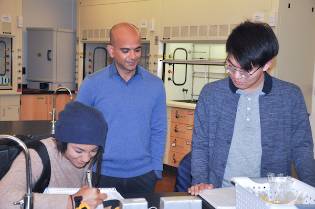 Ram Subramaniam was a first-generation college student who earned his undergraduate degree from Birla Institute of Technology and Science, in northern India, and his doctorate in chemistry from the University of Kentucky.
He's been teaching at De Anza since 2008, and says he was drawn to the college by the chance to inspire a diverse student population in a field that's historically been more homogenous. Subramaniam has researched abnormalities in brain membrane proteins as a means to understand Alzheimer's disease, and has done post-doctoral work on the cellular processes in diabetes. He's also interested in the intersection of science and social values. This year, some of his students have been researching various government offices and their role in carrying out science policy.
"The opportunity to interact with and support the curious minds of our students has always inspired me to pursue excellence," Subramaniam said.
Subramaniam has been active in campus leadership and governance, serving on the Curriculum Committee, Academic Senate and College Council.
He co-chaired the General Education Steering Committee in 2013-14 and, while on professional development leave in 2014-15, developed an online laboratory manual for students in the general chemistry program. He chaired the Chemistry Department in 2012-13 and holds that position again this year.
---
Manny DaSilva, who has been running custodial operations at De Anza for the last nine years, says a clean, safe environment is critical for learning.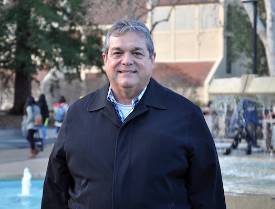 DaSilva traces his passion for excellence to his previous career, when he served in the U.S. Army's 2nd Battalion, 75th Infantry Rangers. That's when, he said, "I learned that anything less than excellence is not acceptable, and that words like 'can't do' and 'no' are the language of defeatism." DaSilva says he's kept that attitude in civilian life. He earned a bachelor's degree in business psychology from Palo Alto University while working full-time in his position, and a Facilities Management Certificate from APPA, a professional association for physical plant administrators.
"Watching our students graduate, and knowing these young women and men will be our future leaders, gives me a sense of satisfaction because I know that my team-mates and I had a part in creating their environment."
---
The Office of Outreach and Relations With Schools plays an essential role in De Anza's effort to build a diverse student body, while promoting access and success for all students.
Led by Rob Mieso, associate vice president of Student Services, the Outreach staff members draw on their academic and professional training -- and life experience -- to connect with prospective students and their families, particularly those from underserved and underrepresented communities.
"Being able to connect to different resources on campus allowed me to be successful," said Jesus Ruelas, a De Anza graduate and Karl S. Pister scholarship winner, who's now an academic adviser in the office. "I feel connected to the community here, so now I try to fill that same role for others."
"A lot of us (on the Outreach staff) are first-generation college students and so, for us, it's kind of giving back to the community," added counselor Erick Aragon. "We're always in the schools, working with students that may not have a trajectory toward college."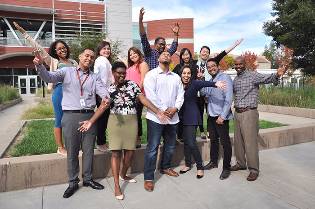 During the last academic year, the office held 200 outreach events, serving over 12,000 students in 38 high schools. Team members also organized four conferences that brought more than 1,300 high school students to the De Anza College campus, along with the annual New Student and Parent Open House, which attracted more than 3,000 students and parents in the spring.
A big part of that effort involves being approachable, said counselor Umar Douglas. "We do a little extra to make students feel like they're stepping into a space where it's like their older brothers and older sisters are here – as opposed to just being their counselors."
"We understand there are a lot of challenges and barriers for students, who may not have thought about going to college, to actually take the initiative to come here," added Erika Flores, student success program coordinator.
The outreach effort extends to parents, who may not have gone to college themselves, said Nubia Sanchez, school relations specialist. "It's important that parents see their students in college and know their students belong here," she said.
Outreach staffers also works with students after they've enrolled at De Anza, helping them with access to academic advising and counseling, education planning, peer mentoring and a food pantry for low-income students.
"I like that we get to help students in need. I was one, so that's important to me," said Ambrocine Rodriguez, administrative assistant. "I'm the first person most students see when they walk in our office. So I want to make sure they feel like their voices are heard, and that their issues can be solved in this office."
---
Silicon Valley Reads Author to Speak on Campus
Author Shaka Senghor will speak on campus and answer questions about his book, "Writing My Wrongs: Life, Death and Redemption in an American Prison." His appearance is one of several events sponsored by De Anza in connection with Silicon Valley Reads 2017.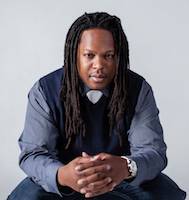 This year's theme for the reading program is "... and justice for all." It's an opportunity to join a community conversation about bias and social justice.
This year's program focuses on two books. "Writing My Wrongs: Life, Death and Redemption in an American Prison," by Senghor, is a powerful memoir of his 19-year incarceration for homicide, seven years of which were spent in solitary confinement.
Senghor will speak on March 22 from 11:30 a.m. to 12:30 p.m. in the Campus Center, Conference Room B.
A faculty-student poetry reading is also set for March 22 from 4:30 to 6:30 p.m., at the Euphrat Museum of Art, where a related multi-media art exhibit can be viewed through March 23.
This year's second featured book is "Unfair: The New Science of Criminal Injustice," by Adam Benforado. It uses extensive research and real-life vignettes to show how bias about race, gender, appearance and economic status can influence fair treatment in the legal system.
Silicon Valley Reads is celebrating its 15th anniversary this year. The program kicked off on Feb. 23 with an appearance by Benforado, who was interviewed on stage at the Visual & Performing Arts Center by Mercury News columnist Sal Pizarro. Afterward, Benforado signed books and chatted with audience members outside the theater.
The Euphrat's exhibit, entitled "Justice for All?," features an engaging collection of works that look at unconscious bias, injustice and its consequences. The exhibit has drawn favorable reviews from the Mercury News and Metro Silicon Valley.
All told, the Silicon Valley Reads 2017 program includes more than 100 free events around Santa Clara County. Visit the Silicon Valley Reads event listing for details on all events, including many for children and families.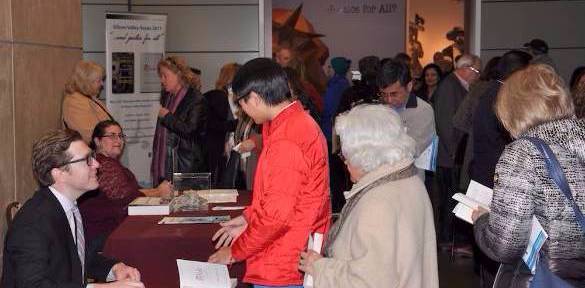 Author Adam Benforado signed books after his appearance on campus.
---
De Anza Supports Undocumented Students
While the start of a new administration in Washington, D.C., has sparked concerns about its policies and treatment of immigrants, De Anza College has taken concrete steps to reassure students and reaffirm its commitment to providing education, safety and respect for all – regardless of their immigration status.
President Brian Murphy underscored that commitment in several letters to the campus community, announcing a series of events focused on immigration issues.
The series started Jan. 31 with a talk by Jose Antonio Vargas, an undocumented immigrant who grew up in Silicon Valley, became a Pulitzer Prize-winning journalist and founded Define American, a nonprofit media and culture group.


Later the same day, attorney Alison Kamhi from the Immigrant Legal Resource Center spoke about federal immigration policy under the Trump administration.


The ILRC's Kamhi returned to campus Feb. 8 for a practical workshop on legal rights and real-world scenarios for encounters with immigration officials.


De Anza also arranged for attorneys from the Asian Law Center to visit campus on Feb. 13 and 27, to provide free, confidential consultations for undocumented students with questions for themselves or family members.
The college also developed a comprehensive webpage with information and resources for undocumented students, including listings about financial aid and other services, and links to statements of support by the Foothill-De Anza Community College Board of Trustees.
In addition, the resources page features several videos in which undocumented students describe on-campus resources and their own experiences at De Anza, along with a short video of Vargas speaking on campus. The videos have closed captions in English and Spanish. A version of the video with open captions, suitable for showing to classes or groups, is also available on the page.
Briefly
Attorney, academic and change agent Anita Hill will speak about "Equity in Post-Obama America" on March 23, during an event sponsored by the Office of Equity, Social Justice and Multicultural Education. She'll be in the Visual and Performing Arts Center from 11 a.m. to 12:15 p.m.
The California History Center is hosting an exhibit about a century-old international women's group that has worked for social equality and economic justice. The exhibit, "A Woman's Fight,"ends March 24.
De Anza President Brian Murphy and Assemblyman Evan Low co-authored an op-ed piece for San Jose Inside that described what state legislators and educators are doing to support California college students.
The De Anza Planetarium, along with Dean of Community Education Sam Bliss and DirectorToshi Komatsu were the subject of a recent feature story in the Mercury News.
A campus event featuring "Rolling Counterpoint," an art and conversation project by artist Taro Hattori, also drew the attention of Mercury News columnist Sal Pizarro.
---
Does your department or division have news to share with the campus community? Send information for the next Campus Memo to communications associate Leah Mieso at miesoleah@deanza.edu