Title IV/Federal School Code is 004480

Financial Aid Office
De Anza College
21250 Stevens Creek Blvd.
Cupertino, CA 95014
408.864.8718 - General Questions Only


For questions regarding your specific
financial aid award, please click on
the directory below to find the staff
member who handles your last name.
Please make sure to include the
following when leaving a
message or sending an email:
Student ID Number
First and Last Name
Phone Number
SPRING QUARTER HOURS


Monday thru Thursday: 8am to 5pm
Friday: 9am to 1pm
Office Closure:

Monday, May 28th - Memorial Day

Have a Fabulous Spring Quarter!


Financial Aid Refund Date
For information on Refund Dates, please see our Disbursement and Refund Information page.
Check your MyPortal for your financial aid information.
Location
Baldwin Winery Building.
Entrance just off the main Campus Center patio.
Video Playlists
Check Out FATV!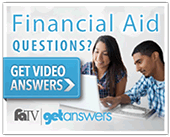 News You Can Use!
Upcoming Deadlines:
Which FAFSA?
Applying for Financial Aid & attending Summer '17, Fall '17, Winter or Spring '18 Quarters? Fill out the 2017-2018 FAFSA to determine eligibility for Pell Grant, BOG C and other Federal Financial Aid programs.

Applying for Summer 2018 or later? The 2018-2019 FAFSA is now available. Get a head start on applying for aid for Summer/Fall 2018 and Winter/Spring 2019

---
Read All About It! Be sure to stay on track to achieve success.