Meet Our Coordinators
Lydia Hearn has been the English instructor and co-coordinator for Puente since 2013.
Born of Korean immigrant parents, Lydia has lived most of her life in California. She attended UC Santa Barbara, where she received her B.A. and M.A. in English.
During her time as a graduate student, Lydia had the privilege of teaching for a program called ACE, which targeted students from historically disadvantaged backgrounds, many of whom were first-generation college students.
Lydia began teaching at De Anza College in 2000. While at De Anza, she has served as an English instructor, Honors Program Coordinator, English department co-chair, Academic Senate President, Interim Dean of Language Arts, Interim Associate Vice President of Instruction, Umoja English instructor, and REACH English instructor. She hopes to use the knowledge and experience she has gained in these roles to help Puente students navigate their transition to college and their successful transfer to a 4-year institution.
Lydia lives with her daughter in Sunnyvale and spends her free time playing sports, singing, and reading.
---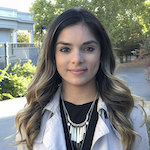 Brenda Gonzalez is the counselor and co-coordinator for Puente.