First year: Spanish 1, 2, and 3
Mosaicos: Spanish as a World Language- 6th Edition, 2015 Pearson
Spanish 1

Chapter "Preliminary- Chapter 4

Spanish 2

Chapters 5-9

Spanish 3

Chapters 10-15
Required Materials
Textbook
LOOSE-LEAF, 6th Edition
(Capítulo Preliminar - Capítulo 15)
ISBN: 9780133906769
Entire Mosaicos textbook (both in print and eBook formats) plus MySpanishLab (24-month webcode access)
---
HARDBOUND, 6th Edition
(Capítulo Preliminar - Capítulo 15)
ISBN: 9780133817829
Entire Mosaicos textbook (both in print and eBook formats) plus MySpanishLab (24-month webcode access)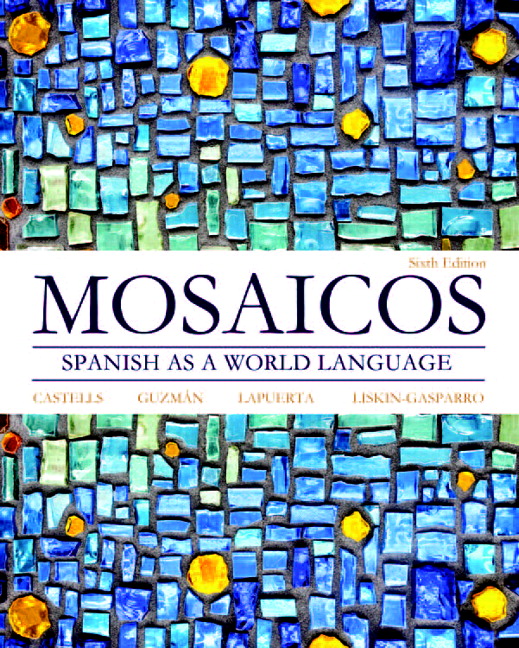 Matilde Olivella Castells, (Emerita) California State University, LosAngeles
Elizabeth E. Guzmán, University of Iowa
Paloma E. Lapuerta, Central Connecticut State University
Judith E. Liskin-Gasparro, University of Iowa
---
MySpanishLab Web Access Code
This required textbook companion website, included in all new copies of Mosaicos, enhances your learning experience by providing listening practice, pronunciation practice with the option of self-recording, extra written exercises with immediate corrective feedback, grammar tutorials, highly interactive study aids for grammar and vocabulary (e.g., audio flashcards, puzzles), and cultural videos (which some instructors play in class and include in chapter tests.) Assigned MySpanishLab exercises count towards your homework grade.
If you plan to buy a USED book that does not provide access to MySpanishLab:
Please make sure you purchase a "stand-alone" MySpanishLab code from the publisher:

5 Month Access Code- $84.25
24 Month Access Code (Multi-term Access)- $139.95
*Either one of the above options will give you access to the entire Mosaicos textbook in electronic format, plus MySpanishLab.
Purchasing Venues
Directly from the Publisher (Pearson custom De Anza store)

Loose-Leaf Edition- $95.00
Hardbound Edition- $129.99