Thank You for

Your Service!
Welcome to De Anza College Office of Veteran Services. We offer you a variety of services campus wide.

DE ANZA COLLEGE VETERAN SERVICES
Please visit our office to start the application process for De Anza and your V.A. Educational Benefits.
We are located in the Student & Community Services Building.
WALK IN HOURS
Monday through Thursday 11:00 a.m. - 2:00 p.m.
Appointments available by calling 408.864.8230
Contact us for all of your registration, enrollment and education benefit questions:
pasqualishari@fhda.edu (408) 864-8230
Apply for Veterans Education Benefits at: www.gibill.va.gov
For Payment Inquiries, please call: 1-888-442-4551
---
DEPARTMENT OF VETERANS AFFAIRS
OUTREACH SERVICES
WEDNESDAY 11:00 AM - 2:00 PM
You may drop in during the open hours, or for an appointment, contact the Vets Coordinator, Shari Pasquali @ pasqualishari@fhda.edu
VETS who have medical issues are encouraged to call their primary MD and/or the Primary Care Line at 1-800-455-0057.
---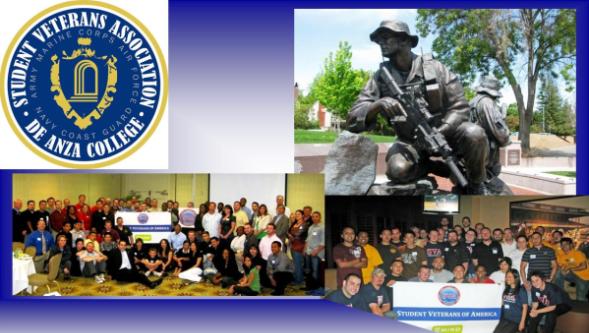 De Anza College
Student Veteran Association
The De Anza College Student Veterans Association is a sub chapter Student Veterans of America. Our mission is one that involves creating a better academic environment for Veterans and Service Members. Learn how to get involved with De Anza's chapter of SVA.

---
Military Friendly Employers
http://www.militaryfriendly.com/
---
Additional Resources
http://www.uwsv.org/sites/uwsv.org/files/EAN_Contact_List-_Agencies_by_Zip_Code-June_2010.pdf
---
Apply for Scholarships
Visit the Financial Aid Scholarship website for more information.
---