New Internship Opportunities!
Apply!
It's not too late to get involved in the 2016-2017 VIDA Internship Program! Recruitment is now underway for 1-2 more interns!
We are committed to providing opportunities for students to build their skills and knowledge outside of the classroom, to apply the knowledge they've gained from such courses as in the Leadership & Social Change Certificate program.

Like volunteers, paid interns commit and take on leadership roles, but are accountable for major responsibilities in the projects/campaigns they are placed on. The ultimate goal? Build student power and be agents of change in this world.
HEFAS (Hiring 1-2 Interns)

Commitment: 10 hours per week x 10 weeks per quarter until the end of June 2017. Ideal person would have at least one more year at De Anza.

Looking for someone passionate about empowering students, building leadership skills, promoting social justice, and advocating for higher education. Must be willing to learn about issues facing the undocumented/AB540 community.
HEFAS is an institutional and educational program that provides free resources, reduces financial stress, and creates a safe learning environment for all students with an emphasis on undocumented/AB 540 information.

Tasks include helping run the resource office space, data entry, peer advising, planning community building events, classroom presentations.

Please submit your applications by 5pm on Monday, December 12th.
Our Mission
In 2015, the Institute for Community and Civic Engagement was renamed the Vasconcellos Institute for Democracy in Action (VIDA) in memory of late California State Senator John Vasconcellos. Throughout his career, Senator Vasconcellos was known for his work on public education and his commitment to civic engagement.

VIDA will continue the ICCE's mission to empower students to become agents of change in their communities and beyond; to foster education that meets the needs of the communities we serve; and to help develop pathways to meaningful participation in local, state, and federal government decision making processes.
Community Service Learning
Students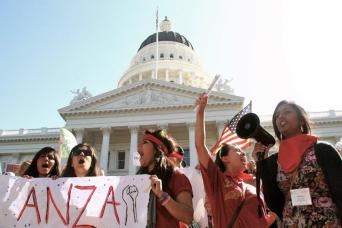 Service Learning Students: If you are looking for a community partner for your service learning class, please click here.
Add VIDA as a friend on facebook!
FB page
The VIDA mailing list is used for VIDA events, related De Anza events, internship, job, and scholarship opportunities for students interested in community and civic engagement. If you want to sign up, e-mail kaufmancynthia@deanza.edu.
Faculty
Service Learning Faculty: If you need assistance finding service learning placements for your students, please contact kaufmancynthia@deanza.edu or see our community Partners page for a list.
To find out how to make your course into a service learning course, see Faculty Resources.
Heads Up! Want to integrate community service learning in your course?
We are recruiting faculty for our "S" designated service learning courses as well as planning a workshop on service learning for instructors.
Community
Community Partners: We are looking for community groups interested in working with us to provide service learning opportunities for our students. Please contact Cynthia Kaufman at kaufmancynthia@deanza.edu.
Donate to VIDA
Donations help secure funding for future leaders. Your gift will help the program match a generous donation from community members Jim and Becky Morgan.
VIDA Celebration
Watch a short video of the VIDA renaming event


VIDA Office Location
East Cottage -- click here for a visual of the location.
Click here for a campus map.
To reserve the East Cottage Resource Room (ECOT 2) for your meeting or event, please click here.